Hey beautiful writers and book lovers!
In case you didn't get enough candy in your plastic pumpkins last night, I've got such a treat for you right now. Bestselling author and Oprah magazine columnist Martha Beck is teaming up with me yet again, and this time we're interviewing our buddy… the New York Times bestselling author and Omega Institute co-founder, Elizabeth Lesser!
Elizabeth's new memoir, Marrow: A Love Story (HarperWave), is so incredibly beautiful and life affirming… even though on the outside it's about something really heavy… being her sister's "perfect match" for a bone marrow transplant (which she didn't expect because in their real lives, the two were more of a mismatch). Of course, this being a profoundly mysterious and beautiful universe, this leads to unimaginable highs of emotional and spiritual healing.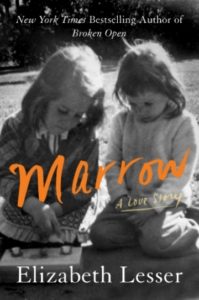 I was so blessed to bond with Elizabeth in person last week at TEDWomen in San Francisco. We were a ball of nerves, but so excited, too. We had a blast rehearsing together, and made each other cry. In a good way. Ha. But that's how we knew we'd be okay up on stage the next morning… because our messages were not really about us, but the human condition.
More on that later…
So, THANK YOU for tuning in and listening as the three of us chat about so many cool things: some behind-the-scenes TED/TEDWomen details; working in depth with Oprah to put on a teleconference for a mere 15 million people (yep, she was the one Oprah called to organize that monstrous A New Earth Eckhart Tolle event); the challenge of writing about family members; how standing tall with integrity and openness around those we love can lead to a "soul marrow transplant," and how the often "boring practice part" of a person's spiritual practice often results in a kind of unparalleled life potency that more than makes up for any of the daily grind.
Can't wait to share it all with you! So, if you're able, brew up a cup of tea and put your feet up for this heart-and-soul(ful) conversation.
And, as always, we're over on Facebook talking about the show if you'd like to share any thoughts.
Yours,
Linda
xx
Elizabeth and me goofing off with Halla Tomasdottir and her husband, Harry (Halla ran for president of Iceland and nearly won! Dang!).