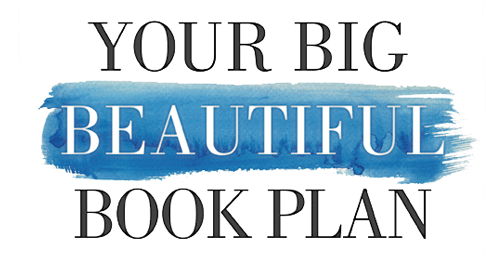 "I knew nothing about the book industry. And every mind-gremlin (and real human-being gremlin) told me that getting published would be hard, or even impossible for me. But I followed Your Big Beautiful Book Plan to a T and this spring, I signed a publishing deal with Beyond Words – Simon and Schuster. Without your plan, I doubt they would have even given me a second glance!
– Katie Silcox | Yogini + Creator of KatieSilcoxYoga.com

"I purchased Your Big Beautiful Book Plan last March and followed your advice to the letter. Not only did my co-author and I immediately find an agent (we only contacted four agents; three of them came back with an interest in representing us; two within two hours of sending out our query), but we've just signed a contract for our book, which is due to be published in Spring of 2014. Thank you for helping me craft my kickass, can't-be-ignored proposal! It worked magic, just as I hope my book will work magic for its readers!"
– Lauren Rosenfeld | Co-author of Breathing Room: Open Your Heart by Decluttering Your Home (Atria, Simon & Schuster, 2014) + Soul Declutterer at LGRosenfeld.com
"Those model proposals alone are worth a ton — I wish I'd had them when I wrote my first proposal."
– Jonathan Fields | Author of Uncertainty + founder, TribalAuthor.com

"Here is another Your Big Beautiful Book Plan success story: My book, Mind Body Home released today. THANK YOU Linda Sivertsen and Danielle LaPorte!"
– Tisha Morris | Author of Mind Body Home, (Llewellyn Publications, December 2013) + Feng Shui Consultant at TishaMorris.com

"I want to thank you for YBBBP. It helped me so much in writing my proposal, which got me the agent I wanted (Gabby Bernstein's agent, yah!), and a few weeks later a book deal with Adams Media (yah!). The examples were EXACTLY what I needed — especially since I was in a place where I had NO idea where to start. So, thank you, thank you, thank you. My book will be on bookshelves in January 2014!"
– Andrea Owen | Author of 52 Ways to Live a Kick-Ass Life  + Creator of Your Kick-Ass Life.

"I was stuck in the mire of being halfway done with my book proposal, and YBBBP rescued me. Linda & Danielle are like the best wise fairy godmothers a writer could want. The depth of the program reassured me that I was on track, and their honey-we've-been-there-insights saved me hours of wasted time 'chasing rabbits.' I got a book deal with the first and only publisher I submitted to (New World Library)! YBBBP gave me clarity, encouragement and the solid information I needed exactly when I needed it most. When I was a little girl I loved books so much that I wanted to grow up to be a writer; YBBBP helped make that dream come true."
– Samantha Bennett, Author + founder, The Organized Artists Company
"I went to graduate school for writing, and YOUR BIG BEAUTIFUL BOOK PLAN is far more comprehensive than what I was offered in classes or week-long publishing workshops. This is a definitive, step-by-step guide for creating 'gotta-have-it' book queries and proposals, and it directly addresses what new and emerging writers want to know about the entire process. Forget the Publishing for Dummies books–this is about creating your best work and then getting it into the hands of someone who resonates with your brilliance."
– Kate Swoboda | Creator, YourCourageousLife.com
"You know you have a story in you…if you only knew how to get it published. After diving into Danielle + Linda's book love fest, I am astounded with the top-shelf knowledge and talent shared. I could not look away. And now I am starting my second book–with a proposal this time."
– Susan Hyatt | Master Coach and Author of Create Your Own Luck, 7 Steps to get Your Lucky On
Script Your Success! About YBBBP…
We've never met an editor or a literary agent who didn't truly love books. Passion is essential in these professions, and that's why they're in this business. Editors and agents are constantly trolling for good ideas, for the next great book. Their jobs depend on it. They need you as much as you need them. So try this mindset on for size (repeat it out loud every time you pull up to your keyboard): "Agents and editors are praying for me to show up. My work is the answer to their prayers."
Publishers need you to be your best you. Life wants you to shine—creatively, strategically, for years to come. We want to help you do just that.
Our intention in creating this program is to inform and inspire. We're going granular and visionary with step-by-step how-to's, behind the scenes accounts, and big-hearted cheerleading. We'll take the mystery out of the process and show you how doable it can be to create a book plan that could take your creativity and career to the next level.
Think of your book proposal as your playbook for success, a beacon of your brilliance, and your representative in the world of publishing. Knowing the rules (before you can intelligently break them) is an absolute must. Clean, tight, engaging copy is paramount. After all, you want publishing houses to feel confident about investing their time, money, and brand in you and your dream, don't you?
Where do we come in? We've done this over and over and over. We're here to help you take this colossal task and break it down into simple, doable chunks… and love the process. The world of publishing can be intimidating, but not so much when you're armed with a plan.
Whether you're writing a memoir that only your children will read, a breakthrough formula, or you've got wisdom to share with industries, nations, and seekers everywhere…the world needs what you've got to give.
With great love,

Books, Blogs & Your Bounty:
A Spreecast Event with
Danielle LaPorte & Linda Sivertsen
Share the love.
Click below to tweet. Copy+paste to share on Facebook, Google+, etc…
HUGELY valuable publishing, blogging, writing Q&A vid w/ @DanielleLaPorte @LindaSivertsen. http://bit.ly/VQA75S
Want to become a published author? This Q&A w/ @DanielleLaPorte @LindaSivertsen is a must watch. http://bit.ly/VQA75S
Stepping up to my writing dreams. Inspired by Books&Blogs Q&A w/ @DanielleLaPorte + @LindaSivertsen http://bit.ly/VQA75S