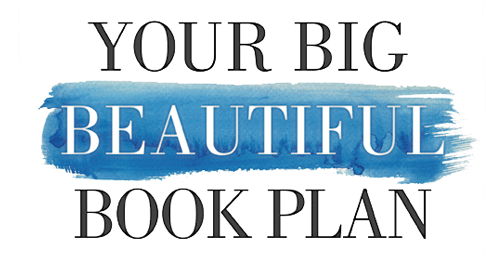 "Those model proposals alone are worth a ton — I wish I'd had them when I wrote my first proposal."
– Jonathan Fields | Author of Uncertainty + founder, TribalAuthor.com
"I went to graduate school for writing, and YOUR BIG BEAUTIFUL BOOK PLAN is far more comprehensive than what I was offered in classes or week-long publishing workshops. This is a definitive, step-by-step guide for creating 'gotta-have-it' book queries and proposals, and it directly addresses what new and emerging writers want to know about the entire process. Forget the Publishing for Dummies books–this is about creating your best work and then getting it into the hands of someone who resonates with your brilliance." – Kate Swoboda | Creator, YourCourageousLife.com
"You know you have a story in you…if you only knew how to get it published. After diving into Danielle + Linda's book love fest, I am astounded with the top-shelf knowledge and talent shared. I could not look away. And now I am starting my second book–with a proposal this time."
– Susan Hyatt | Master Coach and Author of Create Your Own Luck, 7 Steps to get Your Lucky On
Script Your Success! About
YBBBP

… We've never met an editor or a literary agent who didn't truly love books

. Passion is essential in these professions, and that's why they're in this business. Editors and agents are constantly trolling for good ideas, for the next great book. Their jobs depend on it. They need you as much as you need them. So try this mindset on for size (repeat it out loud every time you pull up to your keyboard): "Agents and editors are praying for me to show up. My work is the answer to their prayers."

Publishers need you to be your best you. Life wants you to shine—creatively, strategically, for years to come. We want to help you do just that.

Our intention in creating this program is to inform and inspire. We're going granular and visionary with step-by-step how-to's, behind the scenes accounts, and big-hearted cheerleading. We'll take the mystery out of the process and show you how doable it can be to create a book plan that could take your creativity and career to the next level.

Think of your book proposal as your playbook for success, a beacon of your brilliance, and your representative in the world of publishing. Knowing the rules (before you can intelligently break them) is an absolute must. Clean, tight, engaging copy is paramount. After all, you want publishing houses to feel confident about investing their time, money, and brand in you and your dream, don't you?

Where do we come in? We've done this over and over and over. We're here to help you take this colossal task and break it down into simple, doable chunks… and love the process. The world of publishing can be intimidating, but not so much when you're armed with a plan.

Whether you're writing a memoir that only your children will read, a breakthrough formula, or you've got wisdom to share with industries, nations, and seekers everywhere…the world needs what you've got to give.

With great love,

Books, Blogs & Your Bounty:
A Spreecast Event with
Danielle LaPorte & Linda Sivertsen
Share the love.
Click below to tweet. Copy+paste to share on Facebook, Google+, etc…
HUGELY valuable publishing, blogging, writing Q&A vid w/ DanielleLaPorte LindaSivertsen. http://bit.ly/VQA75S
Want to become a published author? This Q&A w/ DanielleLaPorte LindaSivertsen is a must watch. http://bit.ly/VQA75S
Stepping up to my writing dreams. Inspired by Books&Blogs Q&A w/ DanielleLaPorte + LindaSivertsen http://bit.ly/VQA75S