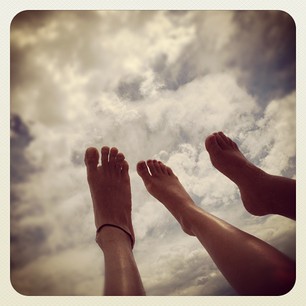 I miss writing this blog. I haven't been ignoring it on purpose, just been down for the count. About a month ago I fractured my ankle in an elegant (not), extremely coordinated attempt (hardly) to tackle my 6'4" boyfriend. I was in my office writing and overheard him and his brother in the kitchen making fun of all the organic food I'd horded into our crammed fridge, so naturally, I had to run through the tiled house to tackle their asses.
Trouble was, I slipped on the blanket that fell from my waist rounding the corner into the family room and ate it in the hallway, nowhere near my victims. I'd never sprained, much less broken, anything before and the "pop" was a bit jarring, although fascinating from a oh-this-is-what-this-feels-like kind of way. Fortunately, two hunky ex-USC linebackers adeptly carried me to the couch and waited on me hand and foot all weekend, where they taught me about the miracle of ice, and brought me PLENTY of organic fare.
So, I'm guessing I didn't quite slow down enough from that lesson (walking four days later, thanks, I'm convinced, in part to a juice fast and weird tinctures + herbs Danielle LaPorte told me to get), so I mixed it up by going to an acupuncturist two days in a row who not only totally jacked up my progress, but definitely broke it if it wasn't already. Larry, always one for a good show, came with me, held my hand in solidarity as I groaned through the poking and prodding, and took glam shots of all the needles (entitling his winning photo "Linda's Big Beautiful Foot Plan") to share with the guys at the office. Good thing my thick skin isn't just relegated to the bottom of my feets.
Just to be sure I really slowed down, a few weeks later, I came down with a heck of a nasty cold (maybe just a really cool cleanout from all that juice fasting? At least I lost the 8 pounds from Christmas with no ability to exercise.). At any rate, I'm just now getting my voice and ability to concentrate back, and wouldn't you know it, my man's now got the "bug" and is keeping me up all night with his ear-shattering coughing (good thing he's so cute). Heaven help us!
Needless to say, other than tinkering with my website a few minutes at a time (easy breezy), creativity's taken a serious vacation around here. Probably much needed after 9 retreats in 2011; putting my son in college and moving him into his first apartment; renting out my house, selling most of my belongings, and moving in with my man; getting a puppy and trying to stop her from eating most of the furniture (a fruitless endeavor—go ahead and just eat it all already—good thing she's so cute!); delivering a full book to a publisher, helping to edit and develop lots of others, seeing one I'd collaborated on hit all the big bestseller lists, oh, and writing and launching 400+ pages & 8 hours of audio of Your Big Beautiful Book Plan with Danielle, and writing and launching my new website, Book Mama (where birthing book babies is easier than the human kind), right before Christmas. Sheesh.
That said; I'm not one to sit around long. The healing on multiple levels has been more than worth the snot and temporary pain, and my creative mojo's rising. I'm working with a new VA to streamline my email organization (please God), and can now get a shoe over my still slightly swollen, blue kankle. I'm beyond excited to roll into Carmel next week, too! It's been a few months since our last retreat and watching the Pebble Beach Open this weekend made me want to jump through the TV to get back there! I can feel and smell the sea air (and gourmet creations of our chef, Jen Filice) now.
Our February retreat's been full for months, but we had a cancellation a few days ago and officially have ONE spot open if you'd like to throw your schedule to the wind and come create with us next Monday. I'm no longer contagious (and with only the hint of a limp) and there's nothing like this creative brain trust to give your writing and your year a brilliant send off.
You can read all about what this would look like for you (with a new hour-by-hour daily schedule page), and get answers to any questions you may have on a newly updated FAQ page. And, I've added lots of new testimonials, with photos of our beautiful gals too. Here are the links, again, to make your surfin' easy.
A Rockin' Daily Schedule page to show you the hourly play by play.
Loads of Testimonials + photos.
Lots more Q & A's on the Frequently Asked Questions page—including musings on how it works if you're shy, a newbie, or not feelin' very inspired or particularly spiritual (aka: writing about dark stuff). It's all here, so check it out.
Hope you get a chance to peek around a bit, and get a feel for how this retreat might be just what the doctor (or acupuncturist) ordered. If not, next week we'll be delving into some seriously helpful pub tips.
In the meantime, thought these might inspire:
"Writing is a socially acceptable form of schizophrenia."  ~E.L. Doctorow

"If there's a book you really want to read, but it hasn't been written yet, then you must write it."  ~Toni Morrison

and my current fave:
"I try to leave out the parts that people skip."  ~Elmore Leonard


 [Don't we all!]
Thanks so much for reading, and have a great week! If you have a moment, leave a comment and let me know what crazy obstacles you're dealing with + overcoming. I just heard from one woman who broke not one but BOTH ankles. Nuts. It's easier to laugh at this stuff and know you're not alone when sharing your humanity!
Yours,
Linda
(323) 769-5153
Photo credit: peace2theworld on instagram