Every year for as long as I can remember, I've lit a candle, gotten cozy, and listed my yearly goals on pretty paper. I do this twice a year, in fact — once on my birthday in late summer, and again before midnight on New Year's Eve. My success rate is pretty decent with these things, which is why I keep doing them.
But I've gotta admit that these lists (and making them) has increasingly bored the crap out of me. So much so that this year on my birthday, I barely did it — gave myself maybe 10 minutes to script down a few ideas before I could get back to having real fun. It felt obligatory vs. celebratory, which made me a bit sad.
I wanted to feel, as always, continued (and even more) creative fulfillment, connection with loved ones, vibrant health, and financial freedom.
The problem? I didn't feel inspired by putting those desires down as is, nor alongside things like, "I'd like a bigger refrigerator," "to get more organized," and "to read a novel uninterrupted under a palm tree."
I was thinking, "These goal lists used to be fun, but they really aren't anymore. I wonder how I can get the magic back?" In an attempt to inject the joy back into this once beloved practice for this coming New Year's (which was only four months away at the time), I bought a new journal and an expensive 18-karat, gold-tipped fountain pen in Carmel in which to script my newest desires. But the excitement quickly wore off.
Next, I bought a bigger journal hoping that would help. But after a day, I could tell it wouldn't and gave it away. Then, I bought a really BIG artist's portfolio sketchpad with a leather case and a heavy handle, hoping the size and weight would ramp up my enthusiasm. It did. For about three days. Until I turned it into a diary.
I was back to being frustrated about what I was going to do about my lackluster vision for visioning my future list on December 31st.
Then lightening struck.
Well, really it was just Danielle LaPorte, who I guess you could say feels like lightening. I'm sure you've heard of her. Among many other things, Danielle is my co-author for Your Big Beautiful Book Plan and the bestselling author of The Fire Starter Sessions (Crown Archetype).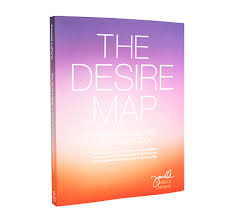 Over the past two years, she'd shared with me that she was developing a new way of goal making called "The Desire Map", but we were always busy chatting about other things and I didn't get the skinny.
Danielle recently showed me a preview, however, and I about lost it. I literally had tears running down my face. She'd nailed exactly what I'd wanted but couldn't find. What I'd needed, but didn't know could exist. That's because it wasn't yet in physical form. Until now.
If you've been on my newsletter list for a long time (you are a subscriber, right… if not, click here to sign up), you'll probably remember a blog I posted a few years ago where I talked about infusing your publishing goals with feeling. I included a list of my most favorite publishing moments — the types of things you dream about experiencing when you're still unpublished (or, God forbid, your book came out, but you've yet to experience many of your publishing goals).
My desire was (and is) to share inspiring visuals for what you have to look forward to.
Each dreamy moment was a real-life success I'd experienced, and I hoped would elicit deep and profound feelings inside of you. I'll include that list below, in case it comes in handy when creating your very own Desire Map.
Let me close by saying that the idea that Feelings fuel our ability to manifest isn't a totally new one. But how are you supposed to structure this feeling/desired-centered way of creating? It all sounds very illusive, doesn't it? And tricky to stick with, seeing as how our emotions and attention spans are so fleeting. Being the maverick visionary that Danielle is, she's figured out a way to add the structure, hand holding, and magic to this all-so-important mapping of our desires business. That's what's very, very new.
I can't wait to open my copy of The Desire Map this week and dive in deep. Let's do it together! Leave me comments about how it's going for you, and I'll do the same. And, to help juice you, here's the list of some of my past (and some recent) goose-bump publishing moments–that, no surprise, were fueled by a lifelong desire to FEEL the freedom of living life as a working writer… since as far back as I can remember.
May the items on this list give you an even clearer idea of what the writing life looks and feels like for those of us living the dream, and what you want to experience and feel on your path to bestsellerdom.
… getting a call from a top NY agent that he's read my work and wants to rep me.
… said agent flies out to visit me, and sits a spell — gifts in tow.
… hearing Mr. Agent on the other end of the line, saying: "You've got a book deal!"
… flying to the East Coast to meet with my publisher/editor, and sitting with fourteen executives in their conference room before being wined and dined by all of them at a nearby restaurant.
… holding my first book in my hands at a publishing conference… no words.
… media tour… radio, national TV, book signings, limos, green rooms, make up, hair, fruit baskets, congrats from nursery school chums and old boyfriends — weird/surreal.
… sleeping in gorgeous hotels and chillin' on my agents' couch (surrounded by mountains of manuscripts).
… podiums. Interviews. Standing O's. Paychecks. Lines of happy readers sharing the love. Sweet dreams and new book ideas.
… seeing my work in magazines, newspapers, online, and displayed in bookstore windows.
… wanting to write a column and soon afterward getting a magazine gig doing just that.
… gig turns into West Coast Editor, flights to big cities, interviews with icons, and years of cover stories.
… reading book excerpts, my son and family beaming from the front row.
… getting stopped by strangers… "Didn't I just see you on CNN yesterday?"
… making the bestseller lists, big and small/sweet.
… more book offers.
… taking my son to Simon & Schuster, where 20+ people file out to hug and love on us—giddy mother and son… before an amazing group meal at a trendy restaurant (gotta love these foodie publishers!).
… being handed the NYT bestseller list, where I was totally shocked to see my name… then came the congratulation calls and the tears.
… book and magazine awards. A university award, even though I never graduated.
… opening fan letters from old people, grateful people, kids who say they'll live differently because of what they've just read. Whoa.
… more bestsellers. More awards. More ease, peace, downtime.
… writing retreats and new friends joining me from around the globe.
… people I admire suddenly following me on twitter.
… people who used to judge me now wanting to be friends.
… people I admire calling to tell me they want to work with me.
… being named one of the best on the web. Talk about goosebumps!
… showing my son by example that he can do whatever his heart desires.
It all started with one dream, one chapter, one book, one agent, one publisher, and a HUGE AMOUNT OF DESIRE. While your road to publishing has its unique footprint, remember the feelings you're going for. In your desire to see your book in print, for example, how do you want to feel when your agent calls with the great news? How do you want to feel knowing that the details of your life experience are now out in the world helping others heal? How do you want to feel when you see your name atop the New York Times bestseller list week after week? Fun, right? Oh yea.
That's where the juice is — the feeling. That's what matters.
Let's do this. Together. (Even before New Year's.) It's going to be big. I can't wait!
To find out more about The Desire Map, click here.
Linda
xx