Lives Charmed–My First Born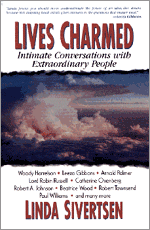 Lives Charmed: Intimate Conversations with Extraordinary People
(
HCI
, 1998; still in print): came to me in a dream. I was a professional dog walker in Los Angeles, with some pretty cool celeb clients. My life was a reality show before there was such a thing; I had a front-row seat into some big-time drama. (I was taking care of Brandon Lee's cats the night he was killed on the set of
The Crow
, knew Nicole Brown Simpson soon before her death led to the trial of the century, and had several clients hire me before they checked into rehab.) My job was blissful, too—exercising in gorgeous gardens and neighborhoods with happy dogs all day—and taking care of mansions. Hello?! With this crash course in success, I saw what worked and what didn't. And, man, did I ever watch how people created incredible good fortune, physical and financial freedom, and spiritually fulfilling lives in this City of Angels. (Not to mention, it was just plain
FUN
walking the dogs of people like Kirk Douglas, Kiefer Sutherland, and Paul Williams—good peeps!)
My dream told me to interview those I knew who were experiencing this type of success in every area of life + living green or fighting for our real mama. So, I bought a tape recorder and a computer, and started asking a heck of a lot of questions. I wrote the book, landed an agent, scripted a proposal (yes, backasswards), swam in rejection, and studied every book on publishing until I got a deal. Thankfully, the media embraced the book, and I soon had a career as a magazine journalist (interviewing more charmed + hard working folks). Over a decade later, the book's still in print. All these years since, I'm still in awe this book (and my subsequent career) ever happened to me. A dog walker, just doin' my thing and loving my life. I still love these interviews, they're timeless. And, the experience of writing this book taught me that you can start small, with big dreams, and see them come to fruition!

Praise for Lives Charmed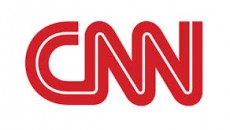 "A life charmed, how appropriate… a story of influences and odds beaten. Jiminy Cricket couldn't say it any better."   
—Jim Huber, CNN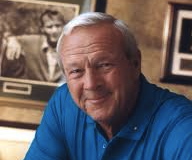 "My interview with Linda Sivertsen was one of the best I have ever done."
— Arnold Palmer, golf legend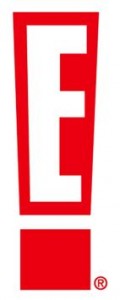 "From dog walker to celebrity biographer. I'd say Linda Sivertsen has a charmed life, too!"
— Kym Douglas, E!
"Linda Sivertsen's story is truly a magical one. Her connection to a lot of big names was actually through their pets, and her intimate conversations are truly extraordinary."
— Leeza Gibbons, The Leeza Show, NBC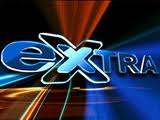 "A charmed life: Ever wonder how some people manage to live such perfect lives? Well, Linda Sivertsen went looking for answers for her new book, Lives Charmed. In it, Catherine Oxenberg makes the astonishing claim that she was molested as a young child by a member of her mother's [Princess Elizabeth of Yugoslavia] side of the family. Ultimately, mothering, therapy and being interviewed for Lives Charmed have all helped Catherine to heal."
— Extra, NBC, in a two-part segment on Lives Charmed

"What Sivertsen's subjects have in common, surprisingly, is a genuine desire to use their celebrity status for the good of the world at large. In hearing about Sivertsen's subjects I couldn't help but be struck by an obvious truth; the author leads a life that is equally, if not in some ways more, charmed than those folks she writes about." — Mary Alden, The Taos News, NM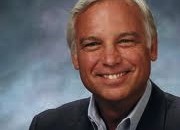 "Linda Sivertsen is a great interviewer. She really listens and asks terrific questions and follow-up questions; the kind most people don't even think to ask. Unlike most journalists, who have become cynical and distrustful, Linda makes you feel safe, allowing for a deeper interview experience."
— Jack Canfield, creator and co-author of the best-selling Chicken Soup for the Soul series
"I love this book [ Lives Charmed ] and tore through it, reading it cover to cover several times. I get tons of books sent here to the station and this one stands out as one of the best I've read. Lives Charmed is a real gem, and so is Linda Sivertsen. I would give her air time whenever she wanted it."
— Kip Wallace, WHEE-AM, Martinsville, VA
"From this reservoir of stories, Sivertsen reinforced her beliefs that 'there are ways of thinking and modes of living that breed success, and they can be learned.' [ Lives Charmed ] is a new genre of books in which she combines spirituality, self-help and celebrity tell-all to create a different kind of reading experience."
— Bodhi Tree Book Review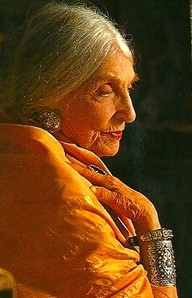 "The interview for Lives Charmed was the best interview of my life."
— Beatrice Wood, world-renowned artist/ceramicist (102 years old at the time of this comment)
"… I must say that this is one of the most insightful interviews I've read about Beato. I simply didn't want it to end. If I didn't know better, I would have thought that Linda had known Beatrice all of her life. She took the time to penetrate the many layers of a woman who didn't expose herself to many. A real woman—very concerned about global affairs—who just happens to be a legendary figure."
— Marlene Wallace (the official photographer of Beatrice Wood, whose work appears in the Smithsonian, and books and periodicals throughout the world)
"From sports figures to fashion supermodels, Sivertsen's interviewees have a common thread of positive thinking and sound spiritual basis. Virtually no aspect of interaction and experience is neglected."
— The Book Loft Review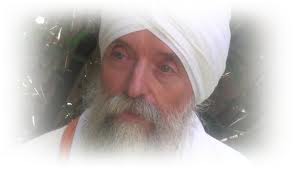 "The beauty of a work such as Lives Charmed  is that it will sell so wildly, it will change the fact we are currently feeding the subconscious with our art and our media. The subconscious is bursting at the gills, overfed, and is absolutely running the show. With books like this, we will start feeding our higher conscious, which should train book publishers, moviemakers, magazine publishers and newspaper reporters that this is just as saleable a product as feeding the subconscious. I seeLives Charmed spinning off into follow-up books and a weekly television show, thankfully, because the more products we can sell to our higher conscious, the sooner we will relieve Mother Earth's burden."
— Guru Singh (Author, named "Best Guru in L.A."
by Los Angeles Magazine )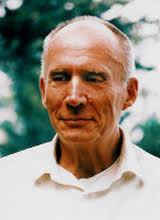 "The book is a jewel. I'm honored to be a part of it."
— Robert A. Johnson, Jungian analyst and best-selling author