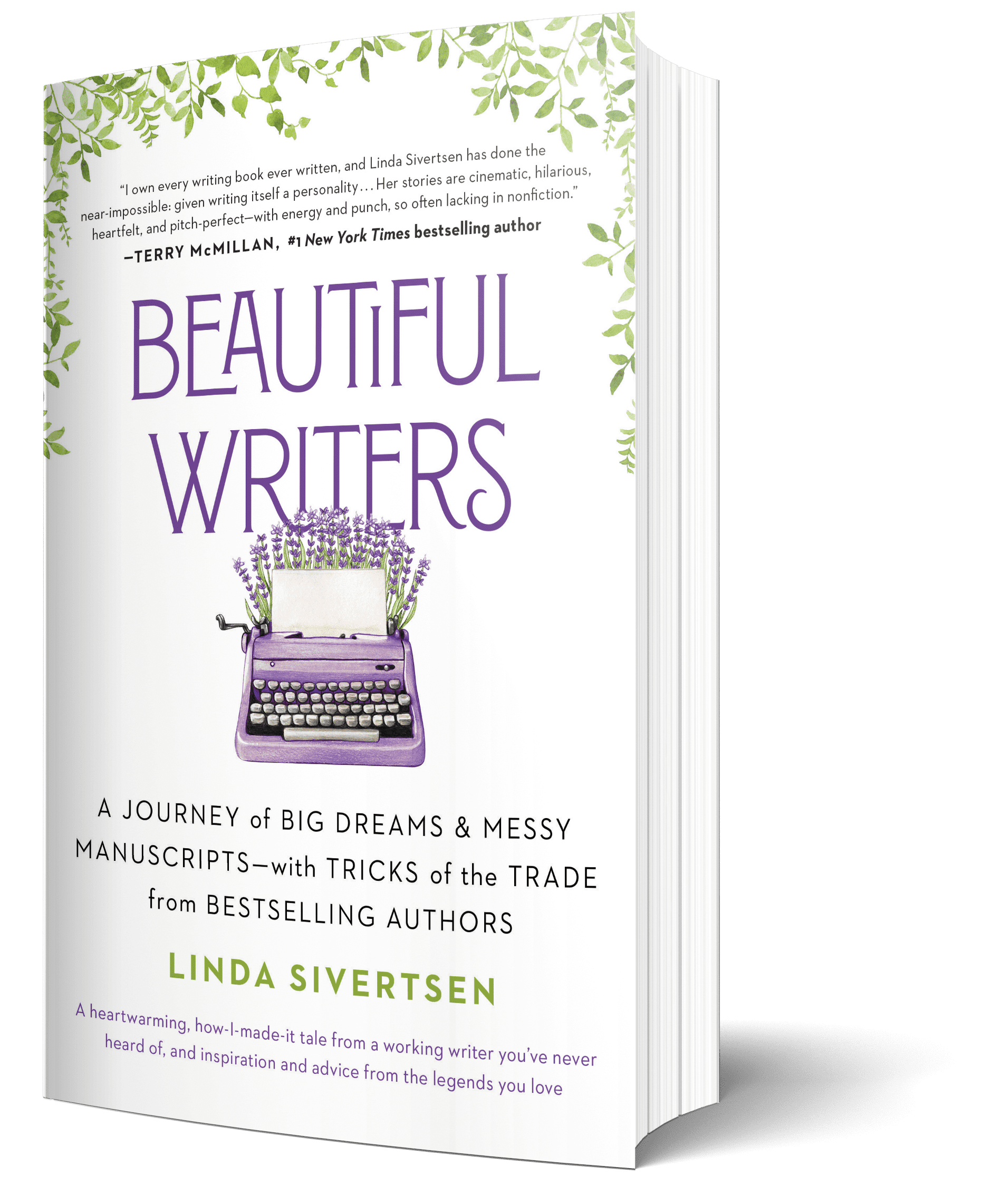 Write on! Thank you for pre-ordering my book! To show my gratitude for your early enthusiasm, my tiny (but mighty!) team and I have had the best time putting together a treasure trove of gifts for you. Things to use right NOW to support your writing & publishing career. ⬇️ (Scroll down for the list.)
I've packed the 390-page book (yours on Aug. 23rd) with the most mystical, funniest, heartfelt (and struggling!) cinematic stories of the magic and mayhem I've experienced. Same with my celeb author interviewees from the Beautiful Writers Podcast. But before that's in your hands, several writing, publishing, and marketing expert friends like Tim Grahl, Kate Northrup, and Samantha Bennett are giving you GOLD.
Just fill in your details below (including your book order receipt #) and we'll be in near-immediate touch with your freebies.
And! To avoid that last-minute holiday gift scramble (you think I don't know that drill?!:)), I'll mail you signed nameplates when you order 5 or more copies. (Just send a screenshot of your order to team@bookmama.com, the names you'd like me to personalize, your mailing address, and bam! Just like that, you're a holiday hero!)
If you're not already on my monthly newsletter list, you'll be added for all the latest intel. Watch for an email with an audio link where I share some of my all-time favorite writing tips for attracting literary agents and landing the deal.
Yours,
Linda (aka Book Mama) xo
GOODIES INCLUDE (more coming soon):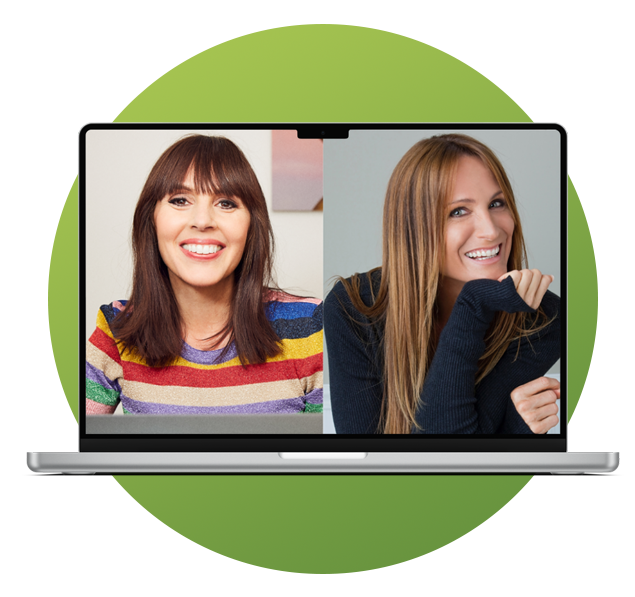 Beautiful Emails: How to Write the Only Newsletter Anyone Wants to Read
Live Zoom Session with Laura Belgray and Linda Sivertsen
90-minutes on September 13th, 12 noon Pacific
Great news: We're in the age of the email newsletter, and they're only getting hotter. Why is that great news? Because a newsletter is the best way to grow an audience, make them fall in love with you and your writing, tell your favorite personal stories, hone your voice, and—if you're an author—SELL BEAUCOUP BOOKS.
And who better to open up her bag of tricks than email superstar Laura Belgray—author of the upcoming Tough Titties (via Hachette), Co-Creator of The Copy Cure with Marie Forleo, Founder of Talking Shrimp, creator of Inbox Hero, her signature email copywriting course, and writer of one of the most-loved email newsletters in the online creative space. Fun fact: Not only do readers cite Laura's emails as "the only ones I always open and read," but they bring in over $1M a year in sales.
In this 90-minute training and Q&A, Laura and I will show you how to write emails that get your subscribers hanging on to your every word . . . and spreading the word about you.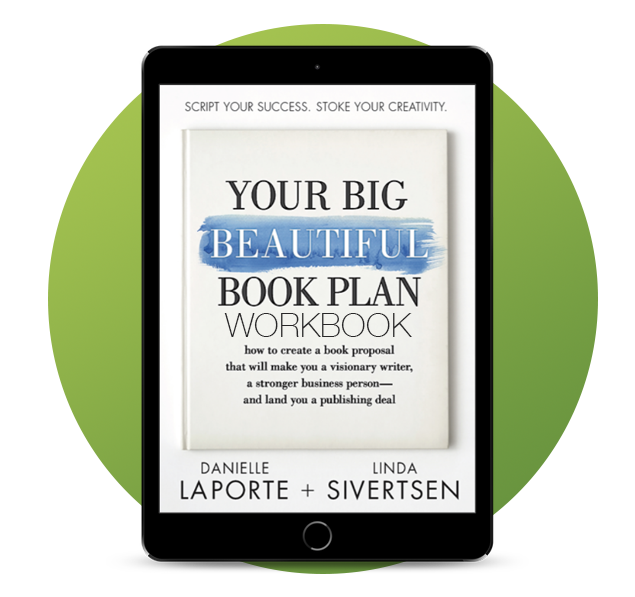 Your Big Beautiful Book Plan Workbook
Blood, sweat, and cheers — from the people rooting for your book to arrive! Get ready to dream BIG and have fun with the most popular section of Your Big Beautiful Book Plan, free for you here! With prompts lovingly created by Danielle LaPorte and me, dive into guided exercises to put your new book-building knowledge into action. Define the best-case and worst-case scenarios for the life of your book (hint: both might be wildly cool) to get you over that glorious finish line. Isn't it time to update your biz card to "Published Author," at last?
Includes:
* Hooking, pitching + mobilizing your allies.
* Your "apocalypse is nigh!" cocktail line.
* Spilling your qualifications + street cred.
* Your epic hotness, as relayed by a friend.
* Who's buying, babe? Your market, defined.
* Spreading the Gospel: PR + media.
* Ruling (out) your competitors.
* Inspiration, perspiration + advanced creative hermitude (or: how to propel yourself into "finished" territory, come hell or high water.) And more!
* Includes a Creative Hermit Auto-responder that you can copy + paste straight into your "vacation reply" box, graciously deflecting unwanted visitors while you hunker down + heroically get to "the End."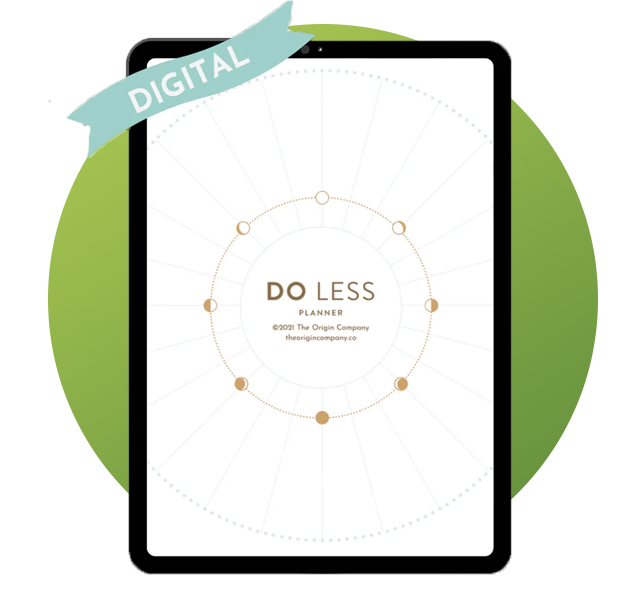 Digital Do Less Planner from Kate Northrup
THE ONLY PLANNER DESIGNED WITH YOUR BODY, NATURE, AND THE COSMOS IN MIND.
The self-dated DIGITAL Do Less Planner includes:
2 years of big-picture Yearly pages
4 Seasonal Reflection + Planning spreads
12 monthly spreads
13 Moon Pages spreads (including Egg Wisdom reminders!)
52 Weekly planning spreads that include the Weekly Renewable Planner, The Universe's and Your To-Do Lists, and Sacred Practices Tracker
90 Daily Energy Trackers
Trends Tracker to get to know and love your own energy patterns
List Love to organize what matters most
Kate is a dear and trusted sister. One of the people I go to for guidance on all things life and business. As the author of Money: A Love Story and Do Less, her work has been featured by Oprah Daily, The Today Show, Yahoo! Finance, Women's Health, Glamour, The NY Times, and the Harvard Business Review.
You'll receive two different versions of her digital planner, one that's a writeable PDF that can be used on your computer, tablet, or smartphone, and one that can be used on the GoodNotes app on your mobile devices. All instructions for using both versions are provided via email after download. (Kate sells this download for $25, and I think she could triple that! At any rate, since my book sells for $19.95, you could break even right here:))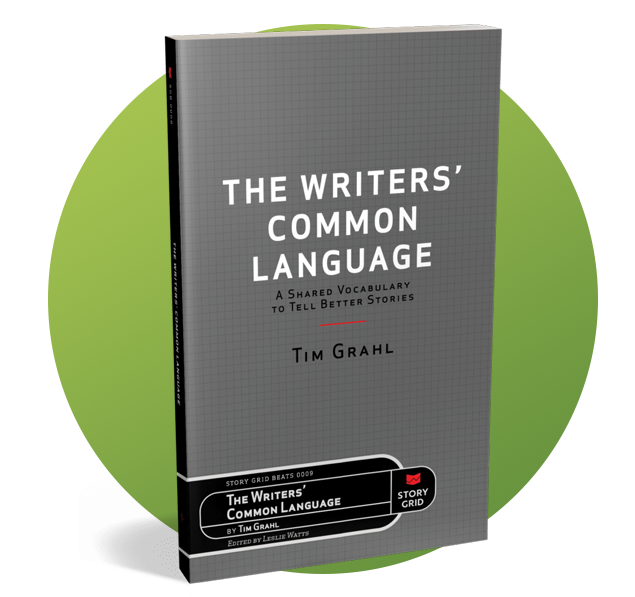 The Writers' Common Language: A Shared Vocabulary To Tell Better Stories
HELPFUL GUIDE FROM AUTHOR TIM GRAHL
Like many beginning writers, Tim Grahl struggled to learn his craft—and even to find the right words to describe his questions and challenges. After reading a library of how-to books, Tim found what he needed in the unique Story Grid approach.
With the help of editor, friend, and Story Grid creator Shawn Coyne, Tim discovered a new vocabulary—what he now calls The Writers' Common Language. Learning this language can help us all think and talk about our stories with more clarity and specificity.
These days Tim is a top book marketing expert & author (who once helped catapult five clients on the New York Times Best Seller list at the SAME time!). In this book, Tim shares moments from his own journey as a storyteller and how the strategies and tools of Story Grid transformed the way he reads, writes, and edits his own work.
Finally, in this gem of an ebook (or paperback), you'll find a breezy, brilliant way to wrap your mind around topics like Genre, Theme, Voice, Point of View, and Value Shift to level of up every project. "Once you can apply these tools to your own story," Tim says, "you will be amazed at the progress you can make."
When we speak in this writers' common language, we can create community, learn from each other, and—most important—bring more great stories into the world. (Tim sells this book on his site. Priceless.)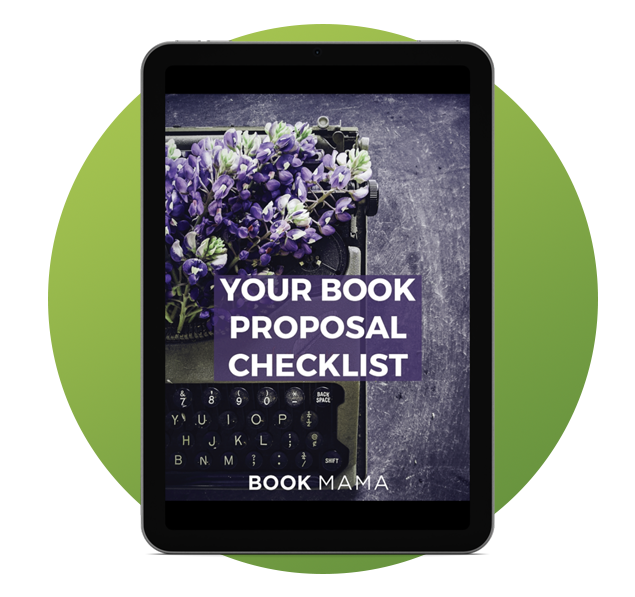 Book Mama's 6-Page Winning Book Proposal Template (recently updated)
USE TO INSTANTLY UP YOUR GAME
What's in a Book Proposal anyway? Get my total Book Proposal Checklist—the one I break out before every book I write.
Crafted after decades of writing and selling bestselling books, it's all here in one place: every section you will need to wow lit agents and publishers. With just enough detail to help you get started and stay organized, say goodbye to overwhelm and intimidation as you go from Idea to Done. Write on!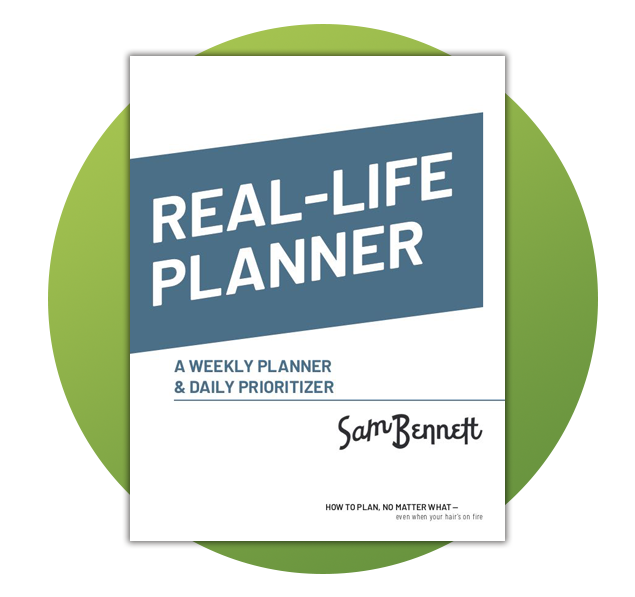 Samantha Bennett's Real Life Planner
FREE 7-DAY PRINTABLE PLANNER
You want a creative, customizable system to craft, document and organize ALL the things:
to-do lists
daily schedule and days that refuse to schedule
personal growth insights
writing/journaling
professional commitments
doodles, inspirations and fun ideas
tracking your money, calories, number of hugs…
weekly self-assessments to monitor your progress
overwhelm so you can stay on top of your WHOLE life – family, work, and just-for-fun!
If just looking at the pile of notebooks, journals and calendars leaves you exhausted, today is your happy day. Samantha Bennett motivates and simplifies like few others. Not only does she write some of the best books for creatives you'll ever read (Start Right Where You Are & Get It Done), she's the owner of the Organized Artist Company. Wrangling creativity is her superpower. Here's the all-in-one solution you've been waiting for in an easy-to-manage, 7-day format!​ (This offering varies widely from Kate's planner. Download them both and see which one works its magic on you. Maybe they both will!)
Plus, you will be entered into a drawing for: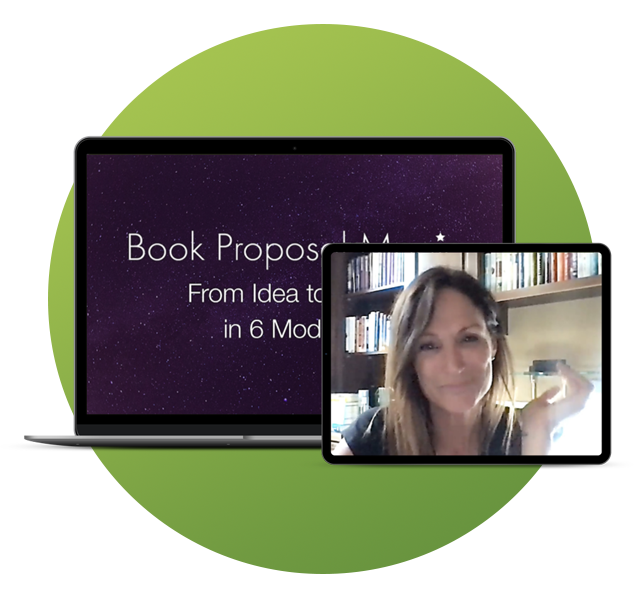 Book Proposal Magic Course + Private Consult with Linda
Winners will get access to Linda's signature Book Proposal Magic Course including:
A digital download copy of

 

Your Big Beautiful Book Plan
6 Training Modules
6 Previously Recorded Q & A Sessions
Monthly LIVE Q & A Sessions
Loads of Handouts + Helpful Resources
PLUS a 90-minute consult with Linda (includes 45 minutes of prep, where she looks at everything you've got and researches you and your market + a 45-minute chat, where you talk face to face). Sessions do not expire.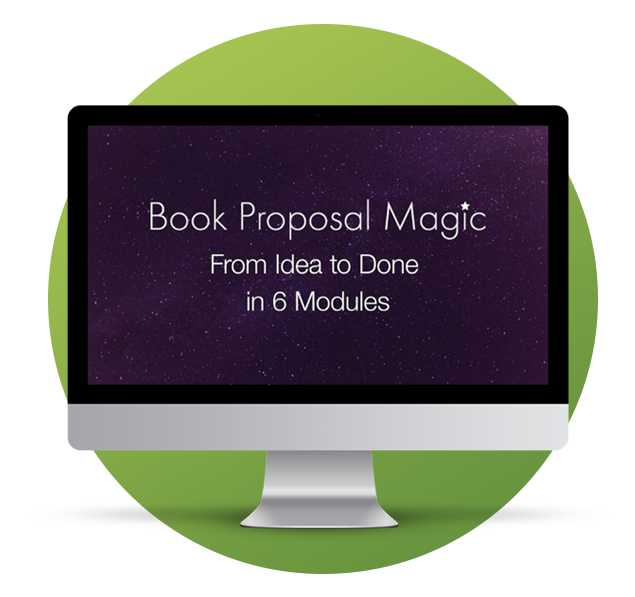 Book Proposal Magic Course
Winners will get access to Linda's signature Book Proposal Magic Course including:
A digital download copy of

 

Your Big Beautiful Book Plan
6 Training Modules
6 Previously Recorded Q & A Sessions
Monthly LIVE Q & A Sessions
Loads of Handouts + Helpful Resources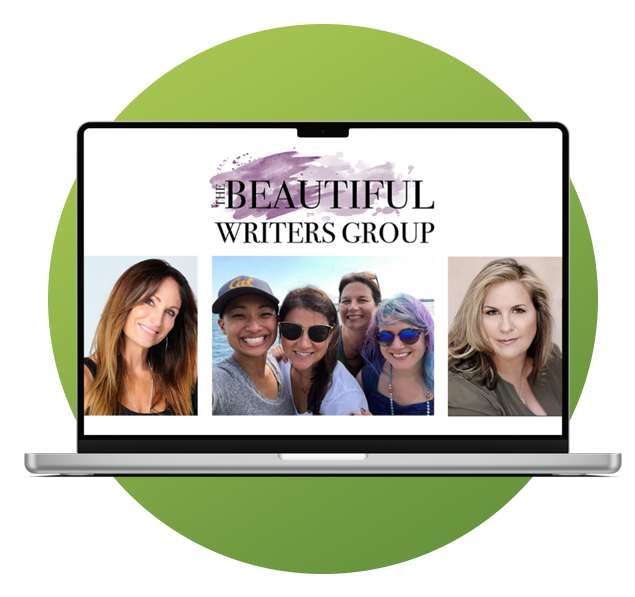 1-Year Membership to The Beautiful Writers Group 
Winners will get year-long access to The Beautiful Writers Group membership site, which also includes:
Monthly group Q & A with Linda Sivertsen and Samantha Bennett, bestselling author of Get It Done
Inspirational + Resourceful + Ass-kicking Weekly Newsletters
Weekly Zoom "Write-In" accountability check-ins
Audio library with bestselling authors and publishing/marketing experts and Q & A coaching calls
Access to our AMAZING private community on Facebook
Our own Resources List for writers
Bonus content, too!
Random drawing will be held on August 23rd, 2022 from all pre-order entries. Entry into drawing ends at 11:59 pm PDT on April 22nd, 2022. Winners announced and notified via email on August 24th, 2022.