It's true. My family still jokes that we should send her flowers for "taking" my husband of 19 years away. Obviously that's a long story. But one I think about every time a Carmel Writing Retreat grad inks a new book deal. (Yay! See our latest below!) We came together as strangers in a treehouse overlooking the Pacific, ONLY because my divorce forced me in my grief to go from being an isolator (writing with my cats on my desk and dogs at my feet), to bonding with people I'd never met over our shared desire to save ourselves. Because that's what we all want, right? To save our sanity. Our family. Our finances. Our image of what we knew as kids we were here to do. Turns out, I would learn that all of this is infinitely easier in a band of misfit strangers.
From a piece I wrote two years ago, with reprint permissions from MOTIVATED MAGAZINE:
SUCCESS VIA STRANGERS, by Linda Sivertsen
I searched hard to see if Donald Trump had it, behind his foreboding desk, the view of Central Park just behind his famed hairdo. Just as I'd thought. It wasn't there. Nor was it in Arnold Palmer's office in Bay Hill, Florida, while hurricane winds kept us off his greens and stuck inside. I thought for a moment that it might be within reach at Oliver Stone's horse ranch in Telluride, Colorado, where the madcap director shared snippets of a rough cut of his movie Nixon. But upon closer inspection, it was nowhere in sight.
I never did find the version of success I'd been searching for in the outside world. Not even from the ladies. My friend talk-show host Leeza Gibbons didn't have it, not in her sprawling Hollywood mansion or at her massive soundstage at Paramount Studios. She had a lot, and I studied her relentlessly, but not "it." Nor was it visible at Jane Seymour's seaside Malibu mansion. I saw no hints of it while talking or eating with Sally Field, Alanis Morissette, the Duchess of York, or Suze Orman. It wasn't present the day I met the best-friend duo of Charles Barkley and Michael Jordan (I just bloody-hell gave up with those two), or with any of the monks, gurus, medicine men, or holy folks I'd also befriended or interviewed. Not even after collaborating with the Publisher of SUCCESS magazine, Darren Hardy, on his New York Times business bestseller, The Compound Effect, did I find it. Here I was, with a journalist's fly-on-the-wall, back-stage pass, working with perhaps the greatest expert on success. My dream was a joke. Pure fantasy.
What they were all missing, I believed, was a creative life in which they could share their art—whatever that was—while also having peace and quiet. Solitude. Anonymity. Even the gurus didn't have it. People swarmed around them. The requests on their time and attention and talents were relentless, endless. People were needy, rude, demanding, entitled, and narcissistic, with no understanding that the object of their focus—the artist—was struggling for creative and personal time. I heard one bestselling author refer to the needs of the people around him as akin to "getting picked to death by baby chicks." That image haunted me. As a tree-hugger, I'd always had too much empathy, feeling the pain and desperation of the smallest insect, much less an actual hurting person before me. I had a hard enough time not giving money to every street person I passed, or all of my time talking with a new writer struggling to break through. I loved baby chicks; how could I shoo them away? Surely I'd be eaten alive.
But the demands of merely trying to deliver on my own deadlines necessitated that I pull insane hours—in one year alone, sixty all-nighters. Add that to being a fulltime wife and mother, a friend, sister, and daughter (especially when caring for my parents five years apart, as cancer rendered them helpless), and I was tapped, not to mention still often living month to month. How would I ever have more to give? I'd go bankrupt! I decided that I just wasn't cut out for a big life. Yes, I had several glamorous assignments, but then I'd go home. I'd write a book from my office, and mostly go about my business. No throngs at the door. Thank God.
Besides, I've never been a joiner of a group person. I quit my sorority at USC a year after being named "Most Dedicated Member." Despite cries from my best friend, Diane Chandler, that I was "afraid of success," I vowed to try and stay as small as I could while still paying the bills and doing good work.
As I sat tucked away in my upstairs office in our sleepy suburb, all was mostly well. We were almost out of debt, about to take our first trip to Europe. My husband and I were hands-on artist parents to a 17-year-old dean's list, MVP tennis player. We'd started to build up an IRA. What more could you want? I had an increasing resume of bestselling collaborations, mostly created from a cozy technological distance, with my cats asleep on my desk and dogs asleep at my feet.
Ahhh. I'd found it. The IT. For all of about five minutes.
Then she came into our life. The new love of my husband's life. Just like that, he ran away from me and our home to help raise her boys 1,200 miles away. They "needed him." I don't think he had any idea how much I, or our teenage son, needed him.
The two of us, my son and I, stood huddled together in what remained of my oh-so-carefully constructed fortress, as the walls came crashing down around us. Our home went into foreclosure. Beloved old dogs died. A cat ran away. The kid began failing school. I stalled the divorce for two years because I couldn't afford my lawyer.
It wasn't long before I realized I'd had it all wrong.
Diane was right. I'd been hiding, mistakenly believing that isolation was the key to my salvation. In truth, being the "best kept secret in my industry," as some called me, was making it harder on myself—more stressful—thus the need for more recovery time and additional isolation. If I'd just embraced those baby chicks, maybe hired help to help organized the demands and opened the floodgates earlier, perhaps things could have been easier. Maybe that's what Leeza and Oliver and Michael knew all along. Could it be that the answer to what ailed me wasn't more time alone, but LESS? Not more time spent alone with my own thoughts, but instead more spent brainstorming with others. It appeared that my answer wasn't in fact a smaller, "safer" presence online and out in the world, but an explosion of both.
The Internet's a magical place. In a short amount of time, you can build a community. I didn't know I needed a sense of community, but it makes sense. We're tribal creatures, mumbling to ourselves in rambling single-family homes. Losing my husband and his financial support and our sense of family and my extended family left me in debt and isolated. Only out of desperation did I break out of my comfort zone long enough to follow my instincts. I crawled back to my roots, winding up highway 1 to Carmel-by-the-Sea, California, the memories of my beloved parents and our many treasured times together in this seaside haven guiding me. I had only the vaguest idea this could be something.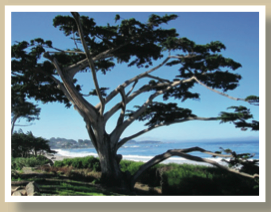 Turns out, women from around the world heard the soul call from a one-page website and teleseminar I'd created, flying in to join me for writing retreats overlooking the Pacific. I was awed. Ironically, in the company of strangers—yes, sometimes needy, entitled, even narcissistic strangers—my greatest career joys emerged, allowing me to help far more writers, and up-level my own work. This homebody-introverted-extrovert was now living and laughing and sharing a house together with five "strangers," for weeks at a time.
I was far enough away from home to help me quit crying about the loss of my man, and started a juicy love affair much more suited to my new, expanded life. He—my beau of now two+ years (it's 4.5 nowJ)—runs a large organization, with 3,000 employees. He knows more about balance, efficiency, play, travel, and loyalty than anyone I've ever known. I'm his most rapt student.
It still boggles my mind that what seemed like effortless connections in Carmel—with our shared sisterhood and now publishing successes—sprang forth from so much pain and yet saved everything—my business, my home, my heart, my sanity, and my son, all in the span of a few, short years.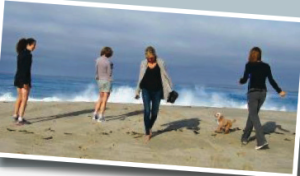 Each retreat, each group of magic makers healed and continues to heal untold places within me, allowing me to better mine my creative depths and help others do the same. Each group, with their unique yet universal stories and histories makes me better, stronger, wiser, and infinitely more fulfilled. And, I no longer carry the stress of being the one "expert" a client looks to for his or her answers. The group is far more brilliant than I alone could ever be.
Here's an example. Sarah from Santa Barbara has a page-turner of a book. We hang on her every word. The subject matter is heavy—but her voice is funny and wise, spiritual and suspenseful. We'll follow her anywhere. Trouble is, her woo-woo title stinks! It's a snoozer. We can't let her step out with it. We have to protect our sister in words! Its got to be catchy, twisted, and memorable—something like Running with Scissors or A Heartbreaking Work of Staggering Genius. Her work resembles those off-the-charts bestsellers; to call it something light and cosmic would be tragic.
With tea mugs in hand, and lively energy crackling, we simply ask a few more detailed questions about her topic, and BOOM! It's right there. In the midst of outlining a common comedic situation in her life, she utters the perfect sound bite, and we all jump on it at the same time—laughing and squealing. Within minutes, we've pulled up Amazon.com to find out that no one in all of Amazon's 2,000,000+ titles has ever written a book with this name. Then, she does a global search and finds that the domain name is still unclaimed. Within a few more minutes, she's registered the domain for her book (something publishers love). High fives are shared all around. Another pesky dilemma, handled. Bam.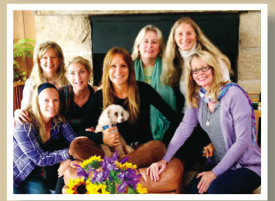 Jonah Lehrer, in his New York Times bestseller, Imagine: How Creativity Works, says: "The most creative ideas, it turns out, don't occur when we're alone. Rather, they emerge from our social circles, from collections of acquaintances who inspire novel thoughts. Sometimes the most important people in life are the people we barely know."
Never could I have guessed that regularly bringing together strangers (19 times now) could result in so much shared expansion. We arrive from all corners of the globe on a Monday and leave Friday a tight-knit, bonded unit. It's so magical to me that I can't claim credit for any of it. Maybe I should thank my ex? One of the great gifts of getting dumped.
That's not to say I don't still get behind or overwhelmed. My business has grown so fast that I've had nothing in my experience to compare it to. Yet, last year I only stayed up to 3:00 a.m. once. This year? Not once. I have more of everything good and less stress than at any time in memory.
I imagine that continued expansion will get even easier, as I get more and more comfortable relaxing into it. Unclenching. Saying yes. When popular blogger Danielle LaPorte called last fall, wanting to co-create a writing program for authors in exactly eight weeks, I felt that old, familiar fear arise. There's not enough time to put 20 years of study and experience down that fast! When it comes to writing advice, I'm a solo player. I might lose too much control. What if we get too big?
I laughed at myself and said, "Expand, Linda" into the mirror. "You won't do this alone. It's too big. Collaborate. Big is beautiful and Danielle is a rocket ship." So I did.
"When strangers trade knowledge, new knowledge is created," writes Lehrer. Danielle and I weren't strangers. But we'd only met in person once and had merely touched the surface of what we knew about each other, or what we could co-create.
We called it Your Big Beautiful Book Plan. Danielle and I were floored with what came out of us. It was far bigger and better than either of us could have imagined. To date, we've helped thousands of writers navigate the confusing world of writing and publishing. Divorce debt: Gone.
And books are being birthed around the world. Not so scary after all.
Stay isolated? Not me. Not anymore.
If you've been feeling the soul call to join us, let's talk. I so look forward to it!
Linda xo
P.S. Pretend you're with us: What are you working on? Your memoir, novel, self-help brilliance? Turning your blog into a book? Tell us in the comments below + leave your blog address, too (if it's ready for your public). The first step in making it real is declaring it:)
Our Latest Carmel Grad Book Deal…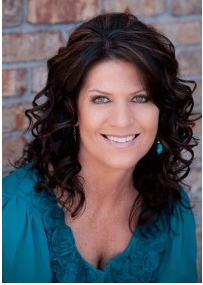 "Linda Sivertsen is my angel! I came to Linda's Carmel Writing Retreat with two books. I'd already written a proposal for one, but was ready to ditch it because agents had told me there was no market for it—that helping people make the best choices regarding eldercare (the topic of my work and book) was easily done online. Linda refused to believe that, telling me that our aging population made this book unique and timely. She saw my heartbreak and wouldn't let me give up. She quickly polished my proposal to make it stronger, introduced me to a great agent who immediately wanted it, and celebrated with me when it sold. I'm now working one-on-one with my dream editor at a publishing house—the senior acquisitions editor—who loves the book. I can't express how much Linda and the retreat changed my life or how much she means to me." ~ Becky Feola, Elder Advocate, Scottsdale, AZ. (The Eldercare Consultant: Your Guide to Making the Best Choices Possible. AMACON Books, Summer, 2015.)

Only 3 spots left Dec. 8-12th. You'll be amazed by what you'll accomplish in our week together!