I love Skype! I recently met the most dynamic, talented, and fantastically funny woman. We bonded and laughed as we chatted about her coming to one of my Carmel Writing retreats later this year, and about the book and publishing career she's aching to launch after years working as a successful artist. It took me all of 30 seconds to heartily invite her. Because I don't invite anyone I don't adore and I've got wicked fast instincts.
Minutes after we hung up, she sent me an email, sharing her excitement and vision and commitment to coming to realize her dream. Love when that happens!
And then she asked me a question I get a lot. So much so that I'm answering it here in this post in case you've had the same question about joining us in Carmel. Or even as it relates to your writing process at home:
Here's part of her Q: 
"… having not written a stitch, what can I do in preparation to make the most of our week? Come with 1 chapter, or 3, or a complete draft?"

My A: 
"… As for what you should be working on… I say whatever feels up for you. Whatever's knocking on the door of your mind. It's not mandatory, but if you have time to read the book proposal downloads in Your Big Beautiful Book Plan (you receive with your sign up), or listen to the YBBBP audios, do it! The act of getting started will help you clarify what you're here to share with the world, and what you want to say. And, since we read pieces to the group on the first day (even a blog post or a list of wants, if that's all you've got), think about what voice you want your new creative brainstorming buddies to hear and give you feedback on.
Some retreaters bring polished chapters/manuscripts. More bring only snippets of chapters or a partial proposal. About half have, at most, a few blog posts and restless ideas careening about their brains. We instantly help flesh things out. It's all good. It all works. And it's fun (and profound!) as hell. There will be laughter and happy, releasing tears, for sure. Right on that first morning. Because there's enormous power and healing when intention, passion, and smarts gather.
The gourmet eats and views of the Pacific don't hurt either. Oh, and the world's sweetest toy poodle holding space is beyond helpful. Sounds goofy, perhaps, that an 8-lb. dog could carry such creative weight, but you'll declare it yourself by day 2. It's just that obvious.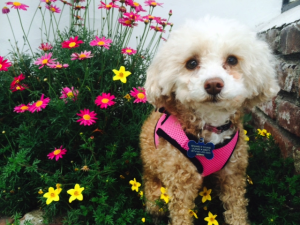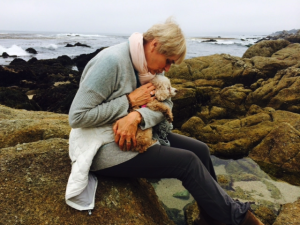 What matters MOST is that you're open and ready to listen to and act on what you hear to best coax your book out of the ethers and into physical form. It's go time:) But even that won't feel like work. Your creativity will be more than ready to burst forth once you get there. Probably long before you pack your luggage.
And, whatever amount of work you bring with you, know that you'll see new things once our mystical little gathering gets underway. Any "lack" of work on your part as far as page count goes equals that much more room for inserting magic.
I wrote a bit about the magical process of working with brilliant strangers in a magazine article once and you can find it here.
So, to answer your question: listen to your wants! If you're hell bent on cleaning your garage or going outside to work in your garden (I'm hearing this a lot… it is spring, after all), know that it's all in there—cooking. If you're chomping at the bit to get writing, go with the flow and start with what FEELS good right now. If you've been putting off a hard bit of text, but you can't stop thinking about it, sit your butt down and give it your time and care. Today.
Bottom line: Check in with your book and see what she wants you to do between now and your retreat. I do this from time to time, too… head out to the yard and say a prayer with a big pad of art paper in hand. I sit on the chaise lounge next to the rolling grass under the tall pines and script out these questions to the book I'm writing:
"Tell me what you want me to do now. Tell me what to write next." I scribble down every thought that comes into my head, without censor. What flows onto the page always surprises me and sounds far smarter than me. So, think about taking 20 minutes later today and doing the same… grab your supplies (heck, even a crayon, but NOT a computer for this one), and see what A's come to your Q's. I can't wait to hear what you put down.
In closing, thank you, thank you for your heartfelt question. This was such an enjoyable way to spend part of my morning—thinking about the sacred act of honoring one's voice. I hope it was helpful.
I can't wait to meet you SOON live and in person in my favorite place on earth! 
Much, much love.
Linda
xx