Honor your writing and sell your book.
Carmel-by-the-Sea, California beckons…

"I still dream about my stay in Carmel. It was indeed magical. Linda could teach anywhere, and to much larger audiences, but creates a powerful, intimate experience at her retreats. (And good God, can she write!) I didn't know what to expect and did not expect it to be what it turned out to be—interesting and exciting, with talented, beautiful women. I was thrilled by how brilliant they were, and how different their projects, both meaningful and important. Linda knows what she's doing, and I was very impressed with the format—the yin and the yang, the give and the take. And, to go five days without watching TV, especially MSNBC? Heaven!
"I've never paid to go on retreat before and joked that I didn't need to come, but I really did. I needed to get out of my loft, out of my office. To be in a beautiful place, surrounded by other writers. It didn't matter to me if they were published or not. The bottom line was that we were all there trying to do the same thing, and I appreciate and thank every one of them."
Terry McMillan, #1 New York Times bestselling novelist (author of 10 books, including Waiting to Exhale, & How Stella Got Her Groove Back)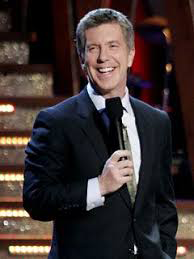 "Last Christmas I gave a family member the gift of a week with Linda Sivertsen at her Carmel Writer's Retreat. Good news: It was the PERFECT gift and far exceeded expectations. Bad news: This year I don't think I can top it!"
Tom Bergeron, Emmy-winning host of Dancing with the Stars, and author of I'm Hosting as Fast as I Can! Zen and the Art of Staying Sane in Hollywood
"Best. Time. Ever. Signing up for Linda's writing retreat at Carmel was the beginning of a magical journey in writing and publishing! If you want to write a book, it's good to have a guide in this new and strange world, and Linda has been—and continues to be—a great friend and ally to me."
Erica Mather, founder of the Yoga Clinic of NYC, The Adore Your Body Transformational Program, and author of the upcoming Adore Your Body (New Harbinger, 2020)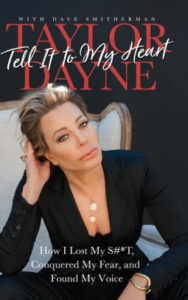 "Linda Sivertsen's writing retreat in Carmel is one of the best gifts I have ever given to myself. And, it's the gift that keeps on giving. From our first Introductory emails, I knew Linda was special. Her light shines that brightly. Her brilliance as a writer is only matched by her magical ability to share her skills, expertise, and contacts. And deliver. Man, does she deliver! My TED talk was a vision she had at my retreat last February, and by October, I did my Talk at TEDWomen. (It was through her contacts that the door opened… and performing on that stage was a career- and life-highlight!) Linda worked her magic on everyone—connecting one gal to her dream agent (who got her a book deal soon after our retreat), etc., etc. The amazing food, friendships, and support were only possible through Linda's coaching and wisdom."
Taylor Dayne, singer/songwriter, with 18 top-10 Billboard hits, Tell It to My Heart: How I Lost My S#*T, Conquered My Fear, and Found My Voice (Wyatt-MacKenzie, Feb. 2019)
Hello! I'm so happy you found me. (The Internet is magic.) I'm Linda and every few months since 2009, I've been blessed to lead dreamy writing retreats in one of the most alluring artist communities in the world, Carmel-by-the-Sea, CA. In this treasured hamlet, a longtime favorite of legendary residents Jack London, Mary Austin, Upton Sinclair, and Ansel Adams (rated the #8 Travel Destination in the U.S. by Condé Nast magazine), countless bestsellers, friendships, and writerly (and life) dreams have been birthed. I'm still giddy getting to share this experience with so many incredible writers–maybe you! Fyi: CARMEL magazine did a beautiful 5-page article on the retreats, revealing that the mind-blowing magic of sisterhood & synchronicity–with a few heartfelt dudes–in this enchanting place has been one of the greatest joys of my life. It's a quick read. 
And … we all have to put our hours where our writing is. I'm no different than you. I ache to finish my own books. To that end, I'm scheduling fewer retreats to ensure I get 'er done. The timing is perfect; the treehouse home I've rented in the highlands (and commuted to from Los Angeles) recently sold. The luxurious La Playa Hotel in downtown Carmel–steps from the sea–is our new home and it's like we've been there all along. The hotel is gorgeous and iconic and feels like an infusion of new, yet timeless energy.
Everyone says it. Carmel feels magical! Our participants are, too. They come from every career background and country imaginable, with open hearts and writerly talent that wows me each time. It's in this creative soup that new books emerge, old books are sorted out, and we all have psychic revelations for each other. Yep. It's that otherworldly. And, most importantly, it's WORKING, as you'll see by the book-deal testimonials sprinkled throughout. It's been my great pleasure to connect thirty-five retreaters so far with their literary agents, resulting in book contracts with traditional publishers at a rate of 25 times the national average.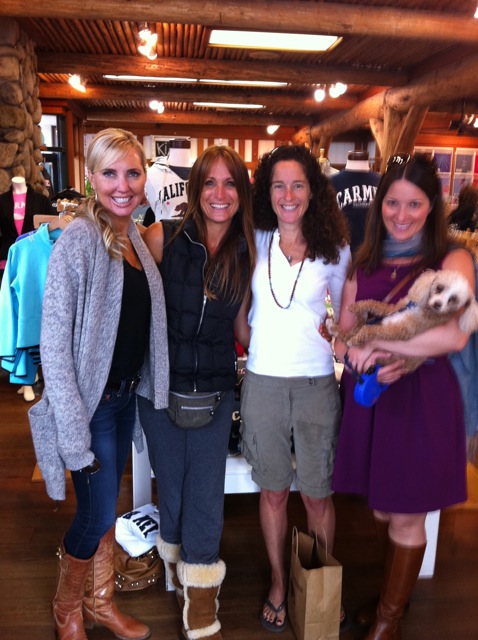 In the photo to the left, for example, 2 of the 3 gals with me from that retreat have signed with lit agents I referred them to, and both memoirs we worked on have become New York Times bestsellers (Paris Letters and Misdiagnosed). The 3rd is finalizing her proposal to shop soon. And, we've all become dear friends.
That's my favorite part of all of this, what I hoped and prayed would happen… life-changing RESULTS and relationships. In this book + brand + business-building retreat, I draw upon all of my 22-year experience combining creativity & commerce–writing and marketing award-winning, bestselling books (and magazine cover stories)–and building solid, powerful platforms.
Need an agent? I tap my best agent connections in the industry with the goal to get my gals ready for representation + SOLD, often working closely with the agent to strategize and celebrate.
Increasingly, too, publishers are reaching out to me to meet directly with my retreaters. In the past year I've connected writers with editors (some via agents, some not) at imprints for Simon & Schuster, Sounds True, and Workman. By the way, I'm not an agent and I don't take a percentage of anything; I just LIVE for the squeals and happy tear-filled sniffles of are-you-sitting-down GREAT news. To see those results, updated often, go here.
To make an appointment to chat with Linda, go here.
"The Carmel Writing Retreat was the beginning of my journey as an author. Linda helped me to see the JOY in the creative process. She is a playful woman, writer, and editor, and made the week celebratory and effective. I continued to reference the wise notes I took that week throughout the entire book writing process."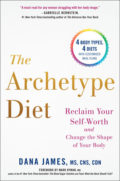 Dr. Dana James, author of The Archetype Diet: Reclaim Your Self-Worth and Change the Shape of Your Body, with foreword by Mark Hymen, MD. (Avery/Penguin, June, 2018.) Congrats, Dana, for hitting #1 on Amazon in Women's Health and Eating Disorders! And even more importantly, for touching women's hearts and helping them to transform into more conscious, peaceful versions of themselves. xo
"I came to Linda's first retreat at La Playa Hotel in early 2018. So many people had tried to change my story to benefit themselves, but Linda loved it and recognized how it could do more than entertain and actually help so many others. I joke that Linda forced me to do painstaking, nit-picky edits I didn't want to do, but I'm so glad I listened and followed her lead (and edits) because it totally paid off.
"From there, things happened fast. Linda introduced me to my perfect match lit agent, who wrote to me right before I spoke with her that her heart is totally in this project! We're so aligned and I feel she will have my back, just as Linda did in affirming my dream and voice and how best to move forward. Contracts have been signed and I'm floored. My heart is overflowing with joy, love, and gratitude!"
Diane Danvers Simmons, title under wraps for now–stay tuned!

"I consider Linda's Carmel Writing Retreats a necessary part of my writing, self-care, and energetic hygiene. I've been to three (one about every other year), each one more important and powerful than the last. I get to get away, immerse, be with wonderful women — just as we are, with lots of tea, and endless insights. The investment in my craft makes me more committed to unplugging, digging in, and writing my heart out. I forget about everything for that week and allow myself to fully have it. Each time I walk away a better writer and human; quieter, clearer, and even more deeply connected and committed to the work. These getaways fuel me for months, and I've come to count on them, knowing that when I need an immersion—combined with R&R, guidance, the ocean, and alone time with my books—that sanctuary is there in Carmel waiting for me. Yum.
And that's JUST the retreat! Working with Linda over the last several years has made me better. And better. And better. Not only in writing all of my books — but also in navigating the adventures of the publishing world. I count on her as a trusted advisor and friend. In fact, after our last retreat when I was ready to shop the next book and change agents, Linda introduced me to my DREAM AGENT at Waterside Productions Literary Agency. They're one the world's top agencies, with over $500 million in author royalties, but I felt like their only client from the start. My latest book deal was done shortly after. Linda is generous, loving, kind, funny, and crazily good at what she does. These retreats are an investment and one I find time and again pay for themselves in words, spirit, clarity, and results."
Anese Cavanaugh, author of Contagious Culture, and the upcoming Contagious You (McGraw-Hill, Nov. 2019).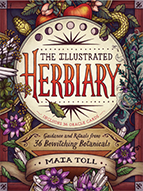 "Pine and jasmine, rosemary and moss: those are the scents of my first book being born at Linda's Carmel writing retreat. Now I'm celebrating the 2nd anniversary of my #carmelwritingretreat with my 2nd book deal! Just came through—exactly 2 years post-retreat.
"Carmel is a writer's retreat on steroids. Linda is in love with her work and her tribe, and this love oozes into every luscious minute. Trust me, when you're loved up like that, you become your best self. She gave me the confidence to make this happen: I didn't know my plant write-ups were engaging and enticing enough to be a book until Linda told me they were. They say 'A rising tide lifts all boats.' Linda lifted us—each one of us—and continues to.
"I spent a good portion of my life as a writer in search of my story; now I'm overflowing! You'll know it's time if you feel almost, but not quite ready. ;) That was me. And P.S. While you get tons of writing time, this isn't a monastic experience. The friendships I made were priceless (and pricey since we keep flying around the country to visit each other!)."
Maia Toll, author of The Illustrated Herbiary: Guidance and Rituals from 36 Bewitching Botanicals (Aug. 2018, Storey Publishing/Workman–an immediate Amazon #1 New Release in Plants & Biological Sciences). Click here to read Maia's guest blog about her retreat experience–including how exhausted and terrified she was + news of her multiple book deals.
"The Carmel Retreat feels like a dream now. Except that in so many ways I now divide my life into BC, Before Carmel, and AC, After Carmel. BC I was terrified of investing money in my writing, nervous about getting the most out of the week, worried I wouldn't be able to write. All of that seems impossible and ridiculous in my AC hindsight.
"Carmel was the best money I ever spent on myself. I wrote 2,800 words in four days. Figured out a title and a plan for two projects. Met the most extraordinary group of women who will be my friends for life. And maybe most importantly, I came back not only reinvigorated in my commitment to my writing, but with a new momentum throughout my life. I'm back at the gym twice a week, took up transcendental meditation (thanks to my Carmel roomie!), and generally feel more optimistic about a future that I now deeply believe includes success in my writing. You are truly magic, Linda. You have an extraordinary ability to bring the right people together at the right time, an uncanny gift for facilitation (the perfect title, the perfect edit, the perfect plan), and a very special way of bringing forward the best in those around you. The supportive, girl power, creative experience you've created is like no other and one that I will treasure always."
Allison Hill, CEO/President of Vroman's and Book Soup (L.A.'s two largest indie bookstores)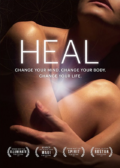 "Linda's Carmel writing retreats have become my yearly tradition—the gift I give myself to oxygenate my art. I grew up 'just one of the guys' playing sports, and had a tough time relating to 'emotional' girls. As a direct result of these retreats, I finally learned what men have known for centuries: Girls rule. It's hard to describe the magic that occurs when women from around the world come together, open up their hearts and minds, and share their creative projects. Year after year, the groups change, but the tremendous love, support, and genius I witness never ceases to amaze me. I highly recommend everyone give themselves the gift of five days with Linda in Carmel.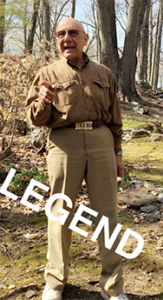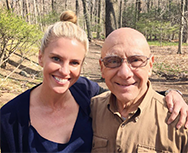 "One of my favorite things to watch is how Linda opens up her Rolodex to connect us to the perfect person who can catapult our journey or launch our endeavors. I've seen her get agents—and even Taylor's TEDWomen talk—for retreaters in days (not months). In my case, when I mentioned at the last one that I'd LOVE to interview the legendary heart surgeon/author Dr. Bernie Sanders for my documentary, HEAL, Linda said, "I KNOW Dr. Bernie! I'll email him right now!" She did, and just like that, I was on a plane to the East Coast. Unbelievable. These photos are all because of you, Linda! I love you!"
Kelly Noonan Gores, actress, writer, director, and producer of HEAL, healdocumentary(.com). A #1 Best Seller on iTunes Documentaries and Winner at the Maui Film Festival. Yay, Kel Kel!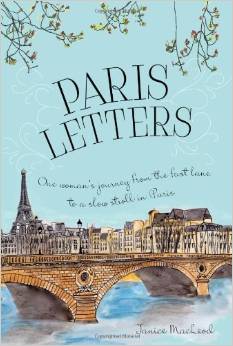 "Your retreat helped me immensely. I knew the story I wanted to tell but your intuitive skills helped make it a much bigger, much more helpful book. Before, my book would have been just okay. Now, it's epic. And you can quote me on that. And a side note, I met my new best friend at my retreat and we've supported each other on this adventure each step of the way. She's coming to visit me in Paris in the spring and I can't wait!"
Janice MacLeod, artist & author of New York Times bestseller Paris Letters, Sourcebooks (click here for Janice's thoughts on her follow-up memoir, Paris Year, with St. Martin's Press–Summer, 2017)
"Linda literally changed my life! Going to her Carmel Retreat was a huge stretch for me. I was super scared and yet a little voice in me was a total YES. So I said a prayer, put it on my credit card, and hoped for the best. Within days of registering for the retreat, I signed two new clients, which helped me pay off half the cost before I even got there. Thanks, Universe!
By the end of the retreat, Linda had helped me sort through whether to pitch my book direct to my dream publisher or go with an agent, which has been a lifelong dream. She hooked me up with my first choice of a NY agent before the retreat was up, and a week later I signed with that agent, who not only agreed to represent my next book, but also brought me in to ghostwrite for one of my longtime, personal (s)heroes, Erin Brockovich. (We finished the proposal, which sold for a significant deal, and just finished the book!) Also, after a brainstorm with a friend at the retreat, we're working on a super cool book too.
In one week I filled the next few years of my writing career with dream projects. Plus, Carmel is one of the most magical places I've ever visited; we ate delicious food, and I left with some amazing new girlfriends and a forever friend in Linda. How's that for wow?"
Suzanne Boothby, journalist, author, ghostwriter, Asheville, N.C.
What do we work on? In Carmel you breathe life into your book proposal, novel, memoir, non-fiction business, self-help book, cookbook, overall business & career marketing plan… WHATEVER is whispering (or yelling) in your ear for time and loving attention.
Come with merely a few ideas or a belly full of them, nothing but a title and a gut feeling, or two full manuscripts. It all works. I love helping wide-eyed first-time writers and veteran authors; people at the BEGINNING of their creative process (to shortcut their path from IDEA to DONE), and battle-weary pros in need of a creative B12 shot. If you're a newbie, we've got you. You won't feel that way past day #1 (and, it's likely we'll save you years of doing it the hard way). Conversely, if you've been at this for FOREVER and ache for an infusion of fresh perspectives and insights, you're so coming to the right place. And, I've got one hell of an address book, so if it's connections you long for, I love making those intros when the time is right. Birthing a book takes a team, and I'm all about team love.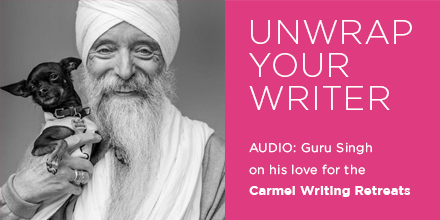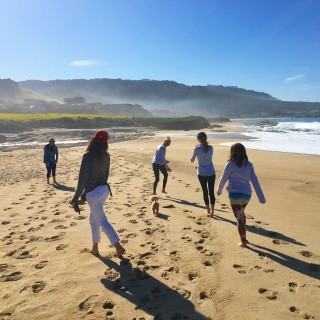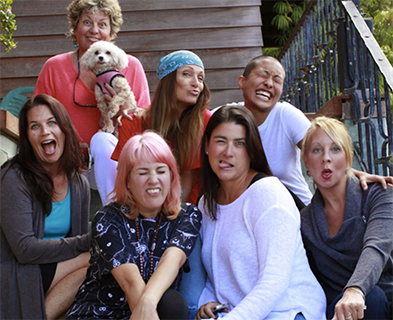 Regardless, you'll be served world-class meals in this "think tank" of the most loving order–where you can stay in your PJ's all day if you choose. This brain-trust-by-the-sea is about being cozy and renewed, with nothing but writing, brainstorming, pampering, camaraderie, gut laughs, and ocean ions to help get your book up, out, and onto bookstore and home library shelves around the world.
Never felt supported in your writing before? Those days are about to be long gone…
 January 14-18, 2019 
💕 March

 18-22 

💕
April

 15-19 

💕 August 19-23 

💕
I'm taking time off for my own books, so this is all I have scheduled for now. If you have a preferred month, let me know on your registration form and I'll reach out if I add any dates.

"Linda is one well-connected mofo. In our very first session at Carmel she sent my book proposal to multiple literary agents. BIG ones. Like, agents that were so big I nearly peed my pants.
"She knew exactly who would be right for me. By our second day together I already had a promising lead with an agent at a big, badass agency. I ended up signing with that agent (at Writers House) and a month later we pitched my book to publishers. MULTIPLE publishers were interested–including a top publisher who said my title was "too edgy." That's a deal breaker for me.
"Thankfully, an indie press–ECW (who, according to Publishers Weekly, is "one of the most diversified independent publishers in North America")–courted me and I fell in LOVE with the editor. SOLD! Somebody pinch me! I wouldn't have found my agent without Linda. Seriously, just give her all of your money and go to Carmel. #WORTHIT"
Sarah Vermunt, author of Careergasm: Find Your Way to Feel-Good Work, March 2017 (where it became the #1 bestselling Career book in Canada!)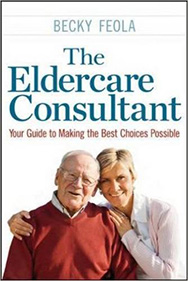 "Linda Sivertsen is my angel! I came to Linda's Carmel Writing Retreat with two books. I'd already written a proposal for one, but was ready to ditch it because agents had told me there was no market for it–that helping people make the best choices regarding eldercare (the topic of my work and book) was easily done online. Linda refused to believe that, telling me that our aging population made this book unique and timely. She saw my heartbreak and wouldn't let me give up. She quickly polished my proposal to make it stronger, introduced me to a great agent–Jeff Herman–who immediately wanted it, and celebrated with me when it sold. I'm now working one-on-one with my dream editor at a publishing house–the senior acquisitions editor–who loves the book. I can't express how much Linda and the retreat changed my life or how much she means to me."
Becky Feola, author of The Eldercare Consultant, AMACON Books–Winner of a prestigious 2017 Nautilus book award.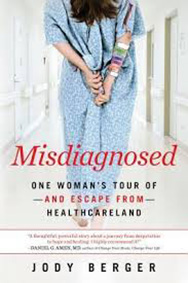 "First, gratitude to you, Linda, for creating such a sacred space. The retreat was really magical for me, personally and professionally. But not just for me. I've talked with our "crew"–Katie, Holly, Janice, and Jen. You created this space where everybody was free to be themselves, and to be the best version of themselves. And what amazing women you attracted! These are people I'm in touch with frequently, and will know and love forever! How often does that happen in just a week? Thank you! My proposal's done. My manuscript's done. Your final notes in our session following the retreat were specific, clear, and brilliant, and I'm so looking forward to meeting the agent(s) you have in mind. In short, I am forever grateful. I was hesitant on the price, but now I can't think of a better investment I made last year."
Jody Berger, author of the NYT bestselling memoir: Misdiagnosed: One Woman's Tour of—and Escape from—Healthcareland, Sourcebooks
*Update: I knew Laura Yorke at the Carol Mann agency would love Jody's memoir and pitched it to her in person. I called Jody 5 minutes later from the sidewalk of 5th Avenue and told her to email it directly to her, before we'd even had a chance to tell other agents. Bingo! Two days later, they were bonding over the phone–both graduated from Duke–and discovering friends in common. Jody signed her contract that afternoon and Laura sold the book to an amazing publisher who had the cover done before the contracts were signed!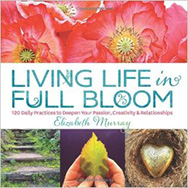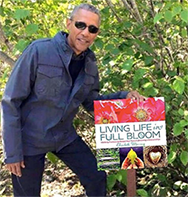 "I had so many ideas, but wasn't sure which was the BEST one—what to focus on to be a winner. I heard an interview with Linda, called her, prayed for guidance and decided to cancel everything, make the big commitment, and attend her Carmel retreat the next day! I have already written several books, I live down the street, and have wonderful women friends. I even lead retreats–so what I wanted was to be supported to take a dramatic leap into a much more personal voice with clarity, depth, and a good business sense of what would sell.
"Linda is a bit of a psychic, and zeroed in on key things that made my project much stronger. I'm delighted to say I've found a dear friend in Linda and am very appreciative of her support and direction professionally and personally. She has helped bring me to the next level; through her editing, brainstorming, and business acumen, I got a great deal with a formidable publisher (planning to also promote my book in their national magazine). In Linda you can find a wonderful partner to help bring your book forward into the world!"
Elizabeth Murray, painter, photographer, Monet gardener, and author of Living Life in Full Bloom, Rodale
From Linda: This photo of President Obama is amazing to me! Four years ago this book was a dream-in-progress in Carmel. Now it's a beautiful reality, with our Pres stopping to appreciate the Lizzie Murray Full Bloom Garden at Camp David. You just NEVER know where a book will go!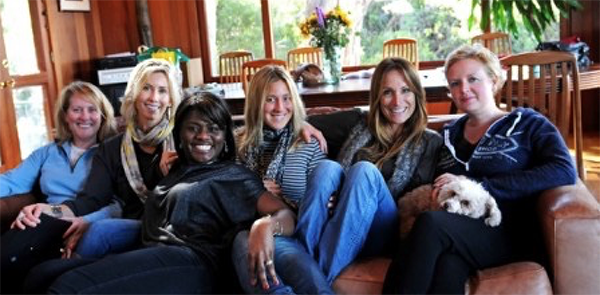 I now cap retreat size to 5 participants, which means more energy to focus on you and your book(s), and additional time to dive deep with the others. It also allows me to more freely share what I'm working on. For example, at a recent retreat lunch, I read a keynote speech I'd just written. The inspired feedback I received helped each of us, revealing sections that worked and needed work for me and sparking a lively discussion about additional ways everyone could share their work in the world.
Spots fill fast! If your intuition is telling you it's time, and you're jonesin' to join us, sign up here (no commitment necessary) so we can schedule a phone/Skype chat soon to discuss your project. I. Cannot. Wait.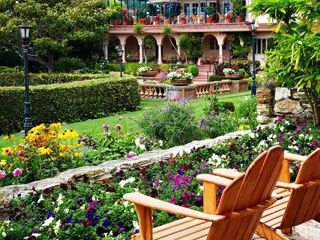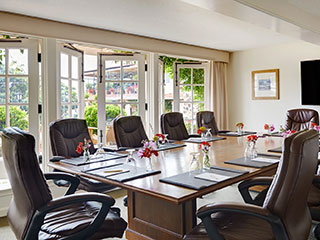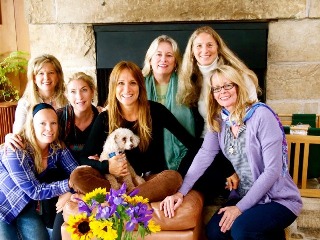 Why a Retreat? A few reasons…
B/c you've been going it alone too long already. Isolation can be lonely & SLOW.
In the right space, Group Think becomes loving/healing/magical Muse Think.
Your sister-in-words writing pals will champion your dreams far beyond the retreat.
When you know you're reading aloud at 7 pm, you get BUSY! Prepare to amaze yourself.
While hearing feedback for others, you gain radical insights into your own work.
Oh, and because it's ridiculously FUN!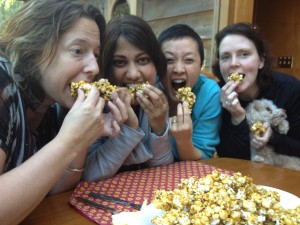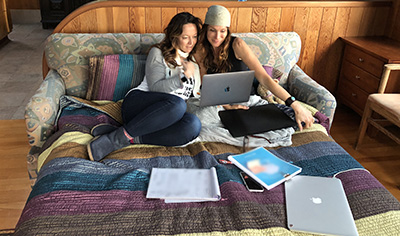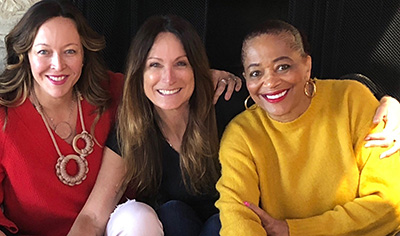 I live to help you. I've written book proposals for clients that have garnered 6- & 7-figure book deals, and have worked with most of the major publishers. In the last decade, aside from interviewing many of the world's most beloved authors for my top-rated Literature podcast, the BEAUTIFUL WRITERS PODCAST, and championing/ coaching several hundred writers (both individually and in groups), I co-authored among other collaborations: Harmonic Wealth, Hyperion Generation Green, Simon & Schuster; Closer Than You Think, Hampton Roads, and Your Big Beautiful Book Plan, self published with Danielle LaPorte. The first two won multiple awards and hit the bestseller lists, the third is now published in 9 languages, and the forth has led to countless book deals. I also collaborated with Emmy-winning life coach Rhonda Britten on Do I Look Fat In This? (Dutton), and with the publisher of SUCCESS magazine, Darren Hardy, on his business bestseller, The Compound Effect (Vanguard Press, a NYT, Wall Street Journal, and USA Today bestseller). Meaning: I love this stuff!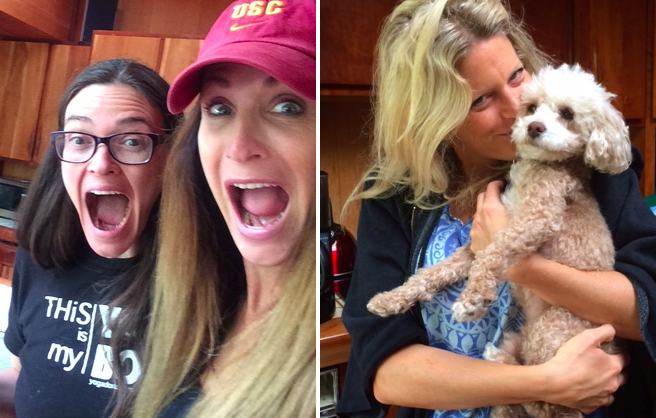 And I'd love nothing better than to help YOU ink a book deal. In these competitive times, a book with your name on it increases your market value, your credibility, your opportunities, and your professional profile in every way. Not to mention, it's a BLAST. Your world will never be the same. But you know that already, or you wouldn't be here right now.
I cherish the creative process of crafting book proposals—the lengthy business plan publishers must have before they can offer you a book deal—something many people find intimidating or boring. You're free, however, to work on anything you want feedback on, including the sections of your website + agent query letters. If your topic is non-fiction, the great news is that you don't have to write your book to get a publishing deal. In fact, literary agents and publishers don't need you to. All you need is a unique concept, backed by a winning book proposal, with a few beautifully written sample chapters (that's where receiving your 8 hours of audios + hundreds of pages of 20+ proposal samples that sold in Your Big Beautiful Book Plan–a gift with the price of the retreat–comes in seriously handy.)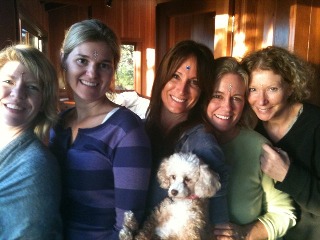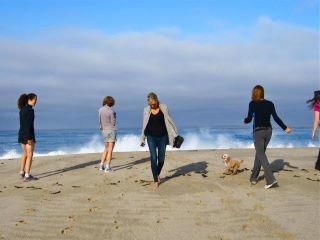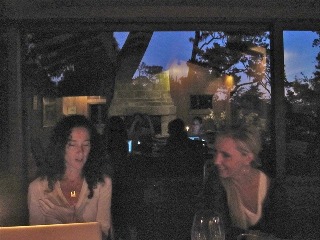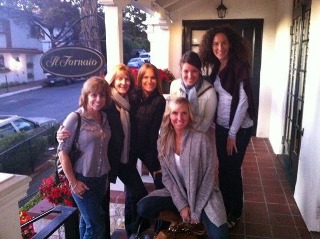 No matter what you're working on, you'll tap into your inner muse during this retreat and rock your book's casbah once and for all! Hasn't that idea been rolling around in your brain long enough?
Retreat size = intimate, so everyone gets maximum value. 
The Deets (what, where, when, price…)
Where: LA PLAYA HOTEL! This newly renovated 1905 gem started as a mansion built by an ARTIST for his wife. The hotel staff LOVES having artists/writers in their midst. We're just steps from the sands of Carmel Beach (the closest hotel in Carmel to the water) and the ridiculously darling shops, galleries & cafes of this charming hamlet. You'll have all sorts of nooks and crannies for writing—in our rooms (you get your own room as part of the tuition price!), in lush gardens, intimate patios, secluded courtyards, at the beach, or in front of the fire.
When: Each retreat starts on Monday early evening and ends Friday after our brunch at noon.
What: Dinner on Ocean Ave., at my favorite eatery, il Fornaio, where we gather to start sharing our dreams and intentions.
The following three and a half days are rich and full: private consulting, writing, and editing sessions with me; hours of peaceful writing time; energizing reading & brainstorming sessions with the group; brisk walks; insanely delicious meals (napping anyone?); sisterhood (and sometimes brotherhood, too!); synchronicity, and more laughter (and perhaps tears) than you've had in years! You'll arrive as strangers and depart as lifelong friends & writing comrades. For an in-depth breakdown of our daily schedule, click here.
Price: $10,000 for the week—$5,000 due upon sign-up (to hold your spot) & $5,000 due 30 days before departure. This covers ALL of your expenses—lodging, food, & all instruction—except travel. Plus, you'll receive your private two-hour editorial session with me when you're ready, after we return.
My goal is to help make you agent ready, and to facilitate those introductions when you are! I work with top agents in NYC and elsewhere, and can't wait to send them your project when it's ready. They're always on the lookout for new, powerful voices + material, and I'm always looking to help my clients SELL. If you think about it, helping you WIN helps everything I've worked a lifetime to create rolling. These retreats have become a career for me in themselves, and have taken the place of my ghostwriting–even slowed my own book writing (hence, the higher fee). But my father raised me with the notion that business should be collaborative and a "win-win-win" all 'round. This is his philosophy in action. The agents win. My clients win. And, I have the greatest experience acting as midwife.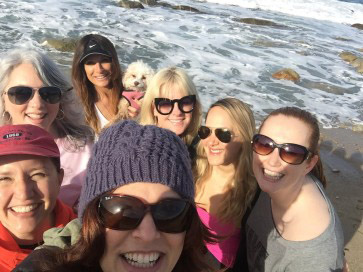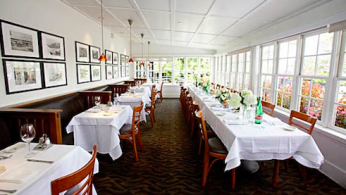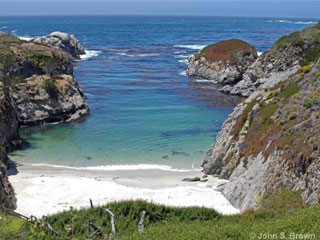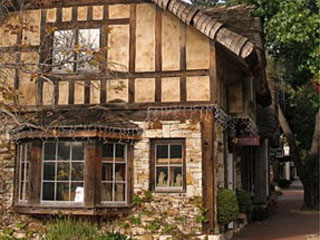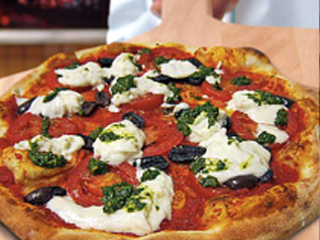 What do I mean by the magic of sisterhood and synchronicity?
Here's an example: Sarah from Santa Barbara has a page-turner of a book. All of us women hang on her every word. The subject matter is heavy—but her voice is funny and wise, spiritual and suspenseful, so we'll follow her anywhere. Trouble is, her woo-woo title stinks! It's a snoozer and we can't let her step out with it. We have to protect our new sister in words! It's got to be catchy, twisted, and memorable—something like Running with Scissors or A Heartbreaking Work of Staggering Genius. Her work resembles those off-the-charts bestsellers; to call it something light and cosmic would be tragic. This is easy. Helping Sarah nail down a winning book title takes all of about 5 minutes!
With tea mugs in hand, and juicy, lively energy crackling, we simply ask a few more detailed questions about her topic, and BOOM! It's right there, under her nose. In the midst of outlining a common comedic situation in her life, she utters the PERFECT sound bite, and we all jump on it at the same time—laughing and squealing. Within minutes, we've pulled up Amazon.com to find out that NO ONE in all of Amazon's 2,000,000+ titles has EVER written a book with this name. Then, she does a global search and finds that the domain name is still unclaimed. Within a few more minutes, Sarah has registered the domain for her book (something publishers will love when they consider buying + promoting her). High fives are shared all around. Another pesky dilemma, handled. Bam.
I could go on and on.
What makes sisterhood so magical?
These retreats have transformed my life. At the risk of sounding dramatic, they've saved me. Reliving it makes me a bit emotional, so rather than repeat myself, I'll point you to a short piece I've already written about how they came to be + uplifted everything during the most gut-wrenching crisis of my life. See my About page (in the paragraph starting with, "I started these retreats…").
As for the participants, what makes them go back home and create Facebook writing groups and schedule phone sessions and even take trips together? Aside from their newfound sense of community, and of being seen (and heard) and supported in untold ways, there's something else going on. My friends Katherine Woodward Thomas and Claire Zammit talk about a study done at Harvard University that revealed that people wanting to manifest goals in a group were 6X more effective than the individual. I don't want to paraphrase, and don't know much about stats (having dropped out of statistics in college), but that's how it feels to me. And, the reality of it keeps expanding.
For instance, when working on a book that needs just the right story, I think of my retreat gals and what they have to offer. When Deb and I needed a few more stories for Closer than you Think (about the use of ritual to help people deal with loss, the importance of forgiveness, and a spiritually comedic perspective), I reached out to Ritual expert Elizabeth Murray, Forgiveness Expert Ana Holub, and Spiritual Blogger Alexandra Hill, all of whom gave stunning stories for the book. The author, Deborah, was cheering when she read these additions because they were exactly what we needed to round out the book, and my girls were elated, as they had an instant writing credit complete with promotion (in the resources section of the book). It was a win-win-win all around.
That's the magic of sisterhood and synchronicity. I can't wait to share it with you live and in person in Carmel!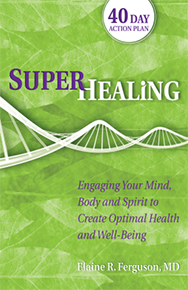 "I cannot accurately call this a writing retreat, as it was a much more sacred experience for me. I was swept away and engulfed in a deeply spiritual space of creation—like church—where the forces bathed us all with the energy and assistance needed to write from our hearts in a most profound and powerful way. I wrote more efficiently and effectively in one day than I had in several years.
"Linda, you are beyond a wordsmith, and surpass the syntax of magic! I am still awed, speechless and deeply grateful for one of the most remarkable adventures of my lifetime. I used to think they were about exploring external spaces and places. Now I know, the truth. The greatest journey of them all is the one that takes us deeper into heart's core, and expressing its love. This week has been one of the most loving, profound experiences of my entire life. Thank you, my dear Linda for creating this most magnificent opportunity to grow more fully into myself as a writer, a woman and a human being!"
Elaine R. Ferguson, MD, author of Super Healing: Engaging Your Mind, Body, and Spirit to Create Optimal Well Being, HCI (and PBS special)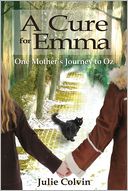 "Linda Sivertsen—my guru and mentor extraordinaire. I have only the universe to thank for getting us together in Carmel, and the rest is history. Your friendship, guidance, and mad writing skills, along with the blueprints on how to write a winning book proposal, were the defining moments for this project. You are an incredible support to writers everywhere and one of the finest women I know."
Julie Colvin, author of A Cure for Emma (Norlights Press)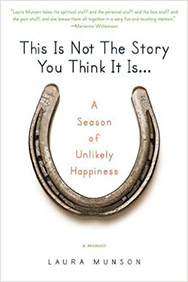 "Linda and I met as writers, which is sometimes hard to accomplish, given the solitary life of our profession. She was an immediate sister in words. But beyond that, she helped me. Being a published author was new to me, and Linda went out of her way to share a spectrum of excellent advice with a natural and abundant spirit. I would soon come to find that this is who Linda is/can't help not being. Helping writers is central to her spirit and explains why she extends her talent in this capacity so effortlessly—in championing their book proposals, and in creating inspiring writing retreats. She is as interested in your writing, as he is in hers. And that is rare. Linda Sivertsen is rare."
Laura Munson, New York Times bestselling author of This Is Not The Story You Think It Is, Putnam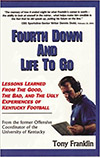 "This was, hands down, one of the best weeks of my life! It changed my life. I believe we have to steal time for our art, so while living in California and working as the Offensive Coordinator for the Cal Bear's football team, I took a week in the summer and stole away to Linda Sivertsen's #CarmelWritingRetreat. Although I'd previously self-published a football memoir and enjoyed everything from the writing to the TV appearances, I learned so much in Carmel. Linda opened my eyes to be so much more open in my life (and she damn-near forced me to vegetables, but I stayed strong). What Linda creates is magic. It's just who she is."
Tony Franklin, Author, Fourth Down and Life to Go  [* From Linda: The Wall Street Journal calls Tony "one of the most innovative minds in football." To me, he's one of the most open-hearted men anywhere. Love you, Tone. You will always hold the title of our FIRST dude!"]
"I attended Linda's Carmel retreat in the midst of the worst year of my life. I was recovering from severe injuries and it seemed the perfect place to draw a line in the sand (that became a wall) and put my writing first. Linda offered a safe place to recover and to re-inspire me while offering both heartfelt support and astute observations on my book projects—in the serene magic of Carmel.
"When I finished my book proposal, Linda gave me great editorial notes and polished my query before tapping her extensive list of agents. We promptly had several who were excited about me and my book. With Linda's support, what is normally an agonizing, lengthy process for an unknown writer was reduced to a thrilling few days of inquiries. My agent, Lisa Hagan, sold the book and I couldn't be happier! Linda's enthusiasm, her continuing support (her Carmel retreaters are always first for her attention and brainstorming), and her cheerful smarts remind me that there are good, capable people out there who can and will support you on the solitary life that is writing—and publishing. Start your journey in Carmel at one of Linda's retreats and bask in this protective, creative space as you nurture yourself and your projects!"
~ Robyn M Fritz, author of The Afterlife Is a Party: How People and Animals Can Mess Up—or Save—Their Afterlives (Hampton Roads Publishing, September 2019)

I'm so looking forward to meeting you for this magical five days, where it's all about you, your voice, your book, and your legacy. I want this to be one of the best gifts you'll ever give yourself–truly the start of a blessed and creative new beginning!
So… you're feeling ready already, right? Contact me before you get sidetracked and another year flies by. (It'll be Christmas in five minutes… you might as well just leave the tree up all year 'round.) Seriously, creativity has a way of slipping through our fingers. Breathe life into yours. Schedule it. Make it real. Let's start a life-long friendship (sounds corny, but it's true) and let me help you script your success. Your book plannin' paradise awaits!
Have questions? Want more in-depth details? The FAQ page has so much more…
Want the scoop on our hour-by-hour daily schedule?
Read about these retreats on Forbes.com and CARMEL magazine.
Space fills up quickly, so take a minute to fill out the registration form (no commitment or payment necessary). We want to secure your spot!
In closing, as of January 2018, Merry, my 8 lb toy poodle angel (as seen in many of these pics), is now a literal angel. There are no words for how much I miss her, my soulful ball of joy and love. All the more reason to live my best life–our best life. Time is precious, you guys. So, so, so precious. 💕🐾
Humbly yours,