Frequently Asked Questions for Carmel Writing Retreats
Got questions? Cool! I've done this retreat many times now, and have probably thought of answers to questions you didn't even know you had! Here goes…
Where do I fly in?
Monterey Airport
Fly directly into Monterey if you can. Connecting flights are from San Francisco, San Jose, or Los Angeles. This darling, easy-to-navigate airport is roughly 5-10 minutes from us, so you can easily take a taxi or other service to the hotel. (If you'd rather get a shuttle service from San Jose or San Francisco, I recommend Air Bus, an inexpensive and terrific way to write or sleep while someone else drives.)
Since moving to Scottsdale, I no longer drive to the retreats from Los Angeles. Meaning, I won't have car. But I haven't found the need for one and you probably won't either. In the event you think you may want the freedom to go off on your own to adventure down this glorious coast (people sometimes drive to Big Sur after the retreat) consider renting a car so you've got the wheels should the inspiration strike. Use your gut on this one.
San Jose Airport
About 90 minutes from town, so you'll definitely want to rent a car! Or, again, call a shuttle.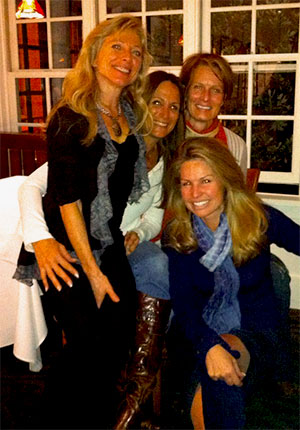 If I want to stay in Carmel a day or two before or after the retreat, where should I stay?
GREAT idea! You're giving yourself this incredible gift. Why not extend the magic as much as you can? Many of our retreaters take advantage of getting away and come a day early and/or leave the Saturday or Sunday following our Friday final brunch. If time & resources allow, I encourage you to arrive in Carmel on Sunday (even earlier) to unwind, breathe in the sea air, and think without distraction (well, other than all the tempting aromas & baubles in town). If you don't have to race back home, staying a day or two after your retreat allows you to let the week sink into your bones before the world needs you again. Ahhh!
That said, nearly everyone tells me they feel complete at the end of the week. We pack SO much into our time together that even after the first day, you'll feel like you've known your fellow retreaters for ages. By Friday, people tell me it seems we've been together for a much longer time. Chances are, you'll feel emotionally full and, while nostalgic, excited to head back to see your people and pets.
And! There are MANY fantastic places to stay in town if the price tag at La Playa is too steep (prices vary seasonally, but it's def on the high-end). Let me know if you'd like to extend the room I have for you, and I'll connect you to our room manager. Remember, though, the town often fills up months in advance, especially during peak travel times, so call around sooner than later. Also, be sure to clarify when you call that you're booking a room IN the town of Carmel—in case they have sister hotels in the Valley or elsewhere—so you can easily walk wherever you need to go.
A few local faves (by no means all of them):
Vagabond For years, the Vagabond's House was a haven where artists would stay for weeks and months at a time, writing or painting, or relaxing in the shade of the large oak tree in the courtyard. In 1928, author Don Blanding stayed there and wrote the poem "Vagabond's House," from which the inn gets its name. I can't describe how honored I was to learn they recommended my retreats on their website. Wow! You'll find this English Tudor Country Inn, nestled in the heart of the village within easy walking distance of anything in town, totally delightful. The Bed and Breakfast has a courtyard of cascading waterfalls, camellias, rhododendrons, hanging plants, and ferns + flowers everywhere. My clients love it here! So did my beloved Miss Merry back in the way (that's her head, popping up above the bedspread).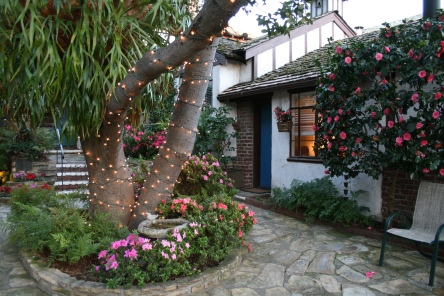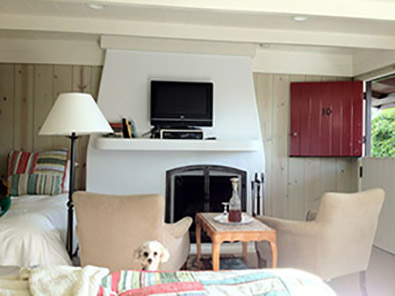 Cypress Inn When my marriage ended, I packed boxes of tissues, gassed up my car, and drove to Carmel to finish Generation Green over an eleven-day period in this nurturing haven of a boutique hotel, then owned by movie star + animal activist, Doris Day. It's a dog-friendly establishment, so the puppies in the dining room were worth the price of admission by themselves! The staff took unbelievable care of me, bringing me iced and hot tea around the clock to keep me awake (and on on my delivery schedule), and I still go back and visit them years later. Despite the stress of my unexpected impending divorce, this was as close as I'd ever come to the writer's fantasy of time & locale come true. I'll never forget it, and will be forever grateful for this gift of luxury love I gave myself. (Added bonus: it's across the street from the most beautiful little old-world church, Church of the Wayfarer, where I spent most Easters as a child. Even if you're not the praying type, I swear the street feels touched by angels!) Side note: It's right in the heart of town, so you won't find it as quiet as La Playa or as quick of a jaunt to the shore. But it's all still within walking distance!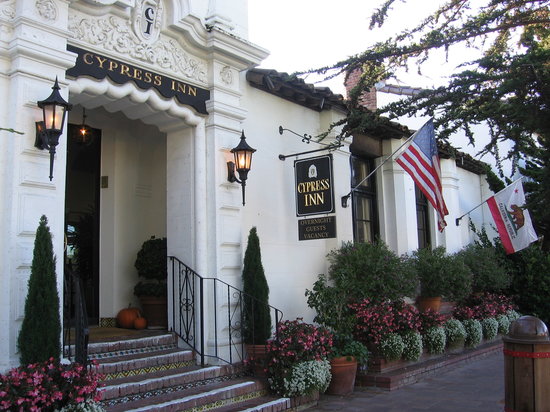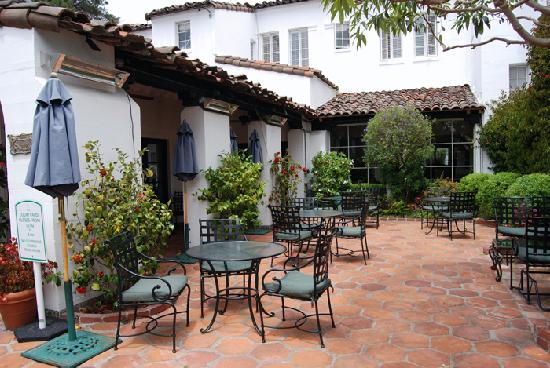 Svendsgaard's Inn My parents celebrated their honeymoon in this hotel. How cute is that? Mom and Dad are gone now (huge bummer!), but my little sister, Carol + Mom, Dad, and I shared many happy memories in this sweet place. Still do. The prices are affordable, and the environment darling!!!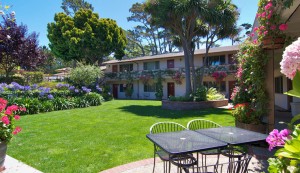 The Pine Inn The first hotel built in Carmel-by-the-Sea (in 1989!). This historic landmark is very dear to my heart (you guessed it, the childhood stuff again) and houses my favorite restaurant in town, Il Fornaio (where we feast together on Monday night). The perfect location on Ocean Ave., you're only a three-minute walk to the beach.
Carmel Inn & Suites (a great bargain, and cute!)
What time do we arrive/leave?
Arrival time: The Monday of the retreat, check-in is after 4 pm. We'll all meet down in the lobby at 6:00 p.m. and walk the few blocks to dinner together—or take the hotel shuttle if you'd rather.
Departure time: Around noon on Friday, following a light breakfast and our final group brainstorming session.
What should I be working on before I get there?
Whatever feels up for you. There are no rules, no right or wrong way to get ready. If you worry that you're merely getting ready to get ready, you're not alone. This is NORMAL!
If you have time to listen to the audios or read the downloads for Your Big Beautiful Book Plan (my gift with your deposit) before you come, terrific. (Even if you're not writing a proposal, it's packed with invaluable info on all things writing & marketing.) Sometimes just the act of signing up and getting started jotting down a few ideas will help you clarify what you want to work on while you're with us. Some ladies come with whole manuscripts (two or three even!), and some come with nothing but the ideas in their head. We see the gamut, and it's all good. It all works.
A good way to think of your process is this: You'll be reading snippets to the group for feedback & brainstorming. If you don't have anything to read, you can just talk out those rambling ideas in your head (until the next day when you DO have something written). Think about what you'd like me and the group to know, and start there. If you're stumped, no worries, we'll help you! It's proven priceless to come at the start of your process so that we can help you prioritize and avoid wasting time while you're at the retreat, and once you venture back into your everyday life.
Listen to your gut! If you're writing furiously in anticipation of your retreat, go with it. If you're in zombie mode and have no motivation whatsoever (I hear this a lot, especially after holidays and in the summertime), that's common. Trust that it's all within you—cooking away—and that wherever you are in your process will transformation once our mystical little gathering gets together and sprinkles its fairy dust on you and your project! ;-)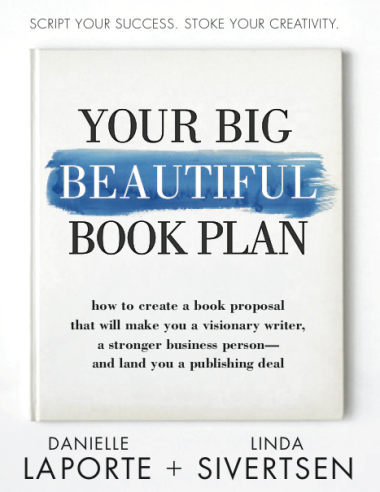 Can you explain a bit more about what I need to do + be… For instance, do I need any writing experience?
Not at all! People come at every level. And, because the brainstorming is fast and furious,
projects naturally evolve–sometimes to unrecognizable (better!) levels. Meaning, you can speed up
your process by brainstorming with the group before you get too far along in your project. Or, if
you're nearly finished, you never know… you could nail that ending that's been running away from you for years! Happens all the time.
Wherever you are in your process, you're going to get what you need. And then some.
What do we work on WHILE we're there?
People work on EVERYTHING! Plays, memoirs, novels, self-help books, biz books, romances, cookbooks, websites, even a resort business plan!
This is a week dedicated to the work you're called to do! Bring everything and anything you want to tinker with and/or finish. Any idea, rant, or chapter you want feedback on. If it's creative, we're all ears. The impact of the learning, brainstorming, and innovating is impossible to explain or predict. And always awe-inspiring.
Since Your Big Beautiful Book Plan is available to retreat participants at no cost, if you're not sure what to work on, pick an area that gets you smiling, goobumply, or down-right nervous and start there!
What's our daily schedule exactly?
Good question! Let's break it down so you know what to expect. Following dinner in town on Monday night (where we share who we are, why we're here, what we're working on, and what kind of support we want), you get several things EACH day:
A private 45-minute session with me. I work fast and we cut to the heart of what you need. Want to prioritize your five projects so you're no longer going crazy? We'll do it! Outline the book you can't seem to get nailed down because you're too close? Love it. Edit the proposal you've already written? Fun! Talk, cry, delve into your fears so that you can believe in yourself already? I'm honored. Can't wait. Or, we can do all of the above on consecutive days. (We don't have individual sessions on Friday, but do have a beautiful group brunch session.) Also, if you're cookin' and don't want to stop the flow for a private session one day (or two!), we can bank that time for after the retreat.
Several hours of group, where you read what you're working on (or we talk about what you're thinking about). Then, sit back and marvel as inspired, specific, brilliant feedback comes flooding your way. Listen, too, as others read and get reactions to their work. You'll learn so much through their various processes and projects. And, you'll be amazed at the value you have to offer, as each example widens your scope/perspective, up-levels your confidence, and sharpens your skills. You'll want to bring your phone and have a voice recording app installed (easy, we'll show you how) so you can record all the delicious feedback you're given. Retreaters report that they listen to their recordings over and over again, sometimes for years. Ahhh.
Hours and hours of quiet writing time, inside of your cozy room, sitting on the grounds of this beautiful hotel, or tucked away in our gorgeous "boardroom." You can perch yourself overlooking the ocean, sit by the fireplace, wrap yourself up in a blanket on a couch or chair. If being in town at a café inspires you, you can go on a field trip and park your beautiful self in a patisserie for a morning or afternoon. Whatever feeds your imagination and fills your creative well.
Amazing meals provided by the hotel. (Please let me know of any allergies or special needs when you sign up.) No lifting a finger, my friend! Isn't it time to RECEIVE and be pampered?!
Walks anytime. We're a 60-second walk from the beach and the most beautiful scenic streets you can imagine. The famed golf course at Pebble Beach is within sight, too. "Stunning" is an understatement. This is the perfect time and place to clear your mind and infuse your body alone or with women you adore.
Downtime, throughout each day. If you're a napper, go for it. If you're a shopper, you go, girl (although even the most ardent fashionistas keep it short because, WRITING). This week is all about you and what you need to be your best creative self. (Interestingly, no matter how fried you are when you arrive it seems that the very act of giving yourself this gift energizes you. You just might find that you leave feeling like you've been at a spa instead of working, working, working on your craft.)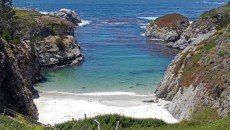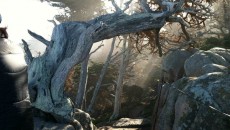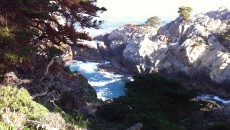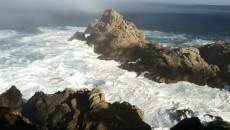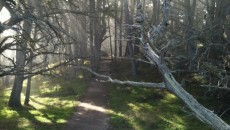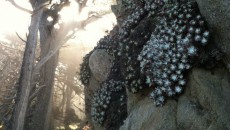 Even more specifically:
Monday:
Arrive at the hotel between 4 & 5:30 P.M. Settle into your room, relax, nap (if you want), and freshen up for dinner. We'll meet in the lobby at 6:00 and head to IL FORNAIO, my favorite eatery, for dinner. It's nice/casual, so jeans are great. They have fantastic pasta, salads, soups, you name it. Dinner's my treat, so order to your heart's content.
Tuesday:
Wake up whenever you like (before 9:00 A.M.), do any or all of the following: eat the gourmet breakfast provided in the hotel (with all sorts of choices), shower, take a walk on the beach or in our hilly, stunning neighborhood, meditate, call your kids, etc.
9:00 A.M: The start of our first writing circle, where our "brain trust" officially begins (but don't be surprised if someone's already dreamt of your project, and downloaded a new title for you last night).
Private sessions with me take place after lunch and throughout the day in my room. Each day you'll have one 45-minute session to go over anything you'd like (which can include editing right there on your laptop, if so desired).
Noon – 1:00 P.M: Lunch is served! Ahhh. You're going to FREAK for this food, I'm telling you. Wear loose-fitting pants. Ha! (Kidding, not kidding.)
1:00-6:00 P.M: More of the same—writing, reading brainstorming, and private sessions.
This is our one free night to do whatever you want, including write! I've been known to join you in the main room, pretending that I'm a participant at my own writing retreat. God that's fun!
Wednesday: All the moving parts of Tuesday's schedule, but flipped, with group at night. We start our private sessions at 10:00 am and go later into the evening with our group reading + brainstorming session after dinner. This allows you to write all day and let your creativity breathe and evolve before sharing it. We're usually done around 9:30 or 10:00 P.M. so that I can still put two sentences together the next day, but late-night laughter has been known to wake me up, which I secretly LOVE!
Thursday: Following our magical beach walk (photos above from those walks!) and sumptuous breakfast, we'll start a little later, but have the same schedule as Wednesday. Our evening session will end around 11:00 P.M, but again, as I drift off to giggling, I always hear tales the next morning of ladies staying up far, far later as if they're at a middle-school sleep over (of course, often sharing stories about LOVE and their latest crushes!).
Friday:
You get up and do whatever you want—walk, talk, eat, shower, write… We gather at 9:00 for brunch and our last love-fest. We leave our retreat haven at noon.
As for any special food needs: if you haven't told me already, we'll contact you about a week ahead of time to ask about any dietary restrictions or cravings that must be fulfilled. We're a health-conscious group, but do enjoy amazing desserts (sugar/gluten free, too). Easy, breezy!
After the retreat:
Remember, you have two hours with me once you're ready back home. (Again, if you're in the writing flow and don't want to stop for a particular day's private session, which happens, we can tack that extra time on the other end.) And, you're never far from your new forever friends. This isn't goodbye. Our bonds continue to deepen and the love (and celebration for publishing successes + book deals) goes on. I'm in your corner–a lifer–and it's not uncommon for me to be giving you advice on your agent &/or publishing contract first thing in the am or late at night, answering "is this normal?" questions about the industry, and even being the go-between or interpreter for you with your new publishing team if and when you need me. I'm obsessed with this stuff, and with my people (is it obvious?)! xx
Everyone seems pretty spiritual. What if I'm working on a no-fluff business book?
These are some of my favorites! I'm a business girl at heart, and spent many an afternoon growing up in my father's stock brokerage office listening to his deals goin' down. I collaborated with the conservative, decidedly non-woo-woo publisher of SUCCESS magazine, Darren Hardy, for his recent business bestseller, The Compound Effect. I live in both worlds and wouldn't have it any other way. I've also lived through some nasty stuff and learned you can't deny the shadow. That's life in the big city, sweet cheeks. In other words, we'll speak your language, whatever it is.
Past projects all seem so inspirational. Mine's on the darker side. Is that okay?
Oh, yeah. Each retreat usually has at least one project that's INTENSE, all caps. Suicide. Schizophrenia. Incest. Adultery. Divorce. War. You name it. (If not related to the project itself, someone present's surely been touched by the above.) Life is MESSY. Writing reflects that. The best writing reveals the heart, the humor, and the humanity of any subject. We'll get there with you, and supply hugs as needed. Don't be surprised if a few prayers get launched your way, too, which never hurts!
I'm not a joiner. Shy, even. A bit of a loner. Will I fit in?
Not a group person? Me either! Seriously. Case in point: I got "most dedicated" pledge in my sorority at USC and quit two years later. Groups used to make me queasy. Hide in the bathroom stall nervous. But not these groups. They've relaxed me in untold ways, softened my heart and judgments. Expanded my world view, my writing view. I hear the same thing over and over from our non-joineresque participants. Still hesitant? Check out these testimonials. They speak volumes. You're human, and as such, can't help but long for connection, community, to be seen and heard. For whatever reason, this lucky introverted extrovert somehow stumbled onto a group format that just works. Phew.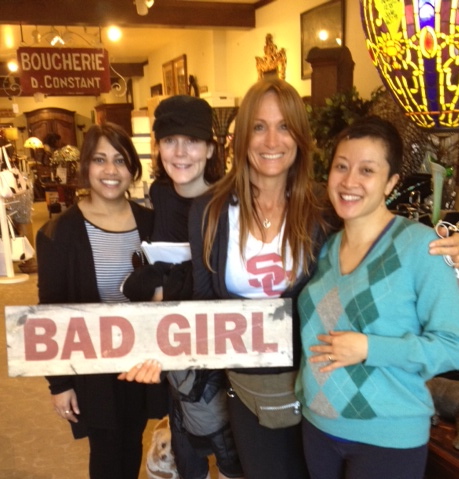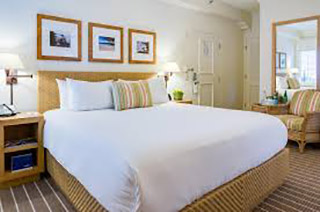 How do I know I'll like the ladies, and be in the "right" group?
This is part of Big Mystery, as my medicine man in New Mexico used to say. I can't totally explain it. Yes, I interview each person by phone before promising anyone a spot. I'm listening to make sure that you're going to get a ton out of the retreat, be of value to the others, and be elated you came. Just like the guru in Elizabeth Gilbert's memoir, Eat, Pray, Love, who doesn't allow people in crisis to enter her ashram, I listen to each woman during our call to make sure she's in a good place.
That doesn't mean you're not going to be working on emotional projects or delving very deeply (and crying, sometimes every day, which is normal). But I look to make sure you're able to feel joy, get lots of work done, and be part of a beautiful brain trust for your new writing buds. (Also, I've found that the price of the retreat and the commitment of travel is a wonderful pre-screener and attracts women who are excited about and ready to work seriously on their art.)
And yes, after years working with writers, I can usually tell within the first minute if you're a strong candidate, and with whom you'll bond during your stay. However–and this is the part I've learned to trust–I'm always amazed by the synchronicity of who shows up and how much each person's projects and life experiences support the whole. While the projects widely vary, there always seem to be themes and sub-themes. Last year we had a retreat where 4 of the 5 ladies were ex-military or married to military vets! One group was writing all about relationships. Another was nearly all memoirists. Instead of competing, they align to add incredible value to each other, which continues long after the retreat as they share resources and connections and editorial feedback. I find out later (and see in their facebook groups) that they're doing regular group calls, have buddied up to stay on track (for those who still aren't done or are working on their next book), sending each other writing, and even traveling to one another to keep the magic alive. Wow. Wow. Wow. I never could have seen this ahead of time, and I'm so grateful. xx
$$$ How much does the retreat cost?
The price is broken down on the main retreat page. But in case you missed it: Carmel Retreat Price before summer 2023: $12,000 for the week: $6,000 due upon sign-up (to hold your spot) & $6,000 due 30 days before departure. (We have a cancellation policy, too, for you to review before paying.) After summer 2023, the price goes up to $14,000 due to a a significant hotel remodel and increased room and catering costs. This covers all of your expenses: lodging, food, & all instruction except travel. Plus, you'll receive private editorial sessions with me when you're ready after we return, which we'll talk about during our Zoom call before you sign up. My goal is to help you get agent ready, and to facilitate those introductions when you are!
Online Retreat Price: $8,000 ($4,000 at sign-up to hold your spot, $4,000, 7 days later). You get all of the instruction, connection, and value, including literary agent connections when you're ready—without having to find a sitter for the dogs and kids, or pay for travel. Receive my 6-module Book Proposal Magic course (that sells for $800) for free upon sign up.
A word on the price: I'm a giver and will spend all of my time helping others (without publishing my own work) if I'm not careful. Because so much of my creativity goes to my clients, I charge enough to take place of my ghostwriting and book fees.
My hotel expenses have risen sharply, and I've cut the participant size by 1-2 people (to make the groups more intimate), so I raised the rates at the end of 2019 for the first time in years. This is an investment, for sure. A substantial one. Maybe more than you've ever spent on yourself. Could be a stomach-flipping event, thinking of taking this kind of leap. I know that feeling well. And, the feeling of not being able to do anything of the sort… and instead, put it on my vision board for another time.
My buddy Arielle Ford used to say that becoming an author is like paying for your Ph.D. It can be a long, hard road. Regardless, I work very hard to make sure this is the best investment you've ever made. And, thankfully, enough people have left the retreat and had great successes in the world (that they in part attribute to their participation), making far more money than they invested. That makes me very happy.
Can you guarantee I'll get published if I come to Carmel?
I can't know what destiny holds for you or your book's future, and I cannot guarantee that you'll get an agent or editor by working with me. Ultimately, your talent, work ethic, follow through, and overall career are up to you—in your hands. However, you WILL have the best of me while you're here (not to mention the brilliance of the other ladies), and a forever ally and fan in the industry who will do her best to see that you're as qualified and connected as possible to make your publishing dreams come true! (Not to mention, the BEST meals of your life–organic–and the time of your life, being pampered as you pamper your art.) That sounds like a lofty goal, but it's working! Book babies are being born, signed, and published. I'm in awe, and believe, truly, that I have the best job in the world. xx
Cancellation Policy
In the unlikely event that I cancel a retreat, all retreat tuition will be refunded in full.
Need to cancel? You have 3 options.
If you're thinking about coming to a retreat, fill out the registration form and we'll schedule a quick phone (or better yet, Skype!) chat to get acquainted and make sure we're indeed a great fit. Next, I'll email you our full Cancellation Policy for your review (all you have to do is email me that you're in agreement, or let me know any questions you may have). I'll send you the PayPal link for your deposit (to guarantee your spot), and we're good to go!
Easy breezy. :)
Is there a grocery store I can walk to in case?
All meals are provided by the hotel. In the event you come in early, stay late, or have a specific craving the hotel can't fulfill, there are two markets I love within walking distance:
Neilsen Bros Market
Hours 8 a.m. – 7 p.m. (831) 624-6441
7th Ave & San Carlos St, Carmel-by-the-Sea
http://www.nielsenmarket.com/about.htm
Bruno's Market & Deli
Hours: 7 a.m – 8 p.m. (831) 624-3821
Junipero & 6th, Carmel-by-the-Sea
I recommend sticking with one of the top two stores if you need something because they're close and offer a wide variety of things.
If you require a health food you can't find at either of the above, there's a Whole Foods in the Del Monte shopping center in Monterey, but it's about a 10-min drive away. You'll need a car. 8 a.m. – 9 p.m. (831) 333-1600.
I LOVE the local health food store—Cornucopia Community Market. It's closer than Whole Foods (but still too far to walk unless you're adventurous) and should have everything you need. It's located at 26135 Carmel Rancho Blvd, in the Carmel Rancho Shopping Center. Open 9 a.m. – 7 p.m. (831) 625-1454
How can you be sure I'll love the experience?
I ask lots of questions and am very empathetic, so in the few instances we've had ladies feel insecure about their skills or feel shy–once getting feelings hurt–we got through it in minutes, not hours. This is a SAFE place with good vibes galore where everyone wants to do beautiful work. Not to mention, my success depends on you being happy and fulfilled. This is my favorite place on earth, doing my favorite thing. I'd like to do this for many, many years to come, so it's all about win-win with me.
I should give you my La-la land disclosure, too (after all, I do live in L.A.): I ALWAYS check in with my famous Vedic astrologer sister, Carol Allen (seen recently on Extra, Life Changers with Dr. Drew, and Lifetime & Bravo networks) who gives me a list of blessed weeks each year that are conducive to writing love + success + safety. I ONLY book the house for those weeks. So far, sooo good. Nearly everyone says they get just what they needed. Usually more than they expected.
On a practical level (as if astrology's not practical… ha!), there are a few important things going on. First off, my pre-retreat interview in combination with the price, and the fact ladies have to travel to joins us, attracts motivated, talented, up-to-great stuff people. Those in crisis or writers who aren't excited to do the work hardly ever call me. I work very hard to make this the trip of your lifetime. With lots of behind-the-scenes details, past experience, pre-screenings, and a little luck (oh, and my sister's star readings), this will be a fulfilling adventure for you like none other. One in which you'll gain new writing & marketing skills + increased confidence & focus + a community of passionately creative literary soulmates + and memories you will forever treasure!