He's cheated death; broken American publishing records; penned some of your favorite TV shows, and brought a top movie studio to its knees. But to me, he's just my Uncle Chuck.
NO ONE has been a bigger role model for me than Charles Sailor—today's Beautiful Writers Podcast guest. A Hollywood screenwriter and New York Times bestselling novelist of The Second Son, his book sold six million copies in the late 70s and has been optioned by the biggest names in Hollywood.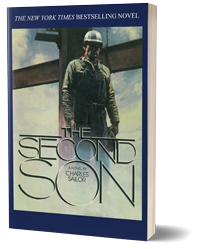 Uncle, as I've always called him, was my late father's best friend, and my image for what a writer's life looked like. While he was in L.A. scripting TV shows like "Kojak," "Rockford Files,""Chips," "Get Christie Love!" and "Charlie's Angels," we were living in Northern California; but when he'd visit, the glamor and thrill of his world infused our home like the finest cologne. My 85-lb. German Shepherd, Leo, wasn't so impressed and peed on his $400 pants once. But I was Chuck's biggest fan—still am—hanging on his every word and following him from room to room, including into his limo on book tour, determined to learn everything a teenager could about the magic of his world. The world of telling stories through books.
Here he is on the left, with my pops (who looks oddly, uncharacteristically uncomfortable here–sorry, Dad!) at a concert in the Redwoods.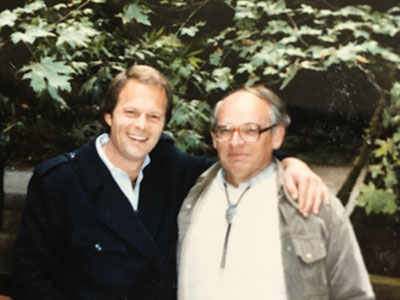 I'm OVERJOYED to share Chuck and his tales of manifesting your heart's desire (and bullying studio heads, too–should you so desire).
Wrestling with fears or lack of faith in your abilities? Not if Charles Sailor has anything to say about it. The sky's the limit with this guy. So if you're pining for whopping doses of possibility thinking and stellar real-world writing tips, it's game on.
Lord how I treasure having these conversations; I feel so blessed to be at the center of this book-loving circle. THANK YOU for continuing to show up for what has become one of the most downloaded of all writing podcasts–and recently on the top page of ALL iTunes podcasts. Who could have seen this coming?! I'm still trying to wrap my head around it. In the meantime, I'll keep showing up and having fun.
Yours,
Linda
xx
P.S. Join us over on Facebook if you'd like to relay any thoughts to Chuck or me about how his work or words here inspire you.