Just posted! The one and only Mr. Tom Hanks! He's caffeinated and ready to rock this podcast—with melodic typing accompaniment, no less. I couldn't have chosen a better guest host than Danielle LaPorte to join me in perhaps our most enjoyable conversation yet. From the first seconds of Tom's hilarious/unorthodox entrance, we do our best to keep up with one of the world's most creative minds. But as he soon learns, we've got psychological tricks up our sleeves, and even get him to gut laugh a few times (go, D!).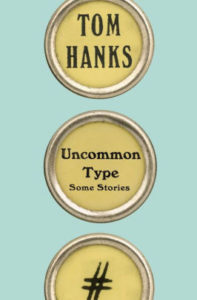 The 17 fictional stories in Tom's book, Uncommon Type: Some Stories (Knopf), are whimsical, satirical, surprising, funny, and deeply touching. The characters and worlds he creates stay with you. Change you. Cause you to see things, you'd never thought of before. According to Kirkus: "While these stories have the all-American sweetness, humor, and heart we associate with his screen roles, Hanks writes like a writer, not a movie star." Steve Martin says: "It turns out that Tom Hanks is also a wise and hilarious writer with an endlessly surprising mind. Damn it."
Just what you'd hope to find from this Oscar-winning (2x) actor, screenwriter, director, producer, and musician Renaissance man who has previously published pieces in The New York Times, Vanity Fair, and The New Yorker, but for whom this is his first collection of fiction. I only hope it won't be his last.
Pull up a chair and sit a spell as we mix up our usual format a tad and experience the interviewing time of our lives. And P.S.—We just might get Tom to comment on our fantasy of he and his pal Oprah running for office. ?
God, I love this gig. I'm so happy you're here.
Yours,
Linda xx
P.S.S. As usual, we'd love to hear your thoughts on the show over here, on Facebook.