Listened to my Desire Map audios for hours today. This work is so powerful that I keep coming back to it over and over again. And each time, I touch new levels, new lessons, new desires. I think it just might be perfect work, if that's possible. Sure feels like it. As in, touched by GOD perfect. D.I.V.I.N.E. perfect.
Knowing what I've learned over the past five years through building one of–if not the most successful Writing Retreat business in this country–I can say there's no more fulfilling or powerful work than helping people get in touch with and realize their dreams. It's f-ing fun. It's collaborative, celebratory, and consciousness raising to the max.
I believe that hosting Desire Map groups will be nothing short of magical for anyone who becomes a licensee. 
Click here to learn more with my affiliate link, or keep reading (there's another link at the end).
If I didn't have a full-time career, I'd do whatever I needed to do to become a Desire Map Licensee myself, and lead these courses with like-minded people. Funny. I was never a group kind of gal. (Being a swimmer, a runner, and a tennis player growing up, didn't exactly foster a love for big TEAM anything.) My mom, who I adored, was a bookworm who basically cringed when my ever-social father ran into and invited the neighbors over for wine and cheese on a dog walk. Like Mom, I never wanted too many people in my space.
I like space. Quiet space, in which to think, write, restore. Not have to deal with too many people and their STUFF in my space.
Ha. Well, you know how that goes. How God has a good sense of humor about space, and all…
Once my marriage imploded, I NEEDED to stop hiding in my house and touch more people (both from sheer loneliness and the ache to earn more cash). And I couldn't believe how my world opened up. It all started with five ladies in Breckenridge, Colorado. All of us strangers, and me nervous as I'd ever been, we embarked on a journey of self discovery at my first writing retreat. We descended on that house so giddy it felt like the floor beneath us was floating on champagne clouds. I thought, "Surely this is a fluke. It couldn't possibly be this magical if I did it again."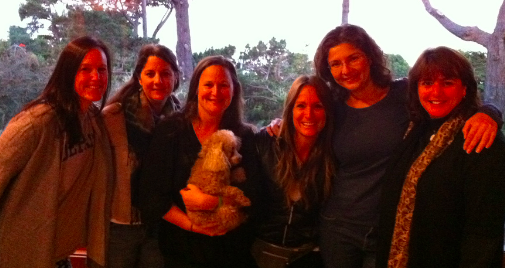 I did do it again, and although it was different (because the women were different), that second retreat was equally, if not more fun than the first because I was less nervous and could trust more that everyone would get what they came for. It wasn't just me, after all, carrying the group. They carried each other. Even me. I learned more from them than they learned from me. Insights were had by all, for all. It felt guided by some unseen, loving force that had all of our best outcomes written on a celestial treasure map.
The following retreat was even more of the same. It's been years now and I can't imagine a better way to serve, live, or earn a living–connecting face to face and soul to soul doing work that touches our deepest needs to be seen, heard, loved, nurtured, and creatively fulfilled.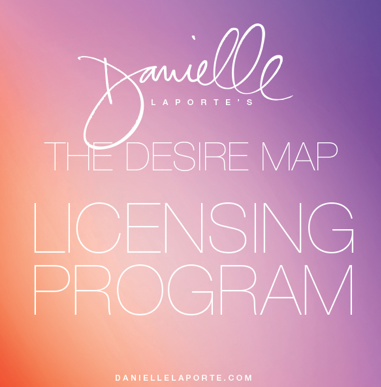 I haven't yet been to a Desire Map workshop, but I know that everything I just described and more will take place in those soul circles. There is no doubt. I also know that anyone who takes the leap to lead these groups will transform their lives as much as mine have been transformed through my circles.
If YOUR soul is reading this right now and giving you signs through your body, your breathing, or your excitement level that this is IMPORTANT to your evolution, your life, your financial freedom, pay attention to that. You're on to something.
These days we're all too isolated in our big homes and solitary commutes. We long to connect while not having the time or bandwidth to do so nearly enough. But we're tribal creatures and desperately need to gather, to hug, to dream, to dance, to share our desires. Time quickens when we do so and opens up unknown reserves for us, as if by magic. In helping other peoples dreams and desires come true, ours do as well.
Danielle figured out a long time ago that consciousness and cash go hand in hand with care and connection. I've seen her in action for years and have had the great good fortune to create with her. Doing so has led to some of the most beautiful, joyful experiences of my life. Trust this: there's no one on the planet more worthy of giving your time, trust, or resources to. She's got you. More than you know. Just like she's had me. More than I could have imagined.
I can see your Desire Map groups starting. I know how you're going to feel when that first tribe of mappers flows into your space, bringing their joyful, bubbly selves into your living room. You're going to take a deep breath and wonder how you got so blessed. When they leave with their heartfelt, teary goodbyes, full of praise and deep thanks, you're going shut the door like I did after my first retreat and cry your own happy tears. Tears of relief that you trusted your instincts and went for it. Tears of joy that you've got a new little family of soul sisters (maybe brothers, too) with whom you'll be forever connected. Tears of gratitude that your life will never, ever again be the same.
I'm so very proud to be an affiliate for something so incredibly special as this. Thank you for using my link here. I hope it's all I said and more. I know with all that I am that it will be. xo