Imagine your dream media coverage. Your ultimate wish list. Names of outlets that give you butterflies when you dare think of being associated with them. How about The New York Times or the Los Angeles Times? What about CNN or Forbes.com? I've been blessed with positive copy in those outlets and more over the years, and while each was an incredible honor, there has been one venue I always hoped would cover my work that felt just out of reach. CARMEL MAGAZINE.
First, I'll admit that I, like you, am always thinking about my "brand." About what I put out into the world and where, in general, that's taking me. Building a strong and authentic platform is important to me because, at my core, I'm a writer who wants to engage readers. (Writing for yourself or 3 people can be satisfying, sure. But writing for 300,000? My preference.) Second, supporting writers in my favorite place—Carmel—is forever in my heart, so there's that.
Thus. Magazines. I've been talking + blogging about platform building a lot lately, but today, I want to encourage you to put getting published or featured in your favorite paper or magazine at the top of your list. I'll use my Carmel magazine story to give you some of my fav pointers.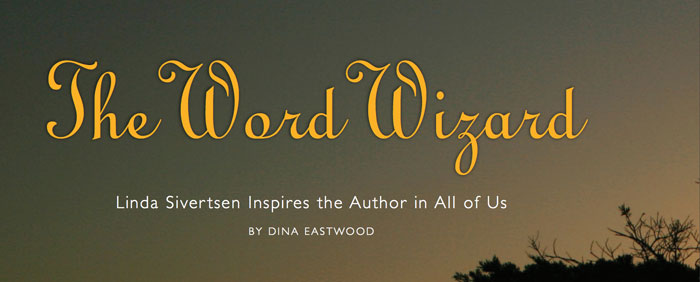 Side note: in case you're wondering why I'd choose a Central Coast mag with a small fraction of the print runs of the aforementioned outlets as my Holy Grail… Because Carmel saved me. Allowed me to save my kid. Caused me to believe in beauty and reinvention and second chances like nothing else. If you haven't yet visited this dog-loving seaside haven on the Monterey Peninsula devoted to artists, writers, and poets since 1902, it's hard to imagine a place so fairylike. This "village in a forest overlooking a white sand beach" (as the city describes itself) is unusual in that by 1910, 60 percent of its houses were built by citizens who were "devoting their lives to work connected to the aesthetic arts" (as then reported by the San Francisco Chronicle).
And Carmel magazine is THE magazine of this heavenly place. You'll find it in the cafes. In stacks by the library, in front of coffee shops, in nearly every hotel, and on all of the paper racks.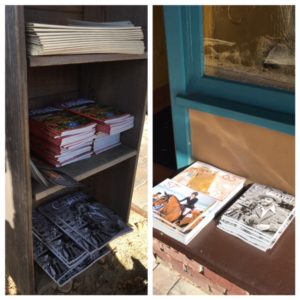 You can't miss the magazine in these parts if you tried. Its pages are covered in stunning aerial shots of Big Sur, Pebble Beach, and Spyglass, and the most picturesque homes and gardens and horse barns in the world, all dripping in fresh gourmet food, celebs, and happy mutts running through the surf.
Its images and stories have been my escape countless times. They remind me that I was raised amidst books, theater, music, and passion for art of all kinds. I used to feel—and still do—that my parents had a direct line to magic through their focus in this place. My sister and I, I was just sure, had been given the best chance at childhood happiness available anywhere, with Carmel our happiest place. We made the 90-minute drive there so often from our home in Los Altos for holiday, weekend, and day trips that I believed I'd personally memorized every Cypress tree on highway 1 from Monterey to the village from the car window.
That said, this small hamlet didn't hold the same allure for my husband. So, he and I made our life together in Los Angeles and a forest of Northern New Mexico. But when he left for a gal in Taos and my son and I were alone in L.A., I ached for nothing more but to go back "home." My beloved city of angels suddenly hurt every cell in my body. Reminders of our nineteen years together caused the walls of our house to pound around me like a head-to-toe earache. Travel was an impossibility, though, with the two biggest book deadlines of my life due within eight weeks.
Head down, fingers moving. Time stole to scream into pillows at the bottom of my closet. Mom breaks to feed our depressed teen. Then back to being chained to my desk.
A real hoot, those days. No surprise; I was late. On both book deadlines.
Two weeks before my final "drop-dead deadline" (as in, if you don't deliver, your career is TOAST) on both books, I couldn't hear myself think and finally made a run for it. My parents had been gone for years, but somewhere between the cobblestones and the sand of Carmel, I knew I would find them. Tap into their undying love and faith in me. They'd honeymooned in town (at Svendsgaard's Inn on San Carlos St. and 4th in their twenties) and were still deeply in love—with each other and this place when they died—so I had a feeling they'd show up.
With Alicia Keys serenading me, my car turned right onto Ocean Ave. Breathing deeply, I knew the thick fog and pine and salty sea air mixed with wood smoke I'd just inhaled was the start of my purification. Like incense in church or sage in a sweat lodge, this unique combo of Carmel aromas was my sacred reset.
And because I'd never seen my mother so free or giddy as she was dancing barefoot through the waves here, never so untethered from her hyper-scheduled life as a secretary at Stanford University; and chauffeur, chef, and Girl Scout troop leader of daughters, I believed I could be free here, too. Dad wasn't physically present to carry my shoes as he used to for Mom, smiling down from dryer land so she could be her most alive. But I imagined him holding them just the same.
Because I needed to be my most alive to pull this off. To get my home out of foreclosure. Ensure my kid didn't become a statistic. Carmel was where the magic had always been. Where Merv Griffin, who I watched on TV every day interviewing celebs as a kid after school (what's cooler than that?), shook my childhood hand. Where I frequently caught glimpses of Clint Eastwood in stores and restaurants and his old red truck. What kind of a town has a Movie Star Mayor? A magic place, that's what.
I maxed out my one remaining credit card at the Cypress Inn hotel and in eleven days, delivered those two books. One would become a New York Times bestseller (my first). The other would win multiple awards. Career suicide averted.
The road ahead was lonnnnng. But it wouldn't be too long before I crawled back up the coast, inviting women to script their stories and heal right along with me in my rental retreat tree house overlooking the sea. CARMEL magazine was always there. Holding the flame alive with its pages of unparalleled natural and man-made beauty. Every time I returned to my life in L.A., back to those walls, the latest issue safety tucked away inside my purse, it held my hopes of freedom and ease and happiness intact.
Remember what you're building. Who you're becoming. Carmel will always be here for you, it seemed to say.
One retreat became two. Then twelve. Twenty. And more. As I poured over every issue, I thought about how proud Mom and Dad would be that my life and this town they loved so dearly had become so entwined. That's when I let myself go there—put getting covered by the magazine on my career wish list.
As I always tell my clients to do with any person or outlet they hope to connect with, I started following the magazine on Instagram, Facebook, and Twitter. I even wrote to them once, maybe twice. "Hey! I love you guys! I love Carmel. I help the local economy, like a lot." Something like that. Sort of shameless, I suppose. But when paying off divorce + college tuition debt trumps investing in a publicist, you hustle. The mag had written about many others—famous people, yes, but also chefs and realtors and musicians and shopkeepers, too. Why not me? I mean, my life and work were like one big giant LOVE LETTER to Carmel.
But the energy felt blocked. I never heard from them. Maybe I wasn't ready. I was too busy to give it much thought, but with each new quarterly issue, I remained hopeful that one day I might be ready at the same time they might finally be ready for me.
I'm so happy to say that day has arrived.
You just never know about life, do you? The opportunity just fell from the sky. Or, really, into my rental kitchen.
A stunningly talented artist named Amanda Burkman (who painted Miss Merry, below, and often assists my chef in Carmel) was recently featured in the magazine. She told me the news at one of my retreats, and we squealed together. Then I confessed my love for those pages. And because maybe I was ready, when she was finalizing her interview, Amanda walked into their offices and raved about me. (Side, side note: You never know who will be your champion, so treat everyone who "works" for you as if they're the angels they are.)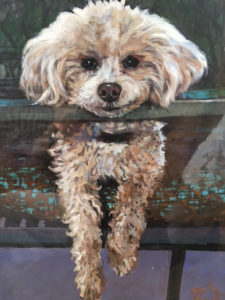 Amanda called me in L.A. like it was no big deal at all. Like being featured was already a done deal. "Yeah. Steve, the owner of the magazine wants you to call him," she said.
I think I tried dialing the phone before we'd even hung up.
"We'll cover you," Steve said within the first minute. Huh? What does that mean? I wanted to ask. DETAILS, PLEASE! But I forced myself to shut up. To trust that Steve and his team would do me right.
(Coverage, or "right" coverage, is never a guarantee, by the way. Like most authors, I've had my PR disappointments. Like the time a People magazine reporter called after my first book came out. "We're going to do a 4-page spread on you, the book, and your interview with Paul Williams," she said. She explained that my role in Paul's life and my chapter on him had helped fuel his comeback and that's why I was going to be part of the story. Wow. What respect! And from one of my favorite magazines! The interview and photo shoot was scheduled at Paul's house in a few days. My publisher was ecstatic. But, with no explanation or apology, I was out. Thankfully, they did a beautiful spread on Paul, but with no mention of my book in the article, Paul was embarrassed, and I was heartbroken.)
Sometimes you're ready. Sometimes you're not. In the end, the whole thing's a big freaking mystery.
But like everything having to do with Carmel in my life, their article on me has exceeded my every hope. In what feels like full-circle magic, Steve gave my profile to Dina Eastwood (Clint's ex), who I've long admired from afar as a TV journalist and animal advocate. For some reason totally unknown to me, Dina asked Steve if she could expand the piece from its original one page. He said yes and gave her five!
Come again? Five pages?
I know you know.
Dina's writing is as stunning as she is. I can't say what moved her to craft this Love Letter about my work, a piece she calls, "The Word Wizard." I'm still in a bit of shock. But, maybe that's what happens when we know what we want, imagine it, and let it go, trusting the pieces will fall into place in right time. I'll tell you what was really surreal: stopping by the Carmel magazine offices this week while here on a retreat to meet and hug Steve, who after many emails and dog chats and now in-person connection feels like a new friend. Crazy. And yes, that's Clint and beautiful Dina—a few of the many iconic covers lining their walls and hallways—behind us.
I hope you'll give the piece a read and consider sharing it with the writers/dreamers in your life. And that you'll let the love in these pages allow you to see and feel your media dreams becoming real. Exceeding all of your nearest and dearest hopes. Because… what if life is writing a love letter back to you right this very minute?
In closing, I'll wrap up with this image. Mom didn't live long enough to see me or my work featured in any of those above-mentioned outlets. She would have freaked, even for the National Enquirer—or was it the STAR? (either way, that was a gas). Dad saw a few. He made Xerox copies to mail to everyone he knew and carried them in his jacket pocket. He was "wanna-buy-a-watch?" embarrassing like that.
But Carmel magazine? Oh. My. God. Let's just say it's perhaps a good thing they're already gone because my parents would positively die of pride.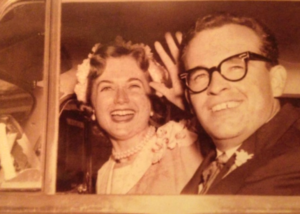 Yours,
Linda
xx
P.S. Thoughts? Join me over on Facebook. I'd love to hear from you. And, to hold your own big beautiful copy of CARMEL magazine every quarter, you can subscribe here.