Change and spring are in the air! After nine happy years renting a tree house in the Carmel Highlands for my writing retreats, the owner recently sold the home. February's retreat was our last one. Since Merry, my toy poodle—who always accompanied me—died in January, losing our home away from home so soon afterward felt like the end of an era. I walked the long driveway, hugged the massive trees I'd wrapped my arms around 100 times, and had a big cry.
Saying goodbye to the below-pictured bedroom, and the same view in our corresponding private session room next door—which was really, a massive bathroom with a pull-out couch I covered with blankets and pillows—was surreal. So, so, so many book babies were dreamed up and edited and even shopped to agents in front of this view at the edge of the world. (That said, watching the trees dry up in the drought hurt my heart and I ached for the owner to bring in a service for deep watering. Thankfully, the rains have come, but some of these beauties won't bounce back.)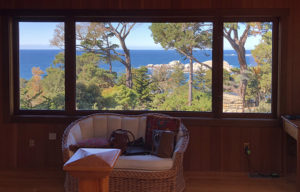 In any weather—and we experienced a myriad—the house at 246 Highway 1 was a treasure. It was put on the market years ago, but seeing as how it was priced out of most people's range, time was on my side. But I knew one day the right folks would claim it as their own transformational treehouse. So, trusting in expansion and new beginnings for all involved, I said a prayer to find an even better spot for us moving forward.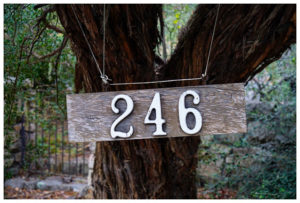 And then this happened. A new dream is born…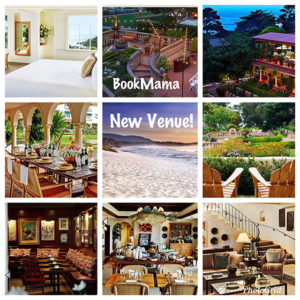 Meet, LA PLAYA CARMEL. This newly renovated 1905 hotel, La Playa Carmel, started out as a mansion built by an ARTIST for his wife. The staff LOVES having artists/writers in their midst, and they're rolling out the red carpet for us. We'll be just steps from the sands of Carmel Beach (the closest hotel in Carmel to the water) and the ridiculously darling shops, galleries, & cafes of this charming hamlet. (Meaning, I'm going to have to bribe everyone to stay focused being so close to everything!)
It was easy to tune most everything out in the trees with no easy beach access and super spotty Internet! And this slab of wood that buoyed our dreams. I will forever cherish my memories seated here, where so much magic transpired.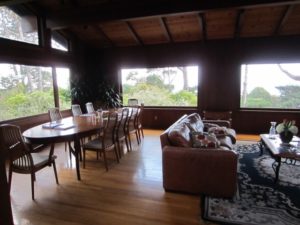 Now it's time to SPREAD OUT and celebrate this fabulous boardroom/brainstorming table, where I know the magic will continue. (With an abundance of dancing butterflies and hummingbirds in view in the garden, they tell me.)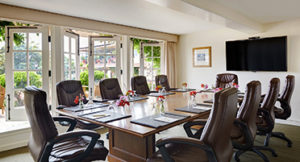 As for scheduling: Our May 21st retreat is full, but you can STILL GET A SPOT for next month—April 16th – 20th. Dudes are welcome, too! (I haven't chosen any other dates for 2018 yet, as I'm feverishly working to finish MY books this year!) As for going forward, we'll see. I may rent another house, or stay here. I may choose a new date soon or take the rest of the year off. It's all in flux as these books continue to flow (is there any better feeling for a writer?) and I get flooded on the regular with feel-good hormones snuggling these two puppers, Bodhi & Bela. Rescuing them has rescued the part of me that felt like it died along with Merry.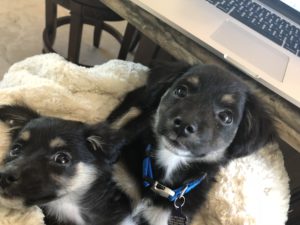 All I know is that while we're here at La Playa, they promise us all sorts of nooks and crannies for writing—in our rooms (you get your own room!), in lush gardens, intimate patios, secluded courtyards, at the beach, or in front of the fire.
I'm excited. Ready. Feels expansive. Can't wait to see you + your book(s) in Carmel! Let me know ASAP via my site form if you're interested! You'll find beautiful videos of our experience, and a ton of giddy testimonials over here on the Carmel section of bookmama.com. DID I MENTION–oh yes, I did!–DUDES ARE WELCOME?! We've had a few male retreaters in the past (see below blurb). My experience has been that they're even more vulnerable and quick to cry than the ladies–perhaps because they have so few places to feel safe. (I notice, too, that the ladies laugh more when they're around, and oddly, often bring up the topic of sex. Maybe the nearby candy shop and beach ions will be so satisfying they'll curb that behavior. Ha.)
Still wondering if a retreat's right for you right now? Here are a few super groovy new testimonials for ya. #GRATEFUL.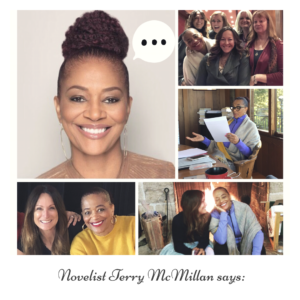 "I still dream about my stay in Carmel. It was indeed magical. Linda could teach anywhere, and to much larger audiences, but creates a powerful, intimate experience at her retreats. (And good God, can she write!) I didn't know what to expect and did not expect it to be what it turned out to be—interesting and exciting, with talented, beautiful women. I was thrilled by how brilliant they were, and how different their projects, both meaningful and important. Linda knows what she's doing, and I was very impressed with the format—the yin and the yang, the give and the take. And, to go five days without watching TV, especially MSNBC? Heaven!
"I've never paid to go on retreat before and joked that I didn't need to come, but I really did. I needed to get out of my loft, out of my office. To be in a beautiful place, surrounded by other writers. It didn't matter to me if they were published or not. The bottom line was that we were all there trying to do the same thing, and I appreciate and thank every one of them."  ~ Terry McMillan, #1 NYT bestselling novelist of WAITING TO EXHALE, & HOW STELLA GOT HER GROOVE BACK (+ 8 other novels).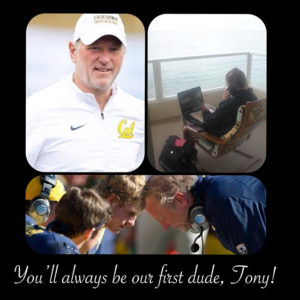 "This was, hands down, one of the best weeks of my life! It changed my life. I believe we have to steal time for our art, so while living in California and working as the Offensive Coordinator for the Cal Bear's football team, I took a week in the summer and stole away to Linda Sivertsen's #CarmelWritingRetreat. Although I'd previously self-published a football memoir and enjoyed everything from the writing to the TV appearances, I learned so much in Carmel. Linda opened my eyes to be so much more open in my life (and she damn-near forced me to vegetables, but I stayed strong). What Linda creates is magic. It's just who she is."
~ Tony Franklin, Author, Fourth Down and Life to Go [+ "one of the most innovative minds in football," writes The Wall Street Journal.]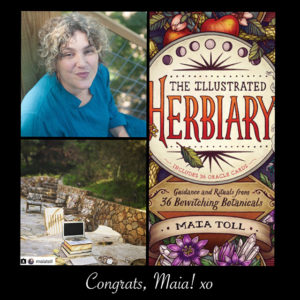 "Pine and jasmine, rosemary and moss: those are the scents of my first book being born at Linda's Carmel writing retreat. Now I'm celebrating the 2nd anniversary of my #carmelwritingretreat with my 2nd book deal! Just came through—exactly 2 years post-retreat.
"Carmel is a writer's retreat on steroids. Linda is in love with her work and her tribe, and this love oozes into every luscious minute. Trust me, when you're loved up like that, you become your best self. She gave me the confidence to make this happen: I didn't know my plant write-ups were engaging and enticing enough to be a book until Linda told me they were. They say 'A rising tide lifts all boats.' Linda lifted us—each one of us—and continues to.
"I spent a good portion of my life as a writer in search of my story; now I'm overflowing! You'll know it's time if you feel almost, but not quite ready. ;) That was me. And P.S. While you get tons of writing time, this isn't a monastic experience. The friendships I made were priceless (and pricey since we keep flying around the country to visit each other!)."
~Maia Toll, author of The Illustrated Herbiary: Guidance and Rituals from 36 Bewitching Botanicals (Aug. 2018, Storey Publishing/Workman)
Thanks for reading, my friend! Let's chat now, okay?–while you remember that you forgot you're a writer but thankfully you remember again:).
Yours,
Linda xx
P.S. What are you working on right now? Got any spring writing goals? I'd love to hear about them and cheer you on here, on Facebook.