I've been thinking a lot about what makes a book a runaway international bestseller. I get asked about this all the time. "What does it take?" "How do people do it?" "What's the secret formula?" While those of us who write do so with the hope, intent, and burning desire to be widely read (+ simultaneously get a whole lot off our chests and out of our crowded brains), what's perhaps less discussed is that we write to share, connect, and heal. And hopefully in multiple languages.
So, since we're all dreamin' + husslin' to make it happen, I thought I'd reveal some of my latest thoughts on creating/manifesting YOUR runaway hit. Let's take one of my fave writers and do a little case study, shall we?
Welcome, Liz Gilbert, author of… I'm embarrassed even to say the title because you've already heard it a zillion times… Eat, Pray, Love. Whether you love Liz or not (I don't get how you couldn't), she's KICKS serious publishing you know what. To date, she's spent something like 200 weeks on the New York Times bestseller's list (that's almost FOUR years, people!), not to mention Julia Roberts played her in the film by the same name. Impressive.
Plus, Liz is just good people. I've met her several times, and can attest. And ridiculously talented.
But her merits aren't actually my point. How her biggest book to date can inspire your international sales aplenty is.
A little backstory:
This daughter of a Christmas tree farmer is an author, essayist, short story writer, biographer, novelist, and memoirist. Nine years before the release of EPL, she penned a terrific article for GQ about her stint as a bartender at Coyote Ugly, an eastside bar. You may have seen the resulting film. I was tempted to bleach my hair and take up drinking (and dancing atop bars in sexy short shorts and cowboy boots), with the hope that doing so would suddenly make me feel hot and ballsy like those femme fatale barkeeps. Since my scalp burns within 5 feet of hair dye and I fall asleep after half a gin and tonic, I instead decided to become the proud owner of Dandy, a young and ballsy brown and white gelding (okay, not literally ballsy), with serious attitude. I ride him nearly every day. In decidedly unsexy, thick blue jeans and a bulky helmet, but still.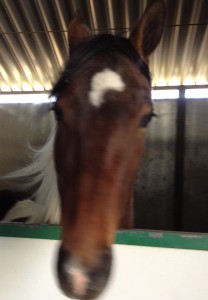 Back on point. Yes! Our girl Liz has chops, and publishing cred in spades. Her words go down as smooth as Kahlua and cream. You can't imagine how many people have sat in my office and said, "I read EPL and thought, 'I can do that. So, that's why I'm here. To do what Liz did!'" Gulp.
Eat, Pray, Love wasn't an immediate massive sensation. While it did hit the list for two weeks, sales dropped to below the top 10, where it sold around 1,000 copies a week for about a year before the paperback sales suddenly hit a tipping point and went ballistic.  Liz was 40 years old. "I'm really happy that it happened after my nervous breakdown, not before it," she has said, grateful for the wisdom bred of experience.
Here's how I suggest using her book to influence you and YOUR writing. Hang tough if you don't have a copy in front of you; I'm enclosing a little cheat sheet to make it easy.
Take a few minutes to STUDY the glowing testimonials below from the pages of her book to see why and how she's moving critics, the media, other authors, and readers worldwide to pledge their everlasting love and buy multiple copies (I bought 22 one Christmas, I kid you not). See for yourself, through their words, what the buzz is all about… specifically.
As you do, ask yourself: What do I want people to say about my work? What do I want readers to feel when they're done… take away from the experience? When you keep the end in mind (as Danielle LaPorte and I advise to do in Your Big Beautiful Book Plan), you're more empowered to pen your own success story. And, even if you're not writing a memoir, I suggest reading on to see how these examples can be used for any genre.
First up, let's look at a review of EPL from The New Yorker: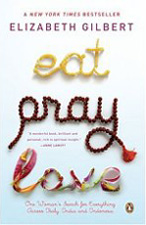 "… after a protracted divorce, she embarked on a yearlong trip of recovery, with three main stops: Rome, for pleasure (mostly gustatory, with a special emphasis on gelato); an ashram outside of Mumbai, for spiritual searching; and Bali, for "balancing." These destinations are all on the beaten track, but Gilbert's exuberance and her self-deprecating humor enliven the proceedings: recalling the first time she attempted to speak directly to God, she says, "It was all I could do to stop myself from saying, 'I've always been a big fan of your work.'"
Notice the words I've put in bold… Exuberance and self-deprecating humor. I found references to these traits again and again. For example:
"… Gilbert's prose is fueled by a mix of intelligence, wit and colloquial exuberance that is close to irresistible." ~The New York Times Book Review
"… This insightful, funny account of her travels reads like a mix of Susan Orlean and Frances Mayes." ~Entertainment Weekly 
"… She is an irresistible people magnet, an inveterate explorer, a marvelous storyteller, a vicious wit often at her own expense." ~Seattle Post-Intelligencer 
Reviewers also loved the richness of detail, the exotic, sexiness of her storytelling, and the infusion of God + self-love, as you'll see in the next five quotes:
"…Sustaining a chatty, conspiratorial tone, Gilbert fully engages readers in the year's cultural and emotional tapestry—conveying rapture with infectious brio, recalling anguish with touching candor—as she details her exotic tableau with history, anecdote and impression." ~Publisher's Weekly 
"… As Gilbert switches from gelato to kundalini Shakti to herbal cures Balinese-style, she ponders the many paths to divinity, the true nature of happiness, and the boon of good-hearted, sexy love. Gilbert's sensuous and audacious spiritual odyssey is as deeply pleasurable as it is enlightening." ~ Donna Seaman, Booklist
"This is a wonderful book, brilliant and personal, rich in spiritual insight." ~Anne Lamott
"A meditation on love in its many forms—love of food, language, humanity, God, and most meaningful for Gilbert, love of self." ~Los Angeles Times 
"Readable and funny… She's a gutsy gal, this Liz, flaunting her psychic wounds and her search for faith in a pop-culture world." ~The Washington Post
Last, but not least, readers just plain found EPL entertaining:
"Gilbert's prose is fueled by a mix of intelligence, wit and colloquial exuberance
that is close to irresistible." ~The New York Times Book Review
"An engaging, intelligent, and highly entertaining memoir." ~Time
"Be advised that the supremely entertaining Eat, Pray, Love—a mid-thirties memoir by the endlessly talented Elizabeth Gilbert—is not just for the ladies, fellas." ~GQ
"Compulsively readable." ~Elle
"Engrossing and captivating." ~Marie Claire
Which brings me back to you:
Remember to hold in your heart the point of all this–what you want your readers to think, and more importantly FEEL, when reading your work… Do you want them to fall in love with your story through your intelligent wit and eye for minute detail? What about drawing them in through your whacky characters with all-too human frailties and challenges to overcome, or your deep sense of care for the earth and her fragile, beautiful creatures. You've got a style all your own, and it's just as unique (and special) as your fingerprint.
Whether it's your suspenseful sense of timing and rhythm, your raw vulnerability, your salacious scenarios, or knowledge of all things artistic and historical—maybe even all of the above—use what's uniquely yours.
Start with the end in mind, and see where it takes you. I'd love to know what you want readers to say about your writing in the future, and any inspirational testimonials you've found in your favorite books.
Yours,
Linda
xx