When it's time to market your book, is it all on your shoulders, or can you look to the Universe for some of the heavy lifting? As I promote Beautiful Writers, I've thought a lot about that.
I just learned that some of my Beautiful Writers Group members have been going "super meta" by "scouring" my launch plan for their future publishing plans.
"If you look at her social media, you'll see all the excellent posts she lovingly created in Canva with quotes from the book," wrote Jenn Sutkowski in our weekly member newsletter. "Not only are these posts inspirational on their own, but they are something for us to consider in promoting our own work. Linda laid out golden breadcrumbs for us to follow."
Golden breadcrumbs? Wow. As I never considered myself a PR maven, role modeling to this shiny degree hadn't occurred to me. But, of course, this is the case. We all need examples when it comes to planning what we'll do, and I adore the idea my book launch details can inspire other writers. There is so much to learn and implement, and I'm by no means doing everything "right" or that I could be doing in promoting my latest book. But I'm having fun. At the start of this process, I told myself I would take it slow, be deliberate, cut myself lots of slack, and even let the Universe take a lead role in PR planning. (Honestly, who's got the bandwidth these days to handle everything? Not yours truly.)
My best advice after nearly a month out from pub day:
Call on your network.
Do your best at any given time.
Let magic fill in the blanks.
For example, on Tuesday, I was on a call with a media team strategizing an upcoming interview. Booking this show was the realization of a cherished dream. I made notes a few weeks ago and reviewed them, so I wasn't unprepared for our call. But I'd hoped to be far more so. When you'd think I'd be going over my ideas the hour before, I got caught up dancing in the sun with my dogs. As I looked into their glowing dark eyes, their delight was so total that there was no way I would stop the love fest to focus on work. I made a quick, executive decision not to worry about my call.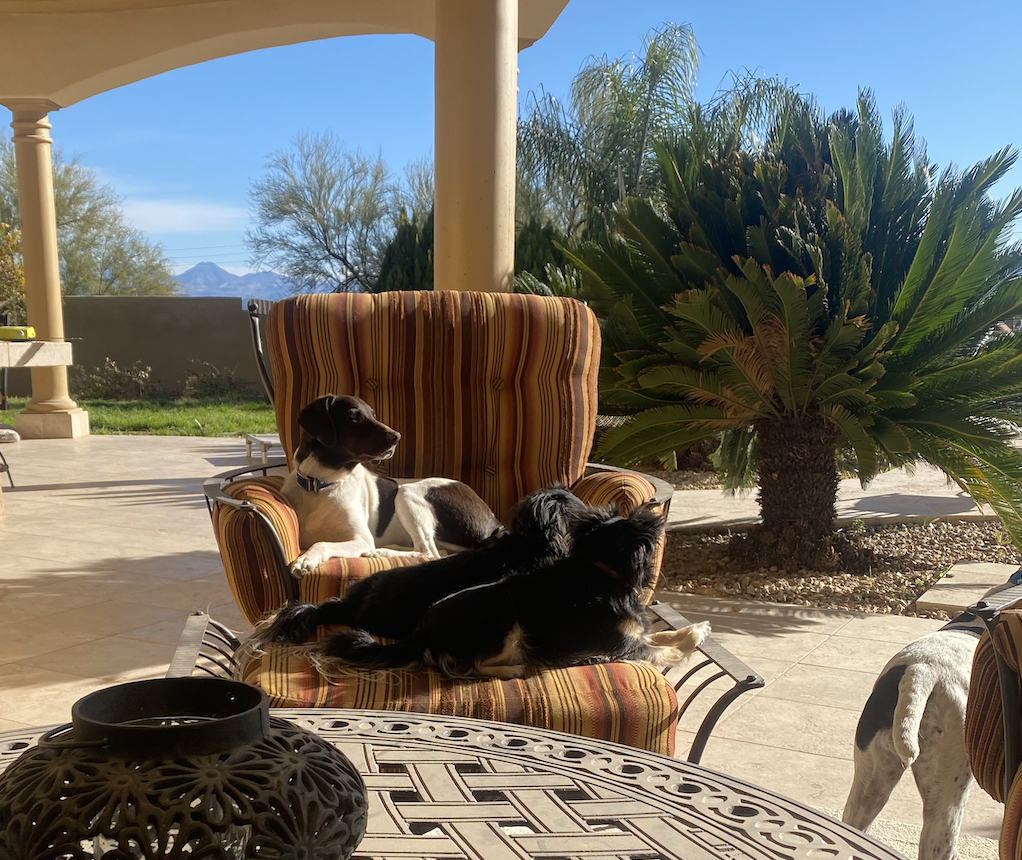 Instead of trying to impress the producers, I trusted that I knew my topic well enough from writing Beautiful Writers and that we'd figure out the talking points together.
Here's the part where I was more than pleasantly surprised. The producers told me they've been long-term fans of my podcast and therefore knew more about my bio and body of work than most of my relatives. Their ideas for the show were nearly EXACTLY, bullet for bullet, what I'd laid out in my list. I didn't have to bring up a single idea or look at my notes on the call because they're pros and had done the brainstorming for me. As in any good dance pairing, I merely had to follow their lead. No blisters or intensive prep necessary.
I got to be a fully present dancing dog mama, and my book still moved forward. Doesn't that seem like magic? It does to me. Thank you, Universe.
Writing regularity: Ever worry that you do you don't blog or communicate often enough with your community? Me, too, for years as I struggled to steal hours to finish my book. But every time I sit down to write my weekly note to my group membership, I recall how much I adore communicating with my "list," another thing all book launchers *should* be doing.
You've no doubt heard about the importance of "repurposing" content. Well, this is one such instance. I've taken some of those Beautiful Writers Group membership newsletters and used them as jumping off points for Book Mama blogs and emails (like this one!) and social media musings. Because our BWGers inspire me every week to put pen to paper, as it were, and I enjoy what comes out, I've learned to share the content in several formats. My missives often start with me writing to the group and then evolve from there.
As you head into the rest of your week, think about where you can let go of the emotional weight of it all and let the Universe lift you up. Ask yourself where your writing can do double, even triple duty, so you have even more time for those spontaneous moments with loved ones in the sun that bring you sheer joy.
Dance on!
Linda
xo
PS. THANK YOU to everyone who's left sweet reviews of Beautiful Writers on Amazon or Goodreads. Lordy, I'm so totally blown away by your love and enthusiasm that I can't even. The littlest things are truly the biggest things.