That's my pops, Alfred Eugene Tisch, on his birthday circa 1999. We were in Carmel-by-the-Sea. My sister, Carol, snapped this moment I'll forever cherish after we'd annihilated Dad's German chocolate cake, leaving only a few shavings of coconut. The glee on his face shows how happy he was to have been able to shower US–his grateful, mostly broke daughters–with presents.
Every day with our father was a present.
Today would be Dad's 80th birthday. Or, I should say, Today IS Dad's 80th birthday. To celebrate, I have tri-colored roses on the kitchen counter. Mine are store bought, but Mom's would have been grown in the garden. I'm listening to a Beethoven concerto, having just made fresh squeezed orange juice. Because that's what he would be doing this morning. Later, Carol and I, and Dad's only grandchild, Tosh, will be going to hear some of Dad's favorite classical music performed downtown. Christmas style.
The rituals of home. The rituals of my childhood. So blessed was I to be the daughter of this man, even if his idea of a Grand Old Time when I was a teenager was to crank up his movie-theater speakers FULL blast with opera (oh, the horror) at 8 am while I was trying to sleep in. Oh, how I hated opera. Oh, how I love it now.
I think about my father all of the time, his wise ways of moving through the world echoing around me. My favorite? "Make your relationships win-win, Linda. Especially in business." He said this countless times. His many clients at the stock brokerage firm would say (and often did) that he lived this ideal more than anyone they knew.
This one's for you, Daddy. Happiest of birthdays. xo
"I need a dollar, dollar,
A dollar is what I need.
And if I share with you my story, would you share your dollar with me?"
Aloe Blacc isn't singing about the publishing world in this song, but he might as well be. When writers go into business for themselves, and start thinking about monetizing their message, getting heard, growing their platform, targeting their market, increasing their exposure, building their brand and expanding their list, things can go from zero to show-me-the-money really fast.
We learn to check our squishy, sentimental writers hearts at the door, as we put on our business-colored glasses and go to bat for our creative rights on countless levels… from putting boundaries around our time, sharing our work with others, signing contracts, agenting our agents, marketing our wares, and doing everything we can to make a difference. You know, hustling our soul muscle.
We become wheelers and dealers of our story, the one that happens to be comprised of our sacred blood, sweat and tears, because very few (arguably none?) writers are satisfied with their writing remaining unread. Because that is being a professional.
But this shift from inward expression to outward negotiating can feel unnatural.
Most writers harbor an undeniable recluse in their creative caverns. We're most often introverts masquerading as extroverts in order to get more business. And while there are plenty of storytellers that are just as at home in front of a crowd as behind their computer screen (or feather plume, if you like to kick it old school), for most, the business of making your story matter seems to call upon a character that's more strategy than soul. And it holds us back.
But does "getting heard" have to be so intimidating? Does publishing your story have to feel less natural than writing it? What if you did business the way you do creating – from your soul? A win-win experience for you and everyone you come into contact with.
Next time you find yourself trying to get expert interviews, round up beta readers, establish a team, send out queries, interview agents, make an affiliate program, form strategic partnerships, get editing advice, request feedback, shares, likes, or money – try asking a few soul-centered questions:
How can I be consistent with my message and offer the most value while connecting with this person or community? How can I create meaning, even in how I promote myself? What's inspired and universal about what I'm up to? What purposeful, beautiful work wants to be birthed through me? As you build your brand with these higher ideals in mind, you'll know that it's not just about acceptance or rejection, contracts, advances, proposals, likes, shares, rights, and royalties.
It is those things, sure. But it's also so profoundly about forming relationships, generating meaning, nourishing your message for as many as possible, and ultimately, blessing your bank account. (Which, by the way, over time, will allow you to shower your daughters with presents on your birthday, creating memories that will sparkle many years later.)
Heart to heart is a powerful approach. Personal touch is underrated.
So while you're hustling for that dollar, remember, the universal currency is soul. Remember the example of Alfred Eugene and make it a win-win all the way.
Yours,
Linda xo
P.S. Who's inspired you to create win-wins in business? Give them some shout-out love in the comments here.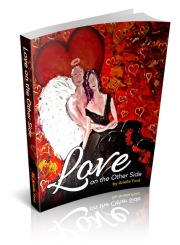 P.S.S. One of the greatest win-win relationships of my life is with the beautiful soul, Arielle Ford. This FREE ebook is on a topic close to my heart, connecting with love ones–soulmates, even–on the other side. Arielle and I have had some powerful conversations about how we've received amazing signs and guidance from our loved ones… her sister, my parents… on the other side. Gives me goosebumps. Check it out here.