During my early writing years, I chased interviews with several celebrities in the desperate hope my agent would finally have those "bigger names" he was always telling me I needed to get my first book deal.
If you've read Beautiful Writers: A Journey of Big Dreams & Messy Manuscripts—with Tricks of the Trade from Bestselling Authors, my latest book, you know I was obsessed with turning the tables on Emmy-Award-winning talk show host Leeza Gibbons for an interview. Believing that my book, Lives Charmed: Intimate Conversations with Extraordinary People, was fated because it had come to me in a dream—and would help make environmental issues "hot and cool" at a time when most people didn't seem to give a shit—gave me all sorts of over-the-top courage.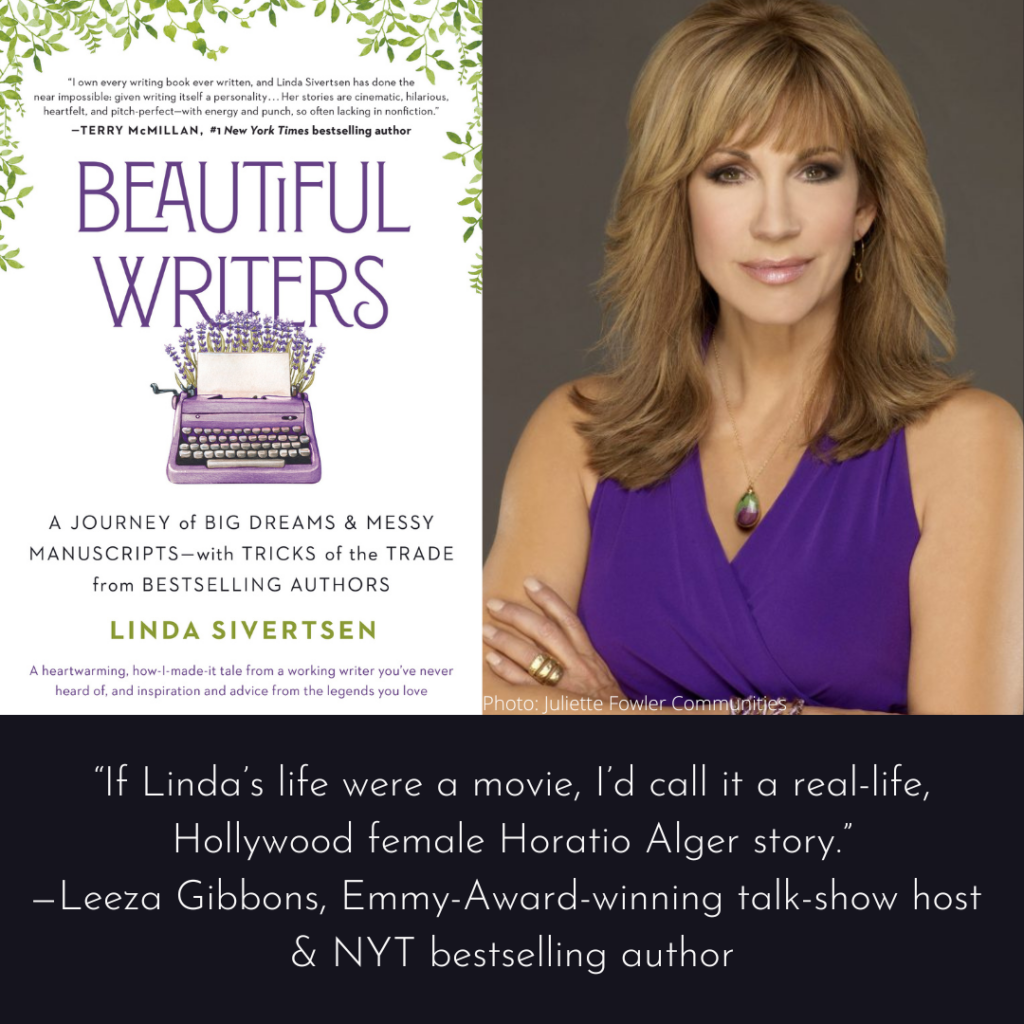 My ridiculous missteps with Leeza are some of my favorite pieces of the storyline. (The eating-on-the-floor dinner scene with us & singer/songwriter/actor Paul Williams, still makes all three of us laugh out loud. Have you gotten there yet?)
As I write in chapter 7, "My attempts at seducing her for best-friendship and a future interview had fallen flat. Hmph. How had I so royally blown my chance? You'd think I'd be heartbroken. Any clearheaded person would have been. But remember my mission. It seems that one of the benefits of believing you're doing God's work is a sense that anything is salvageable. You can mess up a million ways, but the Universe will rearrange itself in your favor."
Ha. But I DO think the Universe often rearranges itself in our favor! I mean, twenty-eight years later, Leeza's sending me this pic of her holding the book about the book, and all of my prior struggles feel like a beautiful dream.
Stick with your desires, no matter how far-fetched.✨ You never know what magic awaits. xo
PS. Any of this ring a bell in your own experience? I'd love to hear about it on this post over on Facebook, Instagram, or Twitter.
PPS. All my Southern California peeps! I'll be traveling to events in the new year, but my first in-person CA signing is coming up on Wednesday, Oct. 5th! Bestselling author and former top book publicist Arielle Ford will be interviewing me at the famed Diesel Bookstore in beautiful Del Mar (San Diego). My snarky best friend, Diane (who you may love from the storyline) and bossy little sis (ditto) will be there too. Come meet and play with us, if you're in town. It's free and it'll be a powerful publishing pow-wow. For more info from the Diesel site, click here.