Book countdown continues! Four days until my book's birthday. Sheesh! 💜 In preparation for next Tuesday, the 23rd, I just recorded a new episode of the Beautiful Writers Podcast: Pub Day Celebration: A Writer's Roundup to air that morning. In true dream-come-true fashion, who was the first celeb author excerpted in the book to show to my Zoom party? Yes, the legendary Steven Pressfield! My biggest writing idol.
When Steven popped up on my screen, holding my book baby in his hands and cheering on my efforts, it was as if one of the Beatles or the Rolling Stones was serenading me. (I mean, from the hands and the mind that crafted some of my most cherished books, including the classics The War of Art, Do the Work, Turning Pro, and OMG, his latest masterpiece, Put Your Ass Where Your Heart Wants to Be.)
As you can see, I nearly did a backflip in my chair.
That's when it hit me that none of the goals and dreams I am currently realizing would have happened had I not trusted in my writing and kept at it through all of the MANY detours, insecurities, and long days and nights. Those instances in the messy middle where the thought of Steven Pressfield celebrating my work would have seemed as likely as a summer snowstorm here in scorching Scottsdale.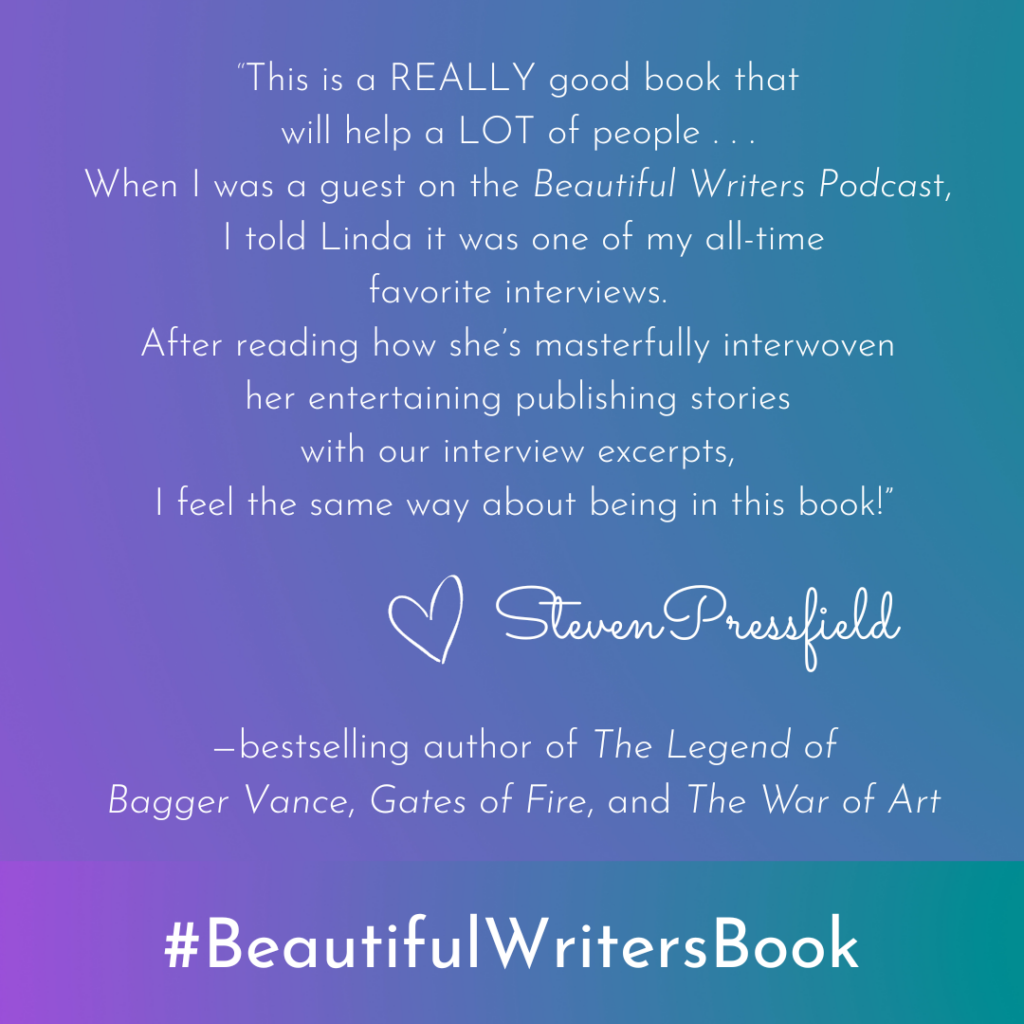 In case you haven't heard, no writing career happens quickly or easily. (It took Steven seventeen years to sell his first piece!)
This is a joyous gathering of minds and hearts. Resistance is real and we all feel it on the reg, but we focus mostly on what went right. What we did that worked.
And yes, as we cover in this episode, there are many sacrifices along the way. You may feel like and have been accused of having a mental disorder by loved ones who want more attention and can't see the stories in your head. It's a balancing act, this life of loving our writing and our people. You can wonder a thousand times if it's worth it.
And then something like this Pressfield happening, makes you thank your lucky stars for everything.
I can't wait to share the episode with you, including the other magical humans who join us. Keep an eye out Tuesday morning, and subscribe so you're always the first to know. BeautifulWritersPodcast.com.
LOVE you! Happy Weekend,
Linda xo
PS. My writerly preorder goodies disappear on Monday night. For the price of my $19.95 paperback, you get:
💚 A digital version of the Do Less Planner from Kate Northrup, one of the people I go to for guidance on all things life & biz. As the author of Money: A Love Story and Do Less, her work has been featured by Oprah Daily, The Today Show, The NY Times . . . You'll receive 2 versions of her digital planner, which Kate normally sells on her site.
💜 The Writers' Common Language: A Shared Vocabulary To Tell Better Stories from Tim Grahl. Finally, in this gem of an ebook (or paperback), you'll find a brilliant way to wrap your mind around Genre, Theme, Voice, POV… Tim's a managing partner & publisher at Story Grid Universe & author of Your First 1000 Copies + Book Launch Blueprint . . . Priceless.
💚 Samantha Bennett's 7-Day Printable Real Life Planner, so you can time block your writing AND get the laundry done! Sam writes some of the best books you'll ever read & she's the owner of the Organized Artist Company, wrangling us creatives. (This offering varies widely from Kate's. Download them both to see which works its magic on you. Maybe both!)
💜 We've got Laura Belgray, THE email newsletter goddess herself (Marie Forleo's co-creator on The Copy Cure), to lead us through a live 90-min training on how to write emails that get your subscribers hanging on to your every word.
💚 The workbook section of Your Big Beautiful Book Plan. Get ready to dream BIG & have fun w/ the most popular section of YBBBP! W/ prompts lovingly created by Danielle LaPorte & me.
💜 My 6-Page Winning Book Proposal Template, revamped/updated. This checklist, crafted over decades of writing & selling bestselling books, includes every section that wows. I still break it out w/ every book I write.
💚 You'll also be entered to win prizes:
(2) #BookProposalMagic Course + Private Consult w/ me
(3) Book Proposal Magic Course
(3) 1-Year Membership to The #BeautifulWritersGroup.
💜💚 TY!
Write on! LS x