Dreams come true, my friend. Hold onto yours TIGHTLY. I'm so happy to share this week's announcement of my Beautiful Writers book deal in Publishers Marketplace (and in Publishers Weekly, shortly). This was lonnnnng in the making. I could have given up or thought it wouldn't happen a gazillion times. 

Quite the run-on sentence, that announcement, yeah? The editor in me would soooo break this up, but that's how it's done. Lol. Can you imagine having to read that out loud in one breath if I'd also added this front-cover tagline?  "A heartwarming, how-I-made-it tale from a working writer you've never heard of, and inspiration and advice from the legends you love." 
Fun, right? I appreciate self-deprecating lines that make me laugh. 
In the original email that went out yesterday morning, PM turned an ampersand in our announcement into an "and," and accidentally made a typo, spelling it "amd." But what's a good writing book without typos?! Ha. I almost let it go, but I couldn't at least not ask for an edit (it's a writing book, for f's sake!). Thankfully, they fixed it right up. Whew! Somehow the subtitle ended up only partially capped—the full being: A Journey of Big Dreams & Messy Manuscripts—with Tricks of the Trade from Bestselling Authors. And, they also left out my favorite part of the announcement. (Yes, you and your agent get to write your own announcement! And yes, they get to edit it for brevity or whatever.) Here's what was omitted (in red): 
… for publication in summer 2022 on FSC-certified paper, with 10% going to an eco-charity. 
No disrespect to Publishers Marketplace! I adore them. Always have. You've probably heard me tell you to sign up for their service a hundred times in the past. Their daily Publishers Lunch email keeps me up to speed on all things industry-related, which I find delicious. What a cool feature to see which agent friends have just sold a title, giving me a reason to connect with congrats and high-fives. And, they've got a helpful feature on their site that allows you to track agency rankings in your genre. (Five minutes ago, when I looked up Folio Literary, my agency, I found they're jamming in categories I adore. See screenshot.) Thanks for that intel, Publishers Marketplace! Lovely to know.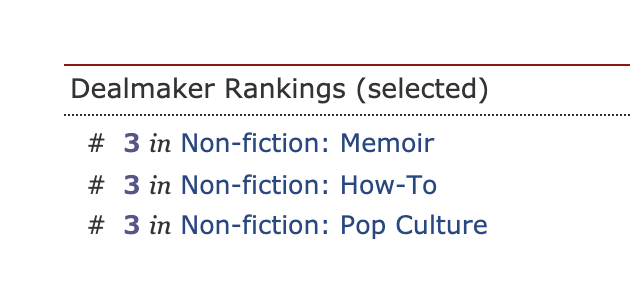 Back to why I was hoping I'd get lucky, and they'd mention the trees … 
Printing on Forest Stewardship Council fiber has been my primary publishing goal since 2008 when S&S and I published Generation Green on recycled paper, and I wanted to go further. Managing forests sustainably is vitally important to me and one of the reasons this book deal feels like such a blessing. I'm already working behind the scenes with the FSC non-profit—more on that soon. To learn about their work domestically and internationally, go here. 
As for BenBella? What the who? I loved the name the instant I heard it because it sounded like my rescue pups, Bodhi & Bela—who our granddaughter calls "BoBela." But I was taking Zoom meetings with some of the biggest publishers in the world for this book. Despite owning several bestselling titles from this Indie publisher without realizing it (and LOVING the movie Forks Over Knives, based on their mega-seller The China Study), I'd somehow missed that they'd twice been selected by Publishers Weekly as one of the fastest-growing publishers. I was still married in my mind to New York. (BenBella's in Dallas.) 
Folio LOVES working with BB. Rachel, my agent, encouraged me to take the meeting, and she got my plant-based-loving-heart skipping a beat with the news they'd sold over 3 million BenBella Vegan books (and that ALL of their titles were about to be distributed by Penguin Random House!). But knowing I'd already bonded with another editor, in particular, she promised we could keep it short if I wanted to get off early. ("Just text me on the call, and I'll wrap it up," Rachel said—how much do we love agents?) Of course, I did not want to keep it short. I was so blown away by Glenn, the CEO, during our hour together that I called Rachel afterward and said, "I think he's our guy!"  
So much so that we canceled my follow-up chat with the other gal. Here's why. Other than being offered a much higher royalty rate from BenBella than I've ever heard of, plus a marketing budget, an advance, and final editing approval—even on the cover design—Glenn stole my heart by being my eco-champion.  
Like every other publisher during our Zoom call, when Glenn was done asking me questions and telling me about his team and their possible plans for me, he asked if I had any questions. And, as I'd done in my previous meetings, I told him the real reason I got into publishing decades ago—because of the environmental impact I hoped to make. (He knew some of this, as it's part of the madcap storyline he wanted to buy.) Next, I told him my number one current goal—to publish with FSC. Then I asked: "If we were to work together, would it be possible to print my book on FSC paper?" 
Glenn was the ONLY publisher who not only didn't freeze or deflect at that juncture but dove in with both feet. "YES!" he said. "We've wanted to go deeper in that direction, and I'd love to make that happen!" Next, when I asked if we could have a charitable component, where a portion of my profits would go to an eco-charity, again, he not only said yes but offered to MATCH my contribution. "You put in 5%, and we'll put in 5%." 
With my tree-hugging agent by my side (Rachel started the environmental club at her middle school, is married to an environmental YA author, and had more ideas for me on future green publishing than any agent I interviewed), there was no question that Glenn would round out our green dream team. 
I pumped the brakes on announcing our deal in the trades, though, despite my elation. Why? My dang subtitle! Holy mother of God, was that a bitch! It just didn't feel right. Here's the title I'd used for my proposal—the one Glenn had bought: The Magic & Mayhem of Authoring and Publishing Books.
Catchy. I have that tagline on my Beautiful Writers Podcast website. It's always worked for me. But it didn't feel like it accurately explained the entirety of the book. Beautiful Writers is unlike any writing book you own. Part writing memoir, part advice book, I needed a better sub! Who wants to announce their book with the wrong title?
After waiting years to shop this book, I couldn't stomach being harried through any part of this process—including chatting with several eco-charities to ensure our ideal alignment. I've never been so balanced on deadline, and I wasn't about to lose the good feels. We'd just moved (from L.A. to Scottsdale). We'd just gotten married (after eleven years). We went honeymooning (on horseback). Our mare had her first baby two weeks ago (Arizona Moon). Yes, I got married and had a baby! And I had a book to finish (due in 4 weeks). So, racing to announce in the trades (the text of which would live forever online) when I didn't have all the details finalized felt premature. 
I think between my agent, editor, friends, and family, and me, we came up with over 100 subtitle options over the past few months. Of course, I had to run every top choice by my friend Nick Newmont—a wonderful numerologist, which took time—he's busy. "Oh, hi, Linda. More titles?" he'd ask, probably wanting to die. But Nick had given me the thumbs up for the names Book Mama and Beautiful Writers Podcast—and those turned out well. (I helped him with his proposal for Newmerology long ago and learned that if Nick says that a title's a snoozer, we pivot!) 
So, subtitle nailed. Pages almost done. Typos here, there, and everywhere being hunted down. Life is good. Allow your delays, my friend. When you're ready, you'll be so relieved you had the time to get it right. 
Thank YOU for rooting for me along the way. I read all of your comments and feel your well-wishes. I say it all the time, but friends don't let friends write alone. I couldn't be happier walking this path with you.
To dreams. Yours and mine. I hope that by revealing my non-negotiables (a direct link to our people!), you're encouraged to stand for your own. I'm cheering you on.
Linda
xo
PS. Thank you for all of the sweet messages on baby Arizona Moon. We're truly over the moon with this baby bucking bronco. I used to be nervous around horses—which took years to get over, even while owning them and riding often. But somewhere along the way, it hit me they were just really big puppies. Since then, it's been a total joy. Of course, I still have to be smart. But LOVE. 
If you follow me on social, you know I'm pretty much flooding my feeds with videos of the little man running his ass off. If you'd like to smile along with me on the reg, you can find us over here on IG (where I have a highlight entitled "Baby AZ" where you can see his whole story). I also post a lot on Twitter, and on my FB public page. His innocence and total ALIVENESS seem to remind people to stay joyful. 
PSS. Have you downloaded my free audio, Publish or Perish? Filled with my top writing and selling tips I WISH I'd known years ago; people are raving that it's helping them fall back in love with their writing. I hope you'll give it a listen. I produced it like one of my podcasts—with loads of good juju.

PSSS. Want to join me in Carmel-by-the-Sea in 4 weeks? We still have a spot open for July at La Playa, maybe two? I'll have delivered my book and will be so excited to get outside of my story to help you birth yours. There's a wait list for the Sept. retreat and I haven't booked another one for the year, so this is your chance! Wanna play with us in this haven by the sea?