The goosebump moment every writer hopes for—LOVING their new book cover. After countless hours—maybe years, possibly even decades spent writing and editing your manuscript—you hold your breath as you open that email, praying to all that is holy that the JPEG face your publisher has created for your book baby has the right look and feel.
Introducing the final Beautiful Writers cover (pub date, summer 2022). I couldn't love her more. I think my publisher got it right, and I hope you agree.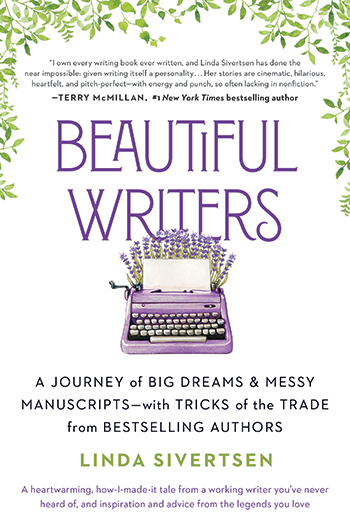 You never know how you're going to feel about your cover. Putting a visual on all those many words, encapsulating the essence of what's inside—your book's personality in a single image—that's a big job with high stakes. We all know not to judge a book by its cover, but can we help ourselves?
I've received covers I adored and others I hated. And I've never been more blown away by a publisher's artistry. I shouldn't have been surprised—in our interactions with BenBella Books, my agent and I have been consistently awed by their skill, organization, and enthusiasm. But cover art can be a scary thing.
Sometimes publishers get it right. Very right, right away. Sometimes it takes many iterations. And in other instances, yuck. An author rarely has the final say on their cover from a contractual standpoint, and some authors aren't even consulted. (Fortunately, most publishers are very good at what they do—and even "ugly" covers have hit the lists, so it's a crapshoot.)
My first house sent me something like 25+ cover samples for Lives Charmed, none of which felt right. It got to the point where I'd call my editor laughing, and he'd join me. "I know. I know," he'd say. Finally, I made a mock-up myself, with a picture of clouds my ex and I took from an airplane—and we had our cover. Years later, I wept with joy at the Manhattan offices of Simon & Schuster when the art department unveiled a poster-sized cover of Generation Green for my son and me. Bullseye. Witnessing our names with the globe covered in green leaves for continents just about did me in. I put my head in my hands and bawled. All I could think about was that my late mother, an environmentalist who'd given me my passion for tree-hugging (and saving), would have died of happiness seeing her grandson and daughter's names on that cover.
BenBella's art department originally sent me nine covers to choose from, all fantastic, varied in tone, style, and colors. Talk about choice overload! It was agonizing trying to put them in any semblance of order. Aside from the frequent reframe "You can't go wrong with any of them," most everyone (family, besties, my biz team) loved the purple typewriter. Me, too. Those lavender plants! My mother was a freelance typist for many years, so it feels like home. At nine years old, I wrote children's books at her IBM Selectric while she cheered me on with hugs and snacks. But typewriters have graced the cover of oh-so-many excellent writing books, and I wanted something in addition to the flowers to further differentiate ours. The natural choice would have been a coffee cup or a teapot, maybe a big cozy chair. But me being me, it had to be about the greenery. I kept seeing a vine in my mind's eye and asked for one. I'm delighted with the beautiful way in which they interpreted that request. Once again, a leafy cover makes my heart happy.
My surprising realization: Speaking of happiness, people have been asking me if I feel happy since delivering my manuscript a few weeks ago—the one I've been working on for DECADES. No bigs. Ha. (Not decades in its current incarnation, but I started writing some of the stories in 2001, 2002, and 2003.) Ohmygodyes. Slaphappy.
Here's what I didn't see coming. Since hitting "send" to my editor, I'm experiencing something called FREE TIME. Did you know that was a thing? It feels like mental white space. Like breathing room. Like lavender and vines and childhood dreams. When you're no longer trying to figure out a chapter, an arc, dialogue, and ending—even if only quietly simmering in the background—you realize you have a quieter mind. There's a time where those writing conundrums are, dare I say it, figured the f*ck out! Your brain more fully enters the present moment, and you look around in wonder.
Every time my husband used to say: "So, what's your day look like tomorrow?" I'd twitch. How do you explain to a non-writer that between your scheduled appointments, you'll be hunting down every conceivable crease and crevice of time to write? Try articulating that elegantly for eleven years running. Oh, sorry. Maybe you have.
There's an urgency to my peacefulness because I know this white space is limited. I get my editor's notes soon—who knows what suggestions await? (Please, God. Make them easy!) And there's the little thing of celebrity permissions and snippets from the podcast to edit and finalize. And new episodes to record. Client work to polish. Agents to pitch. Oh, and I've got a book release to prep for—wheee! My agent and I had our first publicity meeting with my BenBella publicist this week, and it was LIT. We're so excited.
Yep. I'm one happy book mama. It's work, this success stuff. But isn't it all work? You might as well be doing something you love. I LOVE you guys! This journey is a billion times better shared. Thank you for cheering me on. Right back atcha.
Linda
xo
PS. I'd love to cheer you on and take a deep dive into YOUR book over the next month (Aug. 9th – Sept. 3rd). Other than traveling to Carmel, my Virtual Writing Retreats are the best way I know to help you get 'er done and SOLD. Have you heard about the magic? Let us sprinkle some of our fairy dust on you!
PSS. If you haven't listened to my free audio of my top secrets to landing the deal, it's so much fun. And, FREE! Write on!
PSSS. I'll let you know when Beautiful Writers (printed on FSC verified sustainable paper) is available for pre-order. In the meantime, feel free to share the cover or this post with any writers in your life. Be sure to subscribe if you haven't already, and follow me on Instagram, Twitter, and Facebook for behind-the-scenes publishing details as our rollout progresses. #fun!
PSSSS. Do you like the cover? I can't wait to hear! Leave me a comment over on this FB thread. Wheeee. xo