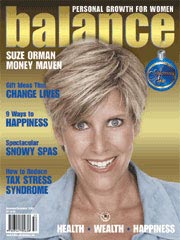 SUZE ORMAN
MOST BELOVED FINANCIAL GURU
Be respectful of your cash
"Take out your wallet and put it in front of you," Suze's voice booms from my living room speakers on her "Financial Freedom" tape set. "Let me see the money that's in your wallet." I scurry into my office to retrieve my purse. A bit nervous, I unzip the brown leather wallet to survey the state of my financial organization, as if this moment of truth will define my entire history and probable future with money.
Hmm. Not a total disaster but a few of the dollars are disheveled and bent, mixed with other unnecessary papers. Needs some rearranging; I line up the bills in order of amount and face them securely the same way, as Suze's voice encourages me to be "respectful" of my cash. At least I have cash, remembering a time when that wasn't so. Still, I'm clearly exhibiting what Suze calls "money-repelling behaviors." Dang.
It was 2000 and I took the lesson. I wonder if thousands could have avoided losing their fortunes in the roller coaster financial markets since if they had "respected" their money more? Could this small symbol–the order of our wallets–be an indicator of our current financial relationship and future earning capacity with regard to riches? If so, we'd better shape up, no matter how New Agey the advice. Maybe how we feel about money really is reflected in how we physically treat it?
Three years later, I wouldn't think of stuffing bills into my wallet without careful attention. Random papers are gone, filed away. My husband and I took Suze's advice–paying off our credit, settling estate and durable power of attorney affairs, and purchasing long avoided term life insurance policies, all in an effort to be grown up, responsible and a haven where money would want to hang out. Much has changed. Our finances are abundant; we just bought a beautiful second home. I am, thus, a huge fan of Suze's work and was elated when my editor called with this assignment.
For those who desire more substantive facts than my exuberant wallet reflections, here are some bare-bones stats. Suze is America's most beloved financial guru, the best-selling author of four runaway best-sellers; a columnist for O: The Oprah Magazine, a PBS and media favorite and host of her own daily radio show. All from the humble beginnings of a chicken seller's daughter and an eventual waitress at the Buttercup Bakery.
Do you have the best job in the world?
"I don't feel like I have a job because I don't see a distinction between when I'm working and not working. What makes my life great isn't what I do for others, because others can only do things for themselves, but how I feel every day. I feel fabulous–not because of the money I have, not be-cause of what I do, but because I really like who I am. If I were to die two seconds from now, it wouldn't matter to me. I have the best life I could possibly have." What is the greatest money miracle you've ever seen? "I've seen so many! A 45-year-old woman named Maggie, who lived in a tiny town in Minnesota and made $18,000 a year as a secretary, called me. She and her husband were happily married, but her husband got ill and had to stay in the hospital–a three-hour commute from their house. She rented a motel room nearby, paid with credit. Months later, while he was still hospitalized, their only child was killed in a car crash. She contracted an illness from giving him blood in the hospital; her husband died, and she now had credit and medical bills. She lost her job and both parents died within a week. Everyone told her to claim bankruptcy, but we talked and she decided that nothing would keep her down. She got another job and is now totally debt free and feeling good. She recently called to ask where to put her extra $50 a month for retirement."
What an inspiration! What about the more common challenge of building financial freedom for those who start late?
"Most people don't start retirement plans until middle age. We see people's nice cars, homes and jewelry, but don't see how they're mortgaged to the hilt, with bills through the yin yang. Just because someone is a lawyer or doctor, doesn't mean they don't have 20-year student loans to pay off. Many people are not who they appear to be. They may look like millionaires to others, but know themselves that they are a walking/talking financial lie with huge debt behind them. A problem with today's investing is that technology is so fast, we no longer live in the environment where we can buy stocks and hold them forever. We can't use historical tricks to chart future markets, or be passive investors. And, most advisors are commission-oriented salespeople who need to make a living off you. You MUST stop leasing your cars and buy them outright to keep for 10+ years. You MUST stop refinancing your house just to take more money out for cars, vacations and remodels. Real-estate bubbles happen, and if yours bursts, you're in trouble. Your number one goal, after paying off credit cards and cars, is to build an emergency savings of eight month's expenses. Then, pay off your mortgage as soon as you can if you're going to stay in that home, as well as investing the most possible in retirement plans."
Entertainers like Jim Carrey and Jewel say that affirmations changed their fortunes; another financial icon–Donald Trump told me that he was so busy building his wealth that he didn't personally use them. How important have affirmations been in your life?
Absolutely vital. After being a waitress, I didn't think I was good enough to belong with the financial advisors at Merrill Lynch. My friends couldn't bolster me up because they were doing worse than I was. Every time I said 'I can't, I don't belong, I'll never make it,' I said 'Stop. Wrong, Suze. You're young, powerful and successful. You're producing at least $10,000 a month.' It didn't matter that I didn't believe it. It worked."
Do you think it is necessary to have balance in our lives before our finances will reflect balance?
"You can only be balanced in your finances if you're balanced in your life! Your money is nothing more than a physical manifestation of whom you are. You and your money are one. You work for it; you earn it; you invest it; you waste it, you save it. It's the mirror of how we feel about ourselves. If it's crumpled and scattered, I know you don't like yourself. When your finances are out of control, it's because you are out of control. As soon as you take care of yourself, your family, and your loved-ones first, everything comes to you. Money wants to hang out in your energy because you are respectful of it, and because you're balanced."
My advice: Run to your nearest bookstore to get Suze's books and tapes. You may just find, like I have, the results of doing so are nothing short of miraculous!