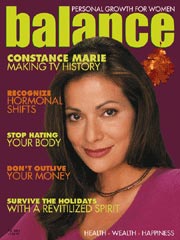 CONSTANCE MARIE
SE HABLA ENGLISH
Constance Marie and the George Lopez show are making television history every week, and Constance (who plays George's wife, Angie) is the last person who would have guessed it. Unlike George, who knew early on that he wanted to become a comedian, the painfully shy girl who once failed drama class wasn't able to foresee much of a future for herself. It's no wonder this former Domino's Pizza delivery girl still pinches herself when she drives to the studio to film this weekly top-rated ABC sitcom–the first ever hit network sitcom to feature an all-Latino cast. From its inception, the George Lopez show has had all the makings of a hit, and will probably go down in the annals of Hollywood for its stardust beginnings.
To fill you in on a little back story: One day movie star Sandra Bullock realized that there weren't any Hispanic shows on TV, despite 12.5% of our population being Latino. As the owner of a production company who is accustomed to developing material, she sent a scout out to the comedy clubs in search of talent. Upon discovering George Lopez, Sandra decided to develop a show based on his act. After adding a few producing/writing heavyweights to the mix, including Bruce Helford, a past head writer for Roseanne, the show seemed destined for at least initial success. But America isn't always kind to new shows, especially those of the non-white variety, and no one could guarantee what would happen. Thankfully, the glib writing and endearing cast were embraced by viewers and received critical support, catapulting the show into its now third season.
To hear George tell it (while encouraging viewers to tune in): "…It's the first time in the history of television that a Chicano (an American of Mexican descent) has had his own show. If you don't watch the show, America gets another unemployed Mexican."
I see why so many people love this guy, this cast, and why even the president of Warner Bros. cried when the show was picked up for its third season. What's not to root for here? George is especially lucky to share the soundstage with the now-confident Constance Marie, and he is the first to say so. This chick is a serious babe! The kind of rare person who has everything going for her. The kind of "Chica" you meet and immediately want to be best friends with. She's totally enthusiastic, magnetic, glowing, funny as hell and has done the kind of inner work that allows her to be brutally honest about herself–how refreshing. She's a complete doll, partially explaining why she's in such demand (amazingly also starring on another history-making Latino show–a drama called American Family–for PBS). I highly doubt she needs another best friend, but I think I'll take her up on her offer for my family to see a taping of the show, just in case.
Constance, when you look at your life, what do you consider your top personal miracles?
Well, the fact that I am not in some horribly abusive relationship. Both my mother and grandmother were single mothers, with alcoholic ex-husbands. We have badalcoholism in my family. The result was that these women became incredibly strong, but there was a lot of baggage lying around. I got a tremendous amount of what I didn't want in my life early on–which showed me what I did want. Also, never in a million years did I ever think I'd be able to perform in front of people. I was so incredibly shy–so consumed with fear when I had to speak in public.
Did you go to the theater as a child growing up in Los Angeles? 
No, I was a TV kid. After I started acting, I began thinking, "God, what's wrong with me? I haven't been to the theater." I was dating a guy who took me to A Chorus Line, and we were both judging me for never having seen it. "Constance," he said with disbelief, "you've never seen this show?" I was like: Hey Buddy, it's $75 a ticket. People don't go to the theater when they're poor! It's an expensive activity!" I love TV because it reaches everybody. It can be such an uplifting vehicle. It can also suck your brain out through your eyeballs.
Who did you identify with on television?
I was an English-speaking, third-generation Angelino who didn't know any of her distant relatives in Mexico. I may have been labeled "a Mexican," but I couldn't see myself in any TV characters. It was so frustrating because nobody on TV ever looked like me, unless they were poor immigrants, drug addicts/bad guys, or needed rescuing. We didn't have any money, but we didn't live in the barrio either. Mom made enough to pay rent in West Hollywood.
I loosely identified with a few women on TV–always brunettes. Marlo Thomas from "That Girl" and Linda Carter from "Wonder Woman" were my favorites. When I read that Linda was half Mexican, I was like: "Oh my God. She's got a good job, a good car, no accent and she's a superhero!" She reminded me of my mom–of family. Sure, she had blue eyes, but I didn't care. I needed someone. She made me feel like I was part of the social fabric of America.
Everyone "made" me feel like I was supposed to be from somewhere else, that I was supposed to speak another language. I didn't, so as a little kid I felt like I didn't really belong. People would speak Spanish to me, and I would think, "It's not a gene! It's not like you're born with the language inside your head. You have to have somebody to speak to and practice with. You know, there are so many stereotypes. Latin people are just normal people who are not dancing around piñatas every day. Some of us hardly speak Spanish because we're from the United States! Did everybody forget that California used to be part of Mexico?
You started out as a break dancer. Did you know it would lead to getting in the performing business?
No idea. I just knew that I loved it. It made me happy, and was the one thing in my life that was mine. I was working three jobs and never thought I'd go to college. At seventeen, I used to go to the clubs by myself and compete. Unbelievably, I got asked to dance in Japan in a troop that was on TV–my chance to get out of the United States. No one in my family had been out of the country. Over time, that led to dancing with David Bowe's tour, which indirectly led to acting.
Speaking of miracles, I think I've always been protected. It was dangerous learning how to dance in those underground clubs every night. Mom thought I was out partying, but really, it was more like dance class. It's miraculous that I've had so many opportunities that I could have said no to because they were scary, but that I did them anyway.
Were you nervous, having to learn lines for two series ? 
I had worked on sitcoms and had been in films, but nothing where I had the responsibility of two shows. It was terrifying. I thought, "There is no way I'm going to be able to get through this–I failed drama for Heaven's sake! But mostly that was fear. I was so busy that I had to get over it. Who had time to be afraid? You prepare as best as you can, and that carries you through, even if you're terrified. The more I worked, the easier it got.
Do you have a five-year goal?
I want to have a family.
You would be a great mother!
Why do people say that?
Because you're present and easily excited. Kids need their moms to be present and happy.
Thank you. My fiancé and I babysit my five-year-old goddaughter sometimes on weekends. At first I was afraid, but we have so much fun. The biggest compliment I got from her was just walking to the car when she said, "I like this day." If she could have more days she likes than not, that's it. That's what I want from my life.   I agree with the kid. After spending the afternoon with Constance, I very much liked this day. I'm certain that many years from now, women will come up to her and say, "When I was young and had no one to relate to on TV, you gave me hope."
As they do now, people will thank Constance Marie for making Television history.
The George Lopez show, Friday nights, 8:00 P.M. on ABC