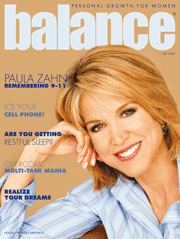 PAULA ZAHN — A CALM IN THE STORM
Remembering 9-11
Paula Zahn has never had a penchant for balance. Not in any arena. Perhaps the drive to pursue such intangibles wasn't hardwired into her make-up—especially not when as a teenager tangible objects like textbooks, musical instruments, and sporting equipment beckoned her with their silent yet deafening serenading. Young Paula, growing up moving around the country as a result of her father's sales job with IBM, was indeed driven—a high achiever by any standards—mastering the cello, maintaining a straight-A-honor-student average, competing in sports like tennis, swimming, and skiing, while becoming a tournament golfer who would play against the likes of now legendary pro Nancy Lopez in college while on a cello scholarship. "You know," she says, "I've been a worker my whole life. Discipline must be a key part of my DNA."
Decades later, little has changed for this CNN anchor and veteran news reporter—still athletic beyond the norm, still an outrageous achiever as an Emmy-winning reporter who anchors for CNN's weeknight primetime evening program, Paula Zahn Now, and hosts CNN's People in the News—an in-depth version of People magazine via the tube. Like a moth to a flame for sports, Paula squeezes things in like co-hosting the 1992 Winter Olympics, co-anchoring the 1994 winter Games in Lillehammer, Norway, and running with the Olympic torch, while sustaining her musical proficiency enough to play a solo cello piece at Carnegie Hall with the New York Pops orchestra.
But Paula swears she once tried to turn over a new, more leisurely leaf. "I really did want to embrace a more balanced life," she says with a laugh and a roll of her eyes. "You know what they say about plans." Fate, it seems, needed recruits with a serious work ethic, and the skills Paula had spent a lifetime perfecting were about to be of the utmost, code-red importance. "Talk about getting sideswiped!" she says, a wave of sadness crossing her face. You see, four years ago, Paula—determined to attain the illusive status of a balanced woman—had planned to take a sabbatical from her high-octane career. "I was tired and never had the luxury of any break between my jobs." Twenty-five years in front of the camera, suiting up for mostly morning shows starting mostly before the crack of dawn had left Paula somewhat world-weary and sleep deprived. Anxious to spend more breakfasts, especially, with her three children (Haley, 16, Jared, 11, and Austin, 8), she couldn't wait to nest into the quiet stretch of fall and winter that lay ahead. Well, not all quiet; the turning of the leaves from green to crimson, yellow, and orange was Paula's signal that snow was on its way and she'd soon be hurling her ski-obsessed, tall, thin, yet muscular frame down steep mountains. Still, visions of strolling arm in arm with her husband of 18 years (developer Richard Cohen), and scrap booking, screening and labeling hundreds of video tapes, organizing desk drawers and closets, and just hanging out with the kids scrolled through her mind like a CNN tickertape.
Speaking of CNN … After just putting in three years at Fox, a decade at CBS before that, and anchoring news segments on ABC's Good Morning America earlier in her career, it was time for some R & R. "It happened really fast. I left Fox on a Wednesday," she explains, "on Thursday, I was at a party CNN threw for me. Then I took the weekend off, thinking I wouldn't be working for a while. The idea of having any significant time off was very foreign to me. But knowing that I had a great job waiting for me took some of the guilt away."
Then Came the Phone Call
"I vividly remember how special it was to be able to walk my kids to school, not something I got to do very often," Paula says. "I did my last drop-off, and I was walking across Central Park daydreaming about everything I wanted to do around the house." Once inside that house, in one of the more prestigious park-side buildings in Manhattan, her phone rang. It was her husband's assistant with oblique news. "Richard survived," the woman said. "But he's downtown." Huh? Hopes of serenity would be completely abandoned with the next chunk of information. As Paula had been meandering through the trees watching the squirrels, Richard was 200 yards away from the World Trade Center watching an explosive fireball envelop the North Tower. Cell lines jammed, he raced to a pay phone to alert his wife that although he was safe, something was terribly, terribly wrong.
"I turned on the TV and was hoping the first hit had been a crash, not an attack. But once I saw the second jet explode, I knew we were in serious trouble. I started calling my children's schools, but the switchboards were jammed. When I finally got through, I was discouraged from picking them up because the schools were pretty much locked down. There was a strong fear more attacks were coming."
Thousands of hours spent on the front lines of breaking national and international news were kicking in, and Paula was jumping out of her skin like an Alpine racer forced to sit still for a lengthy gondola ride before the downhill race of her life. Thoughts of taking personal time to smell the roses in this now adrenaline-infused mind and body used to performing under extreme mental and physical pressures were gone instantly. "I immediately called my new boss at CNN, Walter Isaacson, and I could hear all the chaos and despair around him. I said, 'Walter, this is Paula. I want to come to work today.' I could tell he was shattered. But he was also unfailingly polite. He said, 'I really appreciate that, but I won't have a show for you for months.' 'You don't understand, Walter, I need to come to work today.'" Paula's boss quickly figured how to utilize the talents of his new star anchor. 'Great,' he said. ' Do me a favor. Get over to the New York bureau as fast as you can.' 'No problem, Walter. Now I need one little favor. Can you tell me where the New York bureau is?'"
With emotional hugs with the children, and Richard en route to pick them up, Paula found her office. "I'll never forget getting into a cab and seeing an endless stream of soot-covered and shocked people walking away from downtown," she said. "I got within about ten blocks of CNN's New York bureau. Even though I was miles away from Ground Zero, a lot of streets were blocked for emergency traffic." Paula talked her way into the building without a security pass, and wound her way up to the newsroom. "I was on the air within minutes. I only knew one person in the mass of people working that day."
Paula was CNN's lead anchor out of New York, with Wolf Blitzer reporting from Washington. "I was on the air for six hours, grabbed about two hours of sleep and then I was back on the air for another 7," she says. "And it didn't slow up for months—so much for balance!" Imagine, being positioned as the cornerstone of a station's coverage on perhaps the most tragic day of your country's history on your first day on the job. "Their confidence in my work meant a lot to me. "Paula says, misting up. "I was flattered and humbled that my new bosses had so much faith in me, that they gave me a key role in their coverage."
Rising to the Challenge
Rarely does one's work initiation play out on the world's stage, and I wonder if Paula had felt intimidated? "The last thing I was worried about was the fact that it was my first day on the air," she says. "All I thought was, 'This place is placing a tremendous amount of trust in me; I'd better be good.' I just wanted to get it right, which wasn't easy. There was a lot of conflicting information out there to wade through. Some early reports suggested that the city had ordered 10,000 body bags. The truth was that no one had any idea of the magnitude of our loss for weeks. One of the hardest things I had to do was talk with survivors and family members of victims, their stories so raw and painful." It wouldn't be uncommon for Paula to be in the middle of an interview and have to stop and say, "Excuse me. We've just gotten confirmation from the fire department that they've lost 150 firefighters." Or hearing the control room say, "Take us to the Pentagon for the latest death toll numbers." "It was heartbreaking," she says.
Paula still can't get her arms around the enormity of 9-11, not intellectually or emotionally. But as much as she says nothing can prepare a journalist for what she witnessed, she felt ready. So ready, in fact, that she forgot she didn't even know the players until a veteran camera man hours into their taping gave her the thumbs up from behind his camera, whispering, "Welcome to our team. You do us proud." It was then that Paula got a little tingle. "My God," she thought, "I've never even met these people!" It was truly a day of trial by fire. And smoke. And debris. And tears.
"For weeks, I couldn't sleep longer than 45 minutes in a stretch without being awakened by the searing images that I couldn't get out of my mind," she says, her eyes trailing off into the distance. "The soot-covered faces, the missing-person signs, the unbelievable destruction. But, there was also a tremendous sense of humanity, of kindness—generosity of the human spirit. I remember going down to the city emergency center and seeing thousands of volunteers—volunteers who were told to go home because of the flood of help. They stayed anyway, just in case someone needed them. I also remember the hundreds of people lined up for hours at hospitals to donate blood, even though they were told there were few survivors. Somehow out of all that horror of 9-11, we tapped into our national spirit."
September 11, 2005 marks Paula's four-year anniversary with CNN, and in visiting their NY headquarters at One Time Warner Center, I was awestruck by the sheer size and beauty of the place, and of the benevolent power that Paula so obviously wields. Having visited many a studio and media center in my career as an interviewer and author, I've never seen anything on the scope of CNN's NY operation, nor have I seen any one person so obviously adored and poised at the helm.
Personal Upheaval
But like anyone else, Paula's had to overcome personal challenges—the greatest coming the year following 9-11. "I had two very serious ski accidents back to back," she says. "I tore the ACL on my left leg, and then later broke my right leg in one of the dumbest accidents you can imagine." Paula clicked into her bindings, started skiing, but the toe of her binding popped out while her heel was still attached to the ski. "My fall happened 10 yards away from the ski patrol hut and right under the ski lift! How humiliating. At first, I was told I would never be able to run again, and that I would probably walk with a limp. And, forget ever thinking about skiing!"
For a woman whose life has been a long series of physical wins, the ordeal must have been devastating. "It was," she confides. "Being given that depressing prognosis by a world-renowned surgeon hit me at my core."
Facing the Mountain Demon
Once Paula recovered, a dear friend insisted she get right back on the mountain. "He took me to the top of the bunny hill," she remembers, "and I looked down at my skis and started to cry, saying, 'I can't do this!' Paula,' he said, 'You've been doing this since you were 4! We're going to go slowly.'" On their next trip, the pair eventually found the spot of the accident, and performed an Indian purification ritual over the place, even beating their poles on the ground. "After that," she says, "the snow snake was dead. When I think of the curve balls that are thrown at people, this was a minor one. Big for me, but minor in the scheme of things. My mother Betty's triumph over breast cancer: That was a big deal. "But this accident was the first time in my life that I had to live with a physical limitation."
I ask Paula if she thought that, metaphorically speaking, she had been going too fast in her life? "Oh absolutely! Without a doubt," she says. "I was working really hard, and it was a rough winter in NY. I'd be lying in bed strapped to a machine that bent and straightened my leg, and in between crying and reading, there was a lot of time to reflect. I think it was the first time in my adult life where I was forced to sit still. I was on crutches for 6 months. I was in a lot of pain. It was humbling."
Miracles
"The biggest miracle of my life is having three healthy, happy children," Paula declares, smiling. " My children are such a joy. Such a gift." Paula's obviously a wonderful mom, so that was expected, but how does the Carnegie Hall performance measure up? "Oh! A definite high." she coos. "I was sitting on stage thinking about all the world's greatest musicians that had performed there, wondering why I was given this mind-boggling opportunity. I was very intimidated, but I was inspired by all the amazing musicians who had passed through these halls. It was the biggest thrill of my life." Paula's eyes sparkle as she adds, "The best part was when the whole cello section stood up and gave me a standing ovation. It meant so much because I had practiced so hard and I respected them so much. You know, I'm a kid that grew up in a small, quiet suburban town outside of Chicago. I never dreamed I would travel around the world meeting Presidents and Kings. I could never have dreamed about this kind of adventure. I pinch myself every day that I'm living this life. And, while balance remains the struggle of my daily life, I don't think you can make too many mistakes if you're absolutely certain of your priorities."
Paula's mother was her best role model, working inside and outside of the house [as a teacher]. "When I had my first baby, Mom taught me that I had two choices. I could either live my life with a wretched sense of daily guilt, or try to do the best I could, recognizing there were things I was going to miss along the way because I had made this choice. It hasn't always been easy to find comfort in my mother's wisdom, but for most of my career, I've worked the early morning shift which meant I could be home when the kids came home from school. And we even shared the same bedtime. Nine P.M."
Days before this story is scheduled to go to print, London has experienced its worst attack since WWII, and the Southeast coast of the United States has been hit with a natural attack—the uncharacteristically early and forceful winds of Hurricane Danny. Paula and her family were on vacation, but as one would expect, she raced back to her post. I can't help but feel immense gratitude for people willing to report the news. While we can look away and reach for the clicker when images become too painful, Paula and her cohorts must become experts on all things gruesome, wrapping their minds around the issues and pushing aside their fears to bring knowledge and order to our collective chaos. As much as I'd like to think otherwise, I imagine their jobs aren't going to get any easier. As environmental and social tensions flare due to global warming super storms and the rise of global terrorism, for starters, we'll continue to depend on the best of the best to keep us informed. Paula, like Walter Cronkite so many years before her, is a calm in the storm. A safe harbor in which to rest our battered hearts. We may not always want the medicine she's required to dish out, but her bedside manner makes it far more palpable.
Her personal life is akin to a high-wire juggling act, but in watching Paula's reporting—so centered and calm and intelligent, while resolute and firm at the same time, it's clear that this newswoman's not only perfectly at home in the anchor chair, but through her delivery, which touches millions of us every day, Paula has attained that special something we all strive for: a meaningful, purposeful, and heart-filled life spent in the service of others. As this year speeds to a close and we enter the season of giving, this sounds like the best kind of balance to me!
For information on Paula's favorite Cancer Charities, go to The Breast Cancer Research Foundation (www.bcrfcure.org) and C-CHANGE (www.ndoc.org).