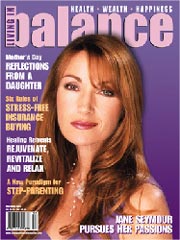 JANE SEYMOUR
A ZEST FOR LIFE
I've often identified with Jane Seymour. Not because I dare think of myself as talented or beautiful as she, but because of her ability to rough it. When my husband and I left our city home in 1994 to move to 400 undeveloped acres in the mountains of northern New Mexico, Jane, as Dr. Quinn Medicine Woman, was one of the few role models on television who was actually mirroring my "born-100-years-too-late" experience. It was incredible, week after week, to watch her go through the same bizarre circumstances we were dealing with, like the surprise of rattlers in the yard; a life-threatening illness without a hospital nearby (my husband had a burst appendix); poachers stealing our wood, to experiencing a feud from a nearby neighbor that wreaked of the old Hatfield's & McCoy's legendary drama. Although, unlike my "camping" attire and granola-esque hairdos, Jane, as Dr. Quinn, looked strangely fresh and showered on her frontier, I felt I had a comrade of sorts from the land of make believe.
That was years ago and Jane is no longer shuffling through the dusty sets and baking hot weather of her famed show. We are both, thankfully, spending most of our time back in Los Angeles. Other than our long brown hair and mutual roles as authors, however, most similarities end there.
Jane and I both paint, but mine is relegated to fixing up my office on weekends; hers wins international awards for vibrant florals and scenes of childhood innocence. I stand before my small closet and grapple with what pair of jeans and cowboy boots to wear; Jane walks into her bedroom-sized closet and chooses between various designers, or better yet, the clothes she has designed from her new clothing line. Our husbands both garden. Mine strings tendrils of our Morning Glory vines in the yard in his bathrobe before work. Hers picks his organic harvest for dinner while continuing to oversee and implement the restoration of the English countryside gardens surrounding their 14th century manor-one of the most beloved stately homes in Britain. Never mind that he's got a day job as a successful director and his hands full with helping her with the details of their six children, including their six-year-old twin boys. Jane and her husband are swamped with work, projects, family and creativity.
We walk through her Malibu estate, where, like her paintings, the views are breathtaking. It is immediately obvious that both here and in England, Jane has birthed a fairytale existence for her life. I had so many questions, and the first had to do with her vision, both past and present. I knew that she was encouraged as a child to believe that anything was possible. Becoming a Bond Girl at 20 years old was an affirmation in that reality. I asked if she had any idea that her life would turn out to be this blessed and beautiful?
"Absolutely not," Jane says with a laugh. "I never had a vision of what my life would be like. I hoped that I could act in some good plays once in a while, but I never hoped to get the lead. It never occurred to me to get the lead. In fact, I have never been one to think about tomorrow. I think about living in the moment. I've always had so much going on, so much to do and such a zest for life that I think about the task and I go for it. I plan, in that I save money and make appointments, but I spend my days asking myself, 'What am I going to do next? What would be really fun? What clothing would I want? What fabrics? What colors? How can I paint those flowers?' I dream it all as I go, but I can't visualize a finished item. I just go with the flow and see where it all takes me."
I was surprised to learn that Jane's mother was in a concentration camp in Indonesia in WWII. I asked her how being a second-generation survivor affected her life. "I'm told that I am absolutely typical of first generation survivors. They go for it. They don't give up easily. They are survivors themselves in a way. Some refer to us as driven, or A-type personalities. I think something happens when you are a child of a survivor. You almost feel guilty because you didn't have to go through the horrors your parent went through, so you never complain or give up. You think, 'Would my mom have quit? No. Would this be too painful or too difficult for my mom to deal with? No, she would press on.' In our house each individual was highly valued, as were our dreams, and I do my best to pass that acceptance on to my children."
In 1988 Jane had a near-death experience from taking bronchitis medication. She talks of leaving her body and watching a team of doctors race furiously to save her life. "I did not want to go. When I found myself literally out of my body, I thought, 'No, I have children, I have things I want to do.' I wasn't thinking about my husband-it was another husband. I was thinking about my children and about wanting to give back. When I did come back into my body, I was so grateful to be alive that I began giving an inordinate amount of time to charity work, which I still do."
I asked Jane if she was able to transfer the calm she experienced on the other side to her "normal" life. "Oh yes! Now that I know what death feels like, I know that it hurts more for the people who are left behind than it does for the person who is dying. I know the body isn't who I am; what I am exists outside of it. So, I not only take good care of my body, by eating healthfully, exercising and getting plenty of sleep, but again, I go with the flow. I know that even if something looks like a struggle, which it often does, everything will work out."
For someone who just finished doing an interview for CNN about her art and clothing line, is trying to figure out what to wear for the Oscars and an event in several hours, whose twins are racing off to gymnastics (and whose 16-year-old is coming home from school any moment), who is designing her Christmas clothing line, trying to squeeze in twelve showings of her art across the country in the next year, and acting, Jane's life doesn't appear especially balanced.
"Balance is a state of mind. It would have been nice if I could have woken up this morning and had a really nice Zen experience and chanted 'Om' for an hour, but instead I said, 'Hmm, I've got six things to do, where do I need to prioritize?' I start at the top and know the rest will all get done."
Bravo, Ms. Seymour! From Jane's full-fledged fairytale to my burgeoning one, I couldn't agree more.