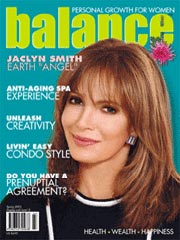 JACLYN SMITH
DOWN TO EARTH ANGEL
Living Beyond Herself
Talk to any actor and he or she will most likely tell you that someone in their past voiced with great concern the words, "Have something else to fall back on." Seeing as how the line usually comes at the start of said actors' career, when he or she is packing their bags and leaving their hometown with stars in their eyes, it can feel like an invalidation of their dreams.
In this fast-paced economy, where job security is an oxymoron and the average worker will change careers four times throughout his or her life, we would all do well to follow this sage advice by having a secondary game plan… should a career curveball come our way. Jaclyn Smith, like several women who have graced the cover of this magazine, understood early on how vulnerable putting all of her eggs in the thespian basket could leave her. Coming off the success of the series "Charlie's Angels," she knew she would want, and maybe even need, something else… something independent of the whims of Hollywood decision makers. If it could fulfill her desire to be of service, spend more time with her family and have a consistent source of income to enable her to pick and choose her acting roles from desire not necessity, that would be downright heavenly.
The brunette angel wasn't convinced in the beginning that Kmart Corporation fit her criteria. When approached about selling a line of clothing, Jaclyn's initial response was to decline. But when she saw the inexpensive collegiate line with its classic look, 100% cotton shirts and mix and match pieces, she thought, "My children love clothes; it would be incredible to offer quality at these prices." I asked Jaclyn if her Kmart partnership has fulfilled her hopes. "Yes! I have never been a believer that nice clothes should only be for people with money. We're traditional and don't do cutting-edge styles, but after seventeen years we're holding our own."
"Holding our own" is an understatement. Jaclyn's alliance with Kmart Corporation has resulted in the highest grossing sportswear line in the country, taking in more revenue than DKNY, Calvin Klein and many other top 100 grossing companies. What I appreciated most about interviewing Jaclyn, however, had nothing to do with her business acumen, but centered on her heart. My father died the day before our interview, and having taken care of her father when he was dying, Jaclyn knew what I was going through and initiated a lengthy conversation about our mutual love for and commitment to our fathers–something many of us think about this time of year, with Father's Day right around the corner.
I had heard of Jaclyn's love of family. My uncle Chuck Sailor wrote the debut episode for "Charlie's Angels," just after the pilot aired. I remembered Chuck (who I was so proud had renamed the show "Charlie's Angels" from "Harry's Angels") raving about Jaclyn, calling her "one of the nicest people in Hollywood" and commenting on her immense love for her family.
So, on a very emotional morning, Jaclyn ended up being an emotional rock for me, reminding me why–even in times of sorrow–I love my job and the opportunity to immerse myself in the fascinating lives of those I interview. We talked about traveling back and forth from our homes to our parents' homes to help care for our fathers while simultaneously juggling motherhood duties hundreds of miles away. We talked of long goodbyes with our beloved heroes, each grateful for that priceless time. During the many months of taking care of my father, my life had become anything but balanced. I was exhausted and overwhelmed and was beginning to think I'd never know relaxation or organization ever again–a common complaint among caregivers. Out of sheer necessity, I asked Jaclyn if she had any balancing tips for our readers (aka, me!). "Oh, balance…that's not an easy thing! If you told me that somebody had a handle on it, I'd wonder. And when you're grieving the loss of a loved one, nothing can take the place of time. Even in the best of times, when you have kids and a career, something will always take a backseat. You have to be reasonable with yourself and not feel guilty when things aren't perfect."
I wondered what Jaclyn may have had to feel guilty about, and asked about any particular challenges in that arena. "I have had to learn about saying no. My husband is a heart surgeon in Chicago and we get together on the weekends. It took me a while to realize that I should never plan anything for Saturdays and Sundays. If I say that I'll appear at an event, later I won't want to leave my family. It comes down to realizing your limitations. Just because something is three months away and seems far off, doesn't mean you will want to be there when the time comes. I got tired of thinking, 'This is crazy filling my time with learning speeches, putting on makeup and getting dressed up, when what I really need is unstructured time.' We need to seek out and grab for unstructured time; even for our children."
It's ironic that unstructured time often comes as the result of years of hard work–where personal time is usually scarce. The success of Jaclyn's clothing line has afforded her the time for favorite acting projects, most recently her soon-to-be released cameo in the second Charlie's Angels movie, and a recurring role on The District for CBS, but something in her voice led me to believe that she is still in the trenches working hard like the rest of us. "People often look at celebrities and think we don't do any of the dirty work anymore. It depends on the person and their upbringing but I'm busy from morning until late at night. My son has allergies and the other day I decided to clean his room from top to bottom. It took all day and much of the night and was something I could have had someone else do, but I want to do these things. I deal with what everybody else does. I think sometimes people who are famous deal with even more because we're juggling these very public and busy careers, which take a lot to keep going, while still trying to keep the house clean, cook and drive the kids around town."
Jaclyn and I laughed about our dismay that she's been hawking her clothing wares for nearly two decades now, and stumbled onto the subject of age. "I still feel like a kid," she told me. "Maybe it's my kids; I'm just so happy that I haven't felt old yet. Time whizzes by when you have children. They make you aware of the passing of time, but also help keep you young. Focusing on things you are passionate about also helps, and since one of my greatest passions is furniture, I'm developing my own line. Basically, if you're happy you will look and feel younger than your years."
This seemed like the natural place to ask the two-time People magazine "50 Most Beautiful" pick if she ever experienced insecurity from having so much focus directed at her exterior. "Certainly you have to have a strong foundation or you begin to think your looks are your total identity. The only way to balance that is through your values and your upbringing. In the beginning of my success, I was dazzled by the glamour because I was young. But it soon became superficial. After I had my children, it was the best time of my life and I can honestly say that from that point on, looks lost their importance. When you're on a show like Charlie's and you're being photographed for every magazine, it's easy to buy into it. But after having children, life becomes about living beyond yourself; about being bigger and better.
"I remember being pregnant on the cover of Time magazine, and looking huge because I had gained 50+ pounds. My fingers were fat. Everything was fat. I got a letter from a fan who said, 'How could you be photographed like that? Your fingers must have weighed fifty pounds.' I didn't care; it was a new beginning for me. If your life is a superficial life, you are headed for doom because everybody ages."
About this time in the interview, I noticed that I had stopped thinking about my dad and was having fun. Jaclyn is smart and bighearted and inspired me with the reminder that when you love someone, be it a child or a parent, you have the opportunity to live beyond yourself, to be bigger and better. I may have just played the most important role of my life. I think I'll focus now on finding that unstructured time, without the guilt. Jaclyn Smith is an angel. Art really does imitate life.