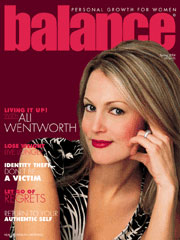 ALI WENTWORTH
GEORGE, ARE WE IN WASHINGTON?
Open: Ali Wentworth, star of stage and screen, walks out from behind a curtain as America's first-ever female host of her own late-night talk show, this one on ABC following Nightline. What woman wouldn't want to be Ali at this moment? Funny. Beautiful. Says what she wants. Shoots from the hip. Rebellious and girl-next-door. A sexy, intelligent chick who can counter-balance the Daves and the Jays and give women a kindred spirit to tune into and look up to as they wind down from their stress-filled days.
This is what we need, sighs ladies from coast to coast… finally, one of our own on top. Men tune in, too. They can't help but admit that Ali's funny and easy on the eyes–a bit more alluring than those aforementioned male icons. Ali begins. Within seconds, the audience is laughing until tears run down their faces. She has proven once and for all that women can be just as funny and even raunchier than the big boys. After being a guest host for late-night impresario Greg Kinnear, it's time… her time. Speaking of time, the industry buzz is that this new job will land Ali on the cover of Time magazine, as the first woman to ever land such a lauded gig.

Dream sequence fade to black: Inspiring as this might sound, Ali's real-life fantasy comes crashing to a halt when Disney buys ABC overnight and addsPolitically Incorrect to the lineup instead. Ali's nearly completed late-night deal is instantly canned. Done. Just like that. Her now too-good-to-be-true booking fizzles like soda in the hot sun, despite the fact that everything she's ever done has prepared her for this moment. Forget that her boyfriend has already opened the champagne, her friends have raced over for their congratulatory hugs, and her gleeful agents have been calling every ten minutes. What more has a gal got to do in this business? She's earned her chops during years of impersonating people like Cher, Hilary Clinton, and Sharon Stone as a regular on In Living Color and studying with the famed comedy troop, The Groundlings, while also appearing in movies(Jerry Maguire, The Real Blonde). She's sharpened her timing and perfected her acts on the Tonight Show stage, where she's appeared in an unprecedented 100 shows in less than two and a half years. And, she's hit the guest-starring jackpot on shows like Seinfeld, where she played Jerry's girlfriend in the infamous "Soup Nazi" episode. Still, in this era of mega-mergers, where huge companies absorb other huge companies, it's business as usual when countless projects slated to be produced become casualties of the system–even when they're about to create groundbreaking entertainment. Sometimes especially so.
"Welcome to Hollywood," says Ali Wentworth with a laugh. I get the feeling that this female actress/comedian is accustomed to using this type of letdown to fuel her sharp wit. "You win some, you lose some," says Ali. "Besides, that's not the worst of it! When it was down to me and Lisa Kudrow for the part of Phoebe on Friendsand they picked her, I lost all hope of ever marrying Brad Pitt!"
Ali can make light of such mega-disappointments because she's a blissfully happy newlywed, married to political superstar George Stephanopoulos–"the most brilliant man" she's ever met, and the "hottest man in Washington." She gets no argument from me; I found his political memoir (All Too Human, Little Brown, 1999) about his tenure as President Clinton's campaign manager and then senior adviser, spellbinding. I imagine that they're a blast to hang out with, and hope to get the chance to double date with them soon.
That Which She Resists Persists!
But marrying a Washington power player was never part of Ali's plan. "Want to hear something so weird?" she asks me. "Before I met George, I was dating a British actor and we went to Hawaii together. Throughout our vacation, he was glued to George's book. He was constantly quoting things George had said, talking about how brilliant this guy was. 'Really, Ali, he's incredible.' I'd answer, 'I don't care. Shut up!' I have pictures of this man laying on the beach reading the book, with George's face starring up at me. I kept saying, 'Would you put that stupid book down? I'm so sick of hearing about George Stephanopoulos!' Then I met George a few months later and we were engaged within three months. Isn't that bizarre?"
Thinking that she and George would enjoy their quiet life together (traveling for a while and getting to know each other better), shifted quickly when they conceived their baby girl, Elliot, sometime around their honeymoon–and then shifted radically when they were each offered their own TV shows–hers, a morning talk show on CBS called Living It Up! with Ali and Jack, and his, hosting Sunday morning's This Week on ABC.
Street-Walking Ali
While Ali hasn't totally stopped daydreaming about one day hosting that late-night show, she's busy trying to figure out how to use more of her edgy/acerbic humor on her more sanitized daily morning gig. Curious as to how she's doing with that, I tune into see what this wild woman is up to and sure enough, Ali entertains. A camera crew follows the comedian for a hilarious woman-on-the-street skit, where eight months pregnant, Ali walks around New York City fully exposing her pale protruding belly through a large hole she's cut out of her tight Lycra black dress. The response from passersby is priceless, and wonderfully supportive, but Ali tells me that New Yorkers are not always so kind.
"Oh yeah, we did an homage piece to Valerie Harper, mimicking an old Rhodaepisode, where Rhoda is getting married to Joe and can't get a cab even though she's in full wedding regalia. I wanted to see if that was realistic, and boy, was it ever! I put on a beautiful white wedding dress and went down to Fifth Avenue, telling people that I was late for my wedding and asking if they could lend me some cab money. Of course, nobody gave me a dime! Then I fell in the middle of the street, sure to be noticed by many, and again, no one helped me! I wandered around, asking if anyone had seen my groom. I might as well have been a leper because all I did was repel people. What a fun piece to do!
I tell Ali that it's unbelievable to me that nobody helped her. It's not like she's scary looking; she must have looked beautiful! "That's New York for you," she said. As we were talking, I couldn't help but think that Ms. Wentworth should wander down to wherever they tape Saturday Night Live instead. I think she might be missing her calling.
So, what does this funny woman attribute her sense of humor to? With a little research, it's not too hard to figure.
Running from Politics
Cut to black and white home movies: Ali's a year old when her parents divorce. Her mother gets a job at the White House as Nancy Regan's social secretary. Dad is a staff writer for the Washington Post, and her stepfather, the Washington correspondent for The Times of London. Pretty serious, heady stuff for a little girl during the Vietnam and Watergate eras, where politics seem to make her parents "totally stressed out most of the time." Little Ali does her best to liven up her surroundings, of which jumping on Henry Kissinger's back to ride around a swimming pool and taking off with Zsa Zsa Gabor's feather boa to do her first impression are my favorites. I ask if she thinks her sense of humor is an offshoot of her parents' very serious jobs?
Duh! "I couldn't wait to get as far away from Washington as I could," she says when explaining that she always knew she'd be a performer. "I raced off to New York to attend New York University before moving out to Hollywood. It's ironic that I meet George and soon after I move right back to Washington. And, wouldn't you know that all we talk about is politics! I always think of The Godfather when Al Pacino says, 'I tried to get out and they puuull me back in.' I relate because I never thought in a million years that I'd be back here!"
Well, we typically gravitate toward what's familiar, I tell her, even if we didn't like it, to which she wholeheartedly agrees.
"Actually," Ali continues, "when George is home, he doesn't really want to talk shop. And, I'm not the most enlightening person for him to talk politics with. I'm more like a grad student who bombards him with stupid questions. 'Why did Senator Kerry do that? How much is the deficit really going to hurt future generations?' We end up talking about much more mundane things, like our kid and movies. We love movies! Most of our heated debates and discussions come after we've seen a good movie."
Balance? Whatever That Means!
As usual, I ached to get to the subject of balance, hoping that Ali, with her insane schedule of a baby in the house, a commute to New York for her new show, and a husband with his own show in Washington might have a tidbit I hadn't yet heard. I mean, let's cut to the chase; she couldn't be getting any sleep!
"I'll tell you, it's a combo platter, having a child that doesn't sleep well with my schedule," she begins. "And, having a husband that gets up at 4:45 A.M. to do Good Morning America doesn't help matters. There's always somebody up when it's dark out and cold and I feel like I've just put my head down for a nap. The image I have of balance is of the old-fashioned carnival tightrope walker, holding the long metal bar. If that were me, I wouldn't even make it up the ladder! Balance in our house is all based on scheduling. We have a million balls up in the air, and if one falls, it affects everything else and it all comes flying down. It would be easier if I lived in the same city as my job, and if George didn't have to travel so much. Right now with the primaries, he's in Iowa, New Hampshire, South Carolina, and so on. The scheduling becomes so intricate that we have to cross-pollinate with e-mails and phone calls and faxes.
"Balance works when there's a schedule that works for that week. The weather isn't screwing up my shuttle with the nanny and the baby to get to New York to meet George for dinner before he goes to Iraq. You know, that kind of thing.
Basically, it's about trying to stretch out a schedule that can't be stretched any further. And then on top of it, I'm taking a shuttle every Sunday night and every Thursday, back and forth between New York and Washington. I was just saying to George how ridiculous it is that people see us on the Delta shuttle so frequently that we could hand out drinks and tell everyone how the damn seat belts work!"
It's a Hereditary Thing
Where does this girl get her drive, I wonder, because in my Norman Rockewellian childhood, most Moms didn't work and baked cookies nearly every day. While it helps me that my mother was a feminist, that fact doesn't totally stop me from wrestling with expectations of what a nurturing wife and mother is "supposed" to look like against the backdrop of my busy career. I prod Ali for more details about her female role models.
"Well, my mother and my grandmother were both feminists and always busy," she says. "Mom was very involved in politics. She was good friends with Ethel Kennedy, and was with her when Bobby Kennedy was shot. In 1976 Mom organized an exhibit called "Remember The Ladies" that traveled all over the world, highlighting the women behind famous political men. Mom's in her sixties and still involved in eight million things, flying all over the world, working on the board of charities, and publicizing a book she just wrote about my grandmother's trek through Mongolia and Siberia. Whenever I start to feel sorry for myself because of my hectic schedule, I think about my debutant grandmother from Boston who married an anthropologist and went to China for four years on camel back. In a way, I think the drive to work hard is in my genes.
"There are times when George will look at me and say, 'Ali, you're totally stressed out. You're going 100 miles an hour; don't you wish you weren't working and you could just be at home?' I think about it for a second and then answer, "Nah, I'd probably repaint the house 8 billion colors, and I'd bake so much crap, we'd all be fat! I look at Mom and say to myself, 'Well, she did it all and she has four kids!'
"As I go through my adult life, I just assume this is how you do it. You work your ass off during the day. You write thank you notes on nice stationary to people like Diane Sawyer, and then you come home and bake chicken, put on classical music and become a complete wife and mommy."
So far, so good. At least until she gets another stint on late night…