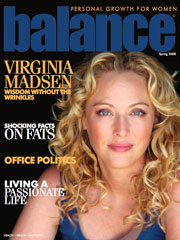 VIRGINIA MADSEN
Leading Lady Unplugged
Oscar-nominated actress Virginia Madsen (Sideways, 2004) knew "the secret" long before this hot little buzzword began its sweep across an eager planet. You might say that she stumbled across the Law of Attraction the way many people do—by being so sick and tired of living the anti secret (or the secret in reverse, rather, by focusing on the crappy stuff and attracting, well, a whole lot of crap through a spiraling depression and ingesting "tons of pizza and cigarettes")—that eventually becoming optimistic and getting her butt to the gym just seemed like the easier option.
"I had a really hard time suffering from post partum depression," explains the single mother of Jack, now 13. "There was a time about five years after I had my baby that I was still miserable. I had been acting for many years, but my career was basically dead, and I felt fat and sluggish." Virginia's referring to her "dry" spell after many successful roles in movies like Dune, Fire with Fire, The Ghosts of Mississippi, and The Rainmaker. She's quick to point out that other women at her then size-10 body often look terrific, but says that the extra weight on her just looked like blubber. "I felt toxic, and couldn't seem to pull myself out of this stuck place." Blessed to have a few key supportive people around her singing the chorus of, 'It's time to change because your self-defeating behavior is unacceptable!,'" something clicked.
"When they lovingly began their assault," she remembers, "and I made the decision to turn my life around and get back on my feet, everything started to flow. It became suddenly easier to take care of my myself, which in turn made me feel happier."
The real secret? Mental preparation.
"When I was on the treadmill, I wasn't there working out as an unemployed actress—which was the hard core reality. Instead, I was there preparing for my next job. I looked at the whole thing as groundwork for good work. I was the one in pre-production. It turned into this very positive frame of mind for me, and my vision of my life began to open up. I started to read more. My depression began to lessen because of the exercise and the new ideas I was learning. Feeling happier helped me eat better, which made working out easier. The cycle had shifted—so many things changed. I learned firsthand that when you live with intention, positive things begin to just fall towards you. You pull your dreams towards you like a magnet."
In using the physical props of weights and stair-stepping machines and yoga mats and healthier food and good books to transform her inner and outer realities, another prop would present itself as a way to further Virginia's emersion into self-empowerment. "It was Botox," she says, proudly.
Botox Babe
Say what? Did this natural beauty whose livelihood is dependent upon an industry obsessed with youth and closely guarded secrets really just admit to injecting her face, her moneymaker, with Botox? "Yeah, of course!" Virginia exclaims, as if she's instead referring to taking multi vitamins or doing Pilates. "I didn't get Botox and Juvéderm injections for Hollywood. I didn't do it for a man. I did it for myself." And once she started to learn of a downside to the practice—meaning, the sketchy and potentially dangerous way in which increasing numbers of people get their fix—a deeper mission evolved. "Women need to know how to protect themselves by getting educated" she says—sounding very much like a concerned girlfriend hell bent on protecting her posse. That's why she joined Allergen's campaign "Keep the Wisdom. Lose the Lines," to sound the alarm.
"I think this is something people have got to get used to talking about," she explains. "There was a time when nobody wanted to admit they colored their hair until Catherine Deneuve went on TV and said 'I'm worth it,' and now the biggest stars advertise the stuff. I'm certainly not equating hair color with medical injectables because the truth is that this is not a simple procedure you can do at home. But people are meeting at nail salons and spas and parties and they say to me, "Hey, after closing we're all going to get drunk and get injected. Come on over!' and I'm thinking, 'Are you totally out of your mind? Do you know who that doctor feel good is? Does this person have a license? Have you even looked into his bag of goodies? These are prescription medications!' There's a reason why these injectables are not sold over the counter at Macy's. Hello? I wouldn't get my dental work done in a place where people are getting their toes done." We both laugh at the thought. "Would you get a wisdom tooth pulled anywhere else but in a doctor's chair?"
Virginia explains that when people are secretly talking in hushed, embarrassed tones about their injections, this is when mistakes are made. "You hear horror stories about people who get a droopy eye, or nerve damage, or God forbid get injected with some horrible foreign substance. Knowledge is power. Knowledge is safety. And seeking out a good doctor, plastic surgeon, or dermatologist will help you avoid the frozen face look, which happens when the person administering the dose doesn't understand the anatomy of your face. Injections that go in my face may not be where they go in yours. The best doctors are artists, which is why I still look like myself and my forehead still moves!"
Is it just me, or is this star's candor refreshing?
"I don't want to criticize anyone for making the choice to have a frozen face without any lines," she says, "but, wow, that's not a choice I'd make. If you ask me, that look's going to be out like shoulder pads."
Mother Knows Best
It's easy to see that beauty comes naturally in Virginia's family when you meet Mom, Elaine Madsen, 75, a poet, playwright, author, and an Emmy-winning documentary filmmaker. When Virginia was still a teenager, Mom gave daughter Virginia her first on-camera job, with a small part as a dancer in a documentary called Better Than It Has to Be about filmmaking. Elaine won an Emmy for producing the film.
"I was 15 years old when my mother quit the corporate world to make her art," Virginia recalls. "I thought that was so brave and courageous. It was very exciting to see her take that leap of faith, to see her belief in herself, her abilities, and in the universe. I wanted to go into this crazy business myself, so her courage gave me courage."
Documentaries aren't exactly the quickest route to wealth in this town, so I ask her about the struggle. "Ah, yes," Virginia acknowledges, "but Mom never let me know how much of a struggle it actually was. I really admire her for that and have tried to do the same thing with my son through the lean times. Mom showed me through her perseverance and ability to succeed no matter what, the importance of celebrating the small successes just as much as the big ones. There are many different levels of success, and certainly in the beginning there are a lot more small wins." The key, she believes, when you're just surviving, is to be grateful for the opportunity to live as an artist. "Growing up, watching that, was deeply inspiring. I felt such a sense of pride. Sure, I worried that my mom would suffer financially. It's hard for children to watch their parents struggle. But she was living her dream and I wouldn't have had it any other way."
Mother and daughter have come full circle; Virginia's now producing Elaine in a new documentary about amazing women (that Elaine's directing), who like her, are in the upper decades of their lives and living vibrantly. It's called, I Know a Woman Like That, and through images like those of a 90-year-old skydiver and a 95-year-old water skier, it's easier to embrace the idea that we don't need to slow down because of a birth date.
But how's it taking orders from your daughter during filming? I ask Mom. "Ha! I'm learning to give up control and let my daughter tell me what to do," says Elaine with a hearty laugh. "It's fantastic!"
"It's incredible for me to watch her work," Virginia says about witnessing Mom in action. "The movie's about what makes these women so alive and almost defiant when the world is telling them to wind down. What makes them tick?  Where does their drive come from? I love hearing the conversations between Mom and these like-minded women. She always told me to have big dreams, but more importantly, she mirrored that to me by having her own big dreams."
Thinking Really BIG
Do you remember telling your daughter to have big dreams? I ask Elaine. "Oh sure," she answers. "A lot of parents say that. That's not unusual. I just didn't couch it with, 'But be careful and have something to fall back on.' I never had a picture in my head of what they would become, but there were no limits." Where does that kind of parental trust come from? I ask. "It's simple, really," Elaine says. "I always think I can do anything, and the same holds true for my kids."
Mom's instincts were spot on. Her son Michael is also a movie star (Reservoir Dogs,Kill Bill) and daughter Cheri is a writer and restaurateur. "Each of my children is doing what they set out to do, what they love," she says. "I'm the lucky one who gets to stick around and see how it all comes out."
Interestingly, Elaine is the one who introduced her daughter to Botox, and like Virginia, is proud of her lines. "The good ones, that is," she says. "I have lots of lines and I earned them. But when three of my grandchildren asked, 'Are you mad at me?' because they thought I was frowning at them, I had that line softened. I'm glad I don't frown at my grandkids anymore."
Does Mom fear getting older? "Sometimes I stand up on stage," she says, "and I'll say, 'I am 75 years old,' which is usually followed by applause. I wonder, 'Oh, God, is the applause because I'm still standing, because I survived?' But this is a wonderful place to be in my life. The purpose of our documentary is to show women what they have to look forward to. Getting older isn't something to dread.  There's freedom here.
In the Money
Virginia says that she's applying a lot of the optimism from these older role models to her own life. "The bottom line is that no matter where you are or what you're doing—whether you're waiting tables or climbing the corporate ladder, whether you're a writer or a struggling entrepreneur—you've got to believe in yourself against all odds. That's the lesson to instill in our children. I really got that from my mother and women like her. And I got that lesson even stronger when I had to put it to the test and see that it works."
With your son? I ask. "Yes. Jack's a very confident young man.  I hope he's learned that from me. He's certainly seen me, and his father too, persevere [she and her ex, actor Antonio Sabàto, Jr., live down the street from each other and share custody of Jack]. It was so funny because about a year after Sideways hit, I was working on another job [Firewall, starring opposite Harrison Ford] and I was telling Jack that when you're working, you always want to be grateful for your successes. 'You earned it, Mom,' he said. 'Yes, I did earn it,' I answered, 'and I'm still really grateful.'  He was looking down at his feet kind of funny and I said, 'Do you want to ask me something honey?' 'Well,' he said, 'are we in the money? Are we in the money now?' 'Oh, yeah man, we're in the money now,' I said. 'It's okay if you ask about that, because it's good to have hope.'"
As two single artist moms living in Los Angeles, Virginia and I relate to the worry that our boys get used to seeing so many big dreams fall flat in this town. Rejection, like traffic lights, is everywhere, and who doesn't have an unfinished script or two sitting in a drawer somewhere? "In Hollywood so many big opportunities are right there in front of you," she says, "but just out of reach. I think kids get used to the let down. They get used to the big dreams not quite happening the way that you'd hope they would."
That brings us back to celebrating the little wins, I say. "Yes! She squeals. Celebrate them so your kids see that it's about the process and the path, not about the destination. And then that will only help them learn about managing money. I hope Jack never saw the panic I went through in that area."
Those days are long gone. Following Sideways and Firewall have come starring roles with Jim Carey in 23, the Astronaut Farmer opposite Billy Bob Thorton, andPrairie Home Companion. Are you working on something challenging now, or are you having fun? I ask.
"I just finished a movie called The Haunting in Connecticut, a horror film about a family dealing with supernatural forces in a house they just moved into. It was a joy, even though the scenes were so challenging because I had to make believe that I was really scared of things that weren't there, pretending that horrible noises were coming from the walls, etc. But I've always loved a good challenge. It keeps life interesting.
Our time just about up, I say: So Virginia, you're career's on fire, you're in the money, you've found the fountain of youth, you have a great relationship with your son, his father, and your fabulous father, not to mention your siblings. And, you have this wonderful example of a mother showing you by her example how to live an empowered life for the rest of your life. That leaves one burning question: What about boys?
"Well," she laughs. "I've been single for a long time, and I've been very, very happy to be single.  I love it.  But now I'm thinking it might be time to become part of a twosome. I know it will happen when it's supposed to."
No doubt. With that beautiful positive outlook of hers—present from start to finish in our conversation—it's clear Virginia had no problem putting out the right intention and pulling in the good fortune. But let's get real. Aside from her killer bod, her smart intellect, and very big, open heart, what clear-headed man could ever resist that face?!
To learn more about the "Keep the Wisdom. Lose the Lines" campaign and find a reputable doctor in your area, log onto www.keepthewisdom.com.