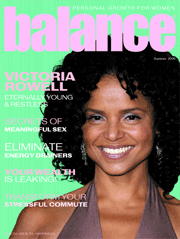 VICTORIA ROWELL
Fostering Ceaseless Care
A wealthy businessman once explained to me how to handle the deluge of charity requests I received in my mailbox each month. "It's easy," he said.  "Pick the top three causes closest to your heart, and refuse to donate to the others."  Gulp.  "And don't deviate."  I thought about how much time I'd save no longer pushed and pulled in a thousand emotional directions with one heart-wrenching letter after another eating up my workday.  (I don't know about you, but it had always been impossible for me to discard these letters once I held the picturesque return address mailing labels of tulips and redwoods and whiskered dog faces in my hand. I mean, my name and address were printed so delicately between the tiny margins, most even spelled correctly!)   "It's not only possible," the man continued, seeing my furrowed brow, "you simply must ignore them."
My resolve to recycle most of these unopened mailers worked.  For about a month.  That's about how long it took for Mother Nature to pass out a few global lessons in gratitude.  Was there any conceivable way to ignore the Asian tsunami victims?  Of course not.  And, if there was good reason not to pull out my checkbook for those devastated by Katrina's wrath when I was sitting in my clean, dry and most definitely not-mold-infested home, I couldn't think of one. With the agonizing images of African orphans and Pakistani quake victims smattered across my TV screen, my check ledger fell open again and again—and with it, the swelling of my heart.  Each act of giving felt like a validation, an exclamation point for my many blessings—my ability to generate money to give away was among them.
I decided to expand my giving to 10 charities instead, vowing to stop the madness in other ways, say by hiding behind the peephole when some sweet Girl Scout knocked at my door.  Who was I kidding?  Along with salivating to satiate my annual obsession with frozen Thin Mints, I was even more tempted than ever to help real-life people standing before me who were doing more than their part to heal the world.
That's when the stunningly beautiful Young & the Restless star Victoria Rowell (who plays the feisty Drucilla Winters) walked into my life, with a personal history and charitable foundation for foster children that tugged at and opened my heart just a bit more—like that of an unexpected chance meeting with a child that you just can't get off your mind.  What Victoria has accomplished is profound and showed me by example that some of the most worthwhile and fulfilling giving comes from seeing the direct impact of helping people right under our noses—in our local communities.
You'd never know by looking at this elegant epitome of success that she had such an uncertain start in life.  No telltale signs reveal that this ballerina-turned-actress (including 9 seasons on Diagnosis Murder) was born to a mother who was unable to care for her, or that she landed in the foster care system straight from the hospital at only 16 days old.  Children are placed into foster care when, for myriad reasons, it's not safe to live with their birth families, and Victoria shares a history too common with the over 550,000 children currently in foster care in America (a 100 percent increase since 1987).  Back then, as today, a disproportionate percentage of those children are African Americans.
"But I was very lucky," says Victoria, "because I was placed with strong and kind women who took me in and gave me homes and a sense of myself."  Victoria had several foster mothers—five, really—starting with a white woman who loved her dearly.  As is often the case, however, it was thought that a young black girl should be cared for by those of her own race, and thus she was placed with Agatha Armstead, a farmer and religious woman who had a talent for playing the jazz piano.  "Agatha was one of various women who passed the baton to me."
Visions of Fairy Plums
Ever since she can remember, Victoria's heart would flutter at the sound of classical music, and fortunately Agatha was paying attention when the little girl under her care repeatedly attempted ballet moves in her living room.  She came to Victoria with a page of a book open to several rudimentary ballet moves, saying, 'Here are a couple of steps you can do to learn classical ballet,' pointing to the pictured dance positions.
"Of course I had no technique," Victoria says, "but I practiced those moves diligently, creating my idea of what ballet was.  From a visceral place I embarked on creative movement.  When company would come over, which was rare because we were on a farm, my foster mother would encourage me to perform while she played jazz."  It wasn't long before Agatha arranged for her foster daughter to travel to her very first audition.
At eight years old, little Victoria boarded a big Greyhound bus by herself, dressed in a borrowed leotard and a wide smile.  "That was an adventure," she says, glowing with the memory.  "The whole journey was exciting.  To be traveling to Boston by myself at such a young age made me feel so grown up.  And then, to embark on something that I knew nothing about, except from the few poses I had learned from the magazine."  Victoria won a summer scholarship that day, and would move in with yet another foster mother in order to take advantage of this rare opportunity.
"Becoming a classical ballerina wasn't even something that was in the atmosphere of the foster care community," Victoria explains.  "It took a lot of work to convince my social workers that classical ballet was extremely important to me.  'This is not a hobby,' I'd say.  'It's not recreation.  I'm going to do this for a living, so please get vested in this idea because I'm going to need your help.  I've got to get ready."  The help came, and young Vicki proved that she was indeed ready by ultimately receiving scholarships from the National Endowment for the Arts, the Ford Foundation and the Cambridge School of Ballet.  These blessings left her with a profound firsthand understanding of how much a life can transform through charitable giving.  "It was so miraculous that within this often very limited system, my life would become so expansive."
Like roses in warm weather, Vicki blossomed in the world of dance, culminating in the biggest audition of her young life: a shot at a spot in the American Ballet Theatre school in New York City when she was 16.  "I won that too, and it was very special to be in New York City with a full scholarship with such a revered ballet company.  The biggest stars of the ballet world—the greats from that era like Baryshnikov, Carlo Frachi, Gelsey Kirkland, Fernando Bahones—would be walking the halls and rehearsing in the same studios as I was with American Ballet Theater II, breathing the same air."
Expanding the Dream
It makes sense, then, why a single mother with two children and a very busy day job as a soap star and movie actress would take the time to start and run Rowell's Foster Children's Positive Plan (RFCPP), a scholarship fund dedicated to helping foster children thrive through fine art classes, sports camps and cultural enrichment—including a summer camp in Colorado that brings siblings together who are enduring the pain of living separately.
The statistics on foster care, like most numbers we hear these days, are alarming.  One study found that within 12-18 months after leaving foster care, 27 percent of the males and 10 percent of the females had been incarcerated, while 37 percent had not finished high school, and 50 percent were unemployed.  "The system needs help," Victoria says.  "But rather than find fault with it, I'd rather work to improve it."  Victoria celebrates the fact that her fame has put her in a powerful position to make a difference to hundreds of foster children, many of whom have suffered either neglect or physical and emotional trauma, and some of whom have been so uplifted by RFCPP that they've gone on to have careers in the arts.  "One of the motivating forces of my life," says Victoria, "has been to ensure that my experience as a foster child wasn't in vain."
Victoria says that it's not just foster parents who need education, either.  "I teach the kids I work with that they, too, must extend themselves and make an effort.  Trust is very difficult for foster children to wrap their arms and hearts around because there has usually been so much devastation.  I encourage them to trust someONE not some everybody.  Everyone needs at least one person to confide in, one person who they'll allow to help them.  Since I've already come out of that environment, I'm able to gain the trust of these youth pretty quickly."  That's for sure.  Victoria deals one-on-one with the families, and all have immediate access to her, with her cell and home phone numbers and email address.  "It's always been that way.  If one of the youths is having a hard time, it's not uncommon for the parents to call me and tell me that a child is acting out.  I'm certainly not a doctor by any stretch of the imagination, but I think the foster parents turn to me because they know I have a special relationship with the kids they're raising."
I ask Victoria which child or teen she's worked with has had the most lasting impact on her.  "Oh, there are so many of them.  We've worked with some children for over a decade," she answers, "following them through elementary school to college.  But if I have to pick one, there's a gentleman by the name of Jelani Freeman, who was a summer foster youth intern on Capitol Hill, and an intern as part of the Congressional Foster Youth Internship Program on Capitol Hill for Senator Hillary Rodham Clinton.  He was introduced to me by the Congressional Coalition on Adoption Institute.  I was so struck by this African American young man who came from nothing, who was on the Hill, working in the Senator's chambers and holding his own.  I was told that he needed some financial assistance so that he could write his thesis, so I immediately got busy finding him the funds."  Jelani, who says that Victoria and RFCPP's kindness and encouragement helped him learn how to 'dream again,' was given a scholarship.  "We also underwrote his rent for the summer so that he wouldn't have to stress about making a living," says Victoria.  "The worry of, 'How am I going to keep a roof over my head?' is a very raw and fresh feeling for these kids who are often thrown out on their own once they turn 18 (making up nearly 25,000 kids per year), wondering how they're going to make it through the next day.  You never forget that feeling.  This young man was so filled with gratitude that we took care of his rent.  So many kids can't survive and end up trading off their bodies for housing and food.  Jelani's story is such a highlight.  He's now working in the mayor's office in Washington, D.C."
Second Childhood
With adjusting to being a virtual guest herself in five different homes as a child (where Victoria has said that everything—even the pillows smell different with each house), and all the hard work and discipline that went with her studies, Victoria never experienced the carefree, magical feelings associated with childhood.  "I'm living my childhood now through raising my children," she says.  "I saw Fantasia for the first time as a grown woman.  When you're growing up on a working farm in Maine, like I did, reading and watching fantasies just doesn't happen.  Agatha read excerpts from the Bible, which grounded us, but books like Peter and the Rabbitwould have seemed frivolous in light of the struggle of our life.  The fairytales that I read or watched with my children when they were younger were very special to me.  I was just as dazzled by them as they were."
Balancing on Her Toes
Does that mean that Victoria's finally learned the fine art of putting her feet up and chilling out?  "Oh no," she says. "I have an inordinate amount of natural energy that stays on an even keel throughout the day—always," she says.  "I was just born with that. I work at the same pace from the moment I get up in the morning until the second my head hits the pillow at night.  When the moment of sleep does come, it is the very last thing I could have done."
Really? No naps, ever? I had to ask.  Victoria looks astonished that I would even consider the thought of lying down while the sun's out.  "There's no need.  I think I also developed that level of stamina growing up the way I did, always doing three things at once—which was required in order to sustain what was in front of me.   First off, I had to go to school and have strong enough grades to get accepted to a very serious ballet school—the top Royal Academy of Dance curriculum, which was very strict.  I also had to get a job.  I started working when I was 14 at Howard Johnson's, where I lied about my age in order to have my own autonomy.  I could never nap.  Napping doesn't work for me."
I mention that it's supposed to be good for a person's health.  "You know," she says, "society prescribes what society thinks we should do.  I got very comfortable with who I am as a person early on and married my out-of-the-box thinking.  When I stopped fighting against who I really am, which is part of the balance for all women, and said, 'Well, the rest of the world is crazy then,' things became so much easier for me.  We women are really powerful, and we have to own our power and do what we know is right for us, no matter what the experts are saying.
"I did have to reconfigure what balance means in my life.  It used to mean doing everything for everybody else first.  Today it means doing for me first, and if that meant that I needed a nap, I would force myself.  I have learned that if I don't take care of me, I can't take care of anybody else, especially my two children.  For me, though, balance is more about letting go of dead wood.  It means drinking more water, allowing good things to happen, absorbing the praise, and walking with a moderate amount of humility."
Blessings
I ask Victoria how she feels about all the awards she's won, specifically the whopping 11 NAACP Image Awards.  "I'll tell you what supersedes all of the awards," she says.  "The highest honor I've received was in September of last year when the Congressional Coalition on Adoption Institute saluted me along with over 190 members of Congress, as a Congressional Angel by improving the lives of children in foster care, advocating the need for adoption and mentoring in our nation.  That was the ultimate for me."  May is National Foster Care Month, and it was the month Victoria received an honorary doctorate from Wheelock College in Massachusetts, not far from where she studied dance and grew up in Boston as a foster youth.  "That was also very significant to me."  At the University of Southern Maine, Victoria gave the commencement speech and received an honorary doctorate degree.  "That being my home state made it incredibly poignant as well," she says, "because I was refused college in foster care.  Thankfully the laws have changed since then."
Home of the Brave 
On Christmas day of this year, Victoria's latest movie, Home of the Brave, opens (also starring Samuel L. Jackson and Fifty Cent).  In this serious, dramatic piece about a military family dealing with the aftermath of returning from the war in Iraq and readjusting to family life, Victoria plays Penelope, Sam Jackson's wife.  "Penelope, like women and mothers everywhere in the world, has to hold the family together," she says, "and because my husband suffers from post-traumatic stress syndrome, my character has to navigate that and be sensitive to that odyssey."  Directed by Irwin Winkler (producer, Raging Bull, Rocky, Goodfellas), Home of the Brave promises to be a powerful film, which will only help strengthen Victoria's platform from which to give time, love and financial help to those in the foster care system.
Speaking of brave, having met Victoria through our mutual brave friend, bestselling author and screenwriter Antwone Fisher (whose brilliant autobiography, Finding Fish, about his childhood in foster care became the hit movie, Antwone Fisher, starring Denzel Washington), I tell Victoria that I see strong similarities between her and Antwone.  "Neither of you allowed your negative situations or surroundings to change the core of who you were," I said.  "I get the feeling that it wouldn't have mattered what had happened to you, you would have risen above it.  Is that the norm or the exception?"
"I think Antwone and I are the exception," she answers.  "We are the minority in that in every circumstance, no matter what happened, we were blessed with being able to recognize light.  It's like that blade of grass that pushes through cement.  We are those blades of grass.  Antwone teases me.  I call him my brother.  He called me this week and said, 'You know, since you're my sister, I have to aggravate you.'  He thinks my foster care experience was a life of privilege, but I tell him he hasn't read my book yet. (Victoria's currently writing her autobiography called, The Women Who Raised Me.)  We support each other whenever we can, in whatever we're doing.  In fact, he's an honorary chair along with LeVar Burton for the Rowell Foster Children's Positive Plan Celebration at the Museum of Contemporary Art."
Art Saves Lives 
Two weeks after our interview in her dressing room at Y&R, RFCPP kicked off that celebration for National Foster Care Month at the Museum of Contemporary Art in Los Angeles for a very special art tour.  Phoebe Beasley—one of the world's most renowned collage artists (whose work has been commissioned for two presidential administrations) was brought in to help guide 31 pieces of original collage artwork with Rowell's foster kids.  They worked under her tutelage in Victoria's bonus room, before Phoebe flew out to work with foster children in Boston, Massachusetts.
"Each child brought a bag of passion, as we called it," says Victoria, "and created their own art passion shadow box.  Some included ballet slippers, a musical score, or just art straight from their heads."
The tour is traveling to other cities, including at the Children's Museum of Manhattan, where Disney is participating along with some of the cast of The Lion King.  "The opening of the tour was magic," says Henry Acosta, RFCPP's Interim Executive Director.  "With flashbulbs going off all over the place, and 40 media outlets from Access Hollywood, MTV News, and Entertainment Tonight covering the red carpet, these young artists were all celebrities."  A row of easels displayed the children's shadow boxes leading to the auditorium, where Victoria gave a surprise ballet performance before debuting her documentary, The Mentor, about how getting involved in the arts increases a child's self-esteem.  For those in the standing-room-only event, witnessing gratitude and even a poem from one of the children themselves, left not a dry eye in the house.
While I'm thinking of it, before the postman delivers today's pile of charity requests, I'm pulling out my checkbook to fund hip-hop classes or voice lessons for a deserving RFCPP child.  Oh goodness… that will make 11 donations instead of 10 this month!  Well, while I may not ever have as much money in the bank as the aforementioned successful businessman, I wouldn't trade the happiness I feel in my gut for any amount of money.
To find out more about Victoria and her foundation, please go to:www.RowellFosterChildren.org