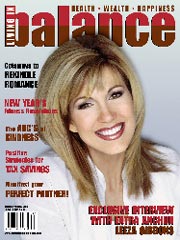 EXTRA! EXTRA!
EXCLUSIVE INTERVIEW WITH LEEZA GIBBONS
When Leeza and I met for the first time, it was to commiserate. Our husbands had been out of the country for over a month, acting together in a series for NBC. Even before we met, we felt the bond of women with small children who yearned for their fathers. Missing my husband, I turned on her talk show one day, hoping she had something to say about their shoot. Only the week before, Leeza's husband, Steve, had sent home a joke video of scantily clad women surrounding him on a tropical beach catering to his every whim, which Leeza aired. This particular day, however, the show had a different tone.Leeza was sharing intimately with America her longing to see her husband. She spoke emotionally about something close to my heart: my three-year-old son was angry and distressed at the loss of his daily playmate, and no amount of explaining helped. As Leeza spoke of her daughter Lexi's nightmares–a result of Steve's absence–I was comforted. Location jobs are the most challenging for children left at home. I called Leeza at the studio and we arranged a meeting.
Eight years have passed since our hilarious dinner–where my toddler decided to throw his first public tantrum in a crowded Beverly Hills eatery. Leeza's small children were spellbound by his antics, and in spite of their amusement, we took our meals to her estate rather than give them any further ideas. Thankfully my son's rebellion subsided, but the friendship forged on that night remains constant. Throughout the years, Leeza has been a mentor, creative collaborator and girlfriend. The more time I spend with her, the more impressed I become. She is fun, happy, loyal, honest, energetic, gorgeous, brilliant, spiritual, and balanced. I'm still not entirely sure how she does it, but I've seldom found a more fascinating or worthy subject.
When a public personality like Leeza allows us to witness her growth, freely exposing her vulnerabilities and struggles, we feel close to her. Compound that with the ability to make us think that life is basically good, even in the face of trauma, and our loyalty is sealed. Oprah has this gift. Diane Sawyer and Maria Shriver do also. No one doubts that Princess Diana had it. America fell in love with Leeza sixteen years ago when she joined the anchor team of Entertainment Tonight. The unabashed enthusiasm she displayed for her work was refreshing in the 1980s, a decade characterized by attitude. It wasn't long before Leeza was ranked one of Hollywood's most popular journalists.
Our interview takes place at Leeza's sprawling Mediterranean mansion in the Hollywood hills. We walk across rolling lawns that overlook the city, surrounded by massive trees, swing sets, fishponds and tree houses. As usual, the woman I see before me in jeans looks as refreshed after a long day as she does on television, but it would never occur to her to think of herself as others see her. Therein lies her charm. It's why we trust her; we know she's real. Just a woman struggling to get her kids to school on time with their hair brushed like the rest of us. So what if her "extras" are prettier than ours? The juggling she does to keep it all in balance is universal.
I loved turning the tables and focusing on the woman normally asking the questions…
Leez, I know that quitting your talk show and hosting Extra has brought ease into your life. What do you love most about your new job? "Oh, that's easy! With the Leeza show, I wasn't able to be available for as many plays, performances and games with my kids. That was the hardest part. I love my job because it gives me great flexibility to be a mom and a businesswoman. I can take my kids to school and be present for all those priceless moments. I'm so grateful that my employers respect my need to be a hands-on Mom. Like with most women, I'll give so much more if I can make sure my children get what they need from me first."
"Also, I have greater variety now with the mix of Celebrity and Grassroots stories. Having gone from the land of grits to the land of glitz, I love a chance to get intimately involved with real people facing challenges and striving to make a difference. Every time I conduct an interview, I learn something more about the power of words, the resilience of the human spirit and the complexities of our lives, which we think are so unique and yet for the most part, are so similar. We all want and need to be connected to others. The people we choose to join us on our path and those we meet along the way all affect the way we leave our mark here on Earth."
You are always upbeat. Do you have a personal philosophy or way of looking at life? "Mine is found in Eleanor Roosevelt's words: When you cease to make a contribution, you begin to die. A sense of service is very important to me. I've always had it. Even as a little girl, I wanted to help many people through television. The desire to serve is a more deeply personal one now that I am fighting an enemy called Alzheimer's. You have to pick your battles and the foe I'm up against is a powerful, cruel and random adversary that has claimed my beautiful mom."
"It's clear to me that all of the abundance I have is on loan for this lifetime. So, it is up to me to share it with others, passing it on before I go. Service has always brought great purpose to my life, but means even more now that it's my mother's eyes staring back at me."
How have the terrorist attacks changed your approach to work and family? "Our collective consciousness has gone through a seismic shift. From a quiet, warm bed at night to an active pursuit of happiness during the day, Americans had begun to feel entitled to this glorious life we have come to know."
"I have slowed down. I hold my kids tighter. I worry less about a new wrinkle and I pray more. I am reaching out even more to others because I know that if we close ourselves off from humanity, we block God's path to us and through us."
"Recognizing the fragile nature of life makes me embrace the truth–that we can recreate our lives at any point. What we think and feel at any moment is up to us. Perhaps the best way to show patriotism is by loving our families, praying for peace and being willing to pay the price to have our freedom, while believing that we can and will make this world a more fair and beautiful place."
"My two older kids planted a tree outside their bedroom windows so they will remember that good things grow from tragedy; things like hope, faith, compassion. They placed a rock at the base of the tree, which reads: Never forget 9-11-01. Trying to explain something incomprehensible to them has forced me to test my own views."
How, with all of your obligations, do you stay balanced and sane? "Life is so painfully, unbearably, ridiculously short, so I try and keep focused on what matters most, but come on, let's be real. Some days I'm running on empty from lack of sleep. Some days I give in to whining from the back seat. Some it's all I can do to make it to school in time for a parent-teacher conference, much less make a difference in the world. But as I clumsily navigate my way through this thing called life, I realize whether it's my role, as wife, mother, sister, daughter, friend, or employee, there will be many days when I just don't get it right. That's cool as long as I get another chance to try again."
"One thing that definitely keeps me balanced is learning from the mistakes of others. Since I will never live long enough to make them all on my own, I might as well keep my eyes open! I admire the successes and victories of others and, as you know, I am never shy about asking people how they achieved their dreams."
Leeza is always looking for that something extra. But more important to the people touched by her life, is that she gives that something extra. In a nutshell, that may be the "secret" to Leeza's balanced life. She gives and receives with an open heart and an inquisitive mind, and enriches countless people's lives along the way. Eleanor Roosevelt would be proud.