Podcasts on airlines? Who knew?! I'd just uploaded a Beautiful Writers Podcast interview to iTunes, Stitcher, and Soundcloud last December when a question flitted through my brain…
… Hmm. I wonder where else I should be posting these shows?
In the ripple effect of that duh-light-bulb moment, it dawned on me to figure out how to get this podcast baby of mine playing on platforms like Spotify, iHeartRadio, GooglePodcasts, Alexa, and so on. Well… Ta-da! We've recently done all of that. I know. A little slow on the uptake. But ever notice how, when climbing the "success ladder," there are always more rungs? It's times like these where I repeat this self-help, self-love balm from Esther Hicks: "You can't get it wrong because you never get it done."
Just because you've been doing something for years (in this case, since October 2015) doesn't mean you naturally know where to go or that you feel the urgent need to seek out every opportunity. Even side hustles put you on a near-constant learning curve if you want to keep offering increased value. In other words, you do what you can when you can. And, our little show was humming along well with me mostly focused on the quality of each episode. People, publicists, publishers, and best-of lists were finding us—and flooding my mailbox with free books!
But that question—Where else should I be posting these shows?—was as prevalent as chimney smoke in the crisp winter air. I'd get emails and social media comments, asking me to get the podcast somewhere else and I'd repeat my new mantra: You can't get it wrong because you never get it done. But with each new "thank you" I received from writers, telling me how much listening to us helped their sanity and writing practice, I hoped to increase our reach.
So, when a dear friend (Lauren Frances) at my sister's Christmas party mentioned in passing on my way out the door… "You should get your podcast on a major airline!"… I tilted my head like a dog to better read her face. My ride was already backing out of the driveway, thus my queries and I hit the road. But… Podcasts on airlines? Is that a thing? I must investigate!
By February, I had my answer. In the 6-degree- (or in this instance, 2 degree) way in which we're all connected nowadays, all it took was two phone calls and an emailed pitch. Lo and behold, within hours, the Inflight Entertainment Program Manager for the world's largest airline called my cell saying, "I already know about your podcast!"
You may have heard me say before: You never know who's paying attention, you guys.
When the gal with the mic's ready for liftoff, the 747 appears—or similarly. Yes. As with any venture, there were steps to follow between Idea and Done (including transferring files into I-don't-even-know-what-airplane language). But we did it! We're now LIVE on all AA domestic and international seatback screen entertainment systems for American Airlines—with a reach of millions of monthly passengers.
Here's a pic my shero at AA took yesterday on a quick hopper from Austin to Dallas. #omggrateful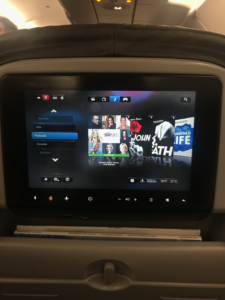 So, the next time you're back home from flying American (that is your airline of choice, right?), post a screenshot of our show logo with the #BeautifulWritersPodcast hashtag. Then tag me (and #AmericanAirlines) and let us know where you went. I'll smile, knowing that even though we'll never get it [all] done, together we can soar.
Keep your dreams aloft, my friend.
Keep sharing your art.
Write on!
Linda
xo
PS. Did you listen to last month's episode, where #1 New York Times bestseller Abby Wambach (congrats, AW!) shares her favorite travel tips for filling her life-force up despite the rigors of travel? And, where our guest co-host, Martha Beck, talks about the "weird psychological thing" she experiences being up in the air, where she can better evaluate not only where she fits in her life, but also where she wants to go? #HeavenlyInspiration
PPS. There's a whole other process for uploading these shows into the REAL clouds (ha!), making our in-flight episode list at least a month behind. If you don't see the interview you're looking for while flying high; when you get back to terra firma, you can find all of our years of great guests—with links to every episode—at beautifulwriterspodcast.com.
PPPS. I've never even seen (much less heard) a podcast while flying. But I'll be on American later this month and can't wait. Got any tips or other show recommendations for me? Here's the thread over on FB. xo