Allow me to share perhaps my favorite conversation on writing EVER. As in, of all time. My dear friend of over two decades, Guru Singh, joins me on today's episode of the Beautiful Writers Podcast and I know you've NEVER heard anything like what's about to come into your speakers (see summary list below). In short, Guru is epic. And, lord, do we need epic right about now.
Guru Singh is a third-generation yogi, spiritual leader, and author—who was named "Best Guru in L.A." by Los Angeles magazine in the early 90s. They claimed his yoga classes were so popular, attendees had to levitate for space, and I went to see for myself if that was just BS hype (I can be curious like that). What I found instead changed my life and is THE reason you've ever heard of me (or many others, who are far more well known).
As I talked a bit about last week, 23 years ago Guru Singh took me to task for NOT writing. "What the hell are you doing hiding behind your dogs?" he said, his blue eyes glaring at me (or perhaps looking through me, I couldn't tell which). I wanted to smack him. To say, "Whoa dude!" For God's sake, I'd just met the man and hadn't said a word about being a professional dog walker, or how I'd always ached to write but didn't think I was smart enough. With that comment he scared me straight. And lit a fire.
A lot of writing and friendship and chai tea and walks in the forest, both in L.A. and New Mexico, has happened since then. Thank God.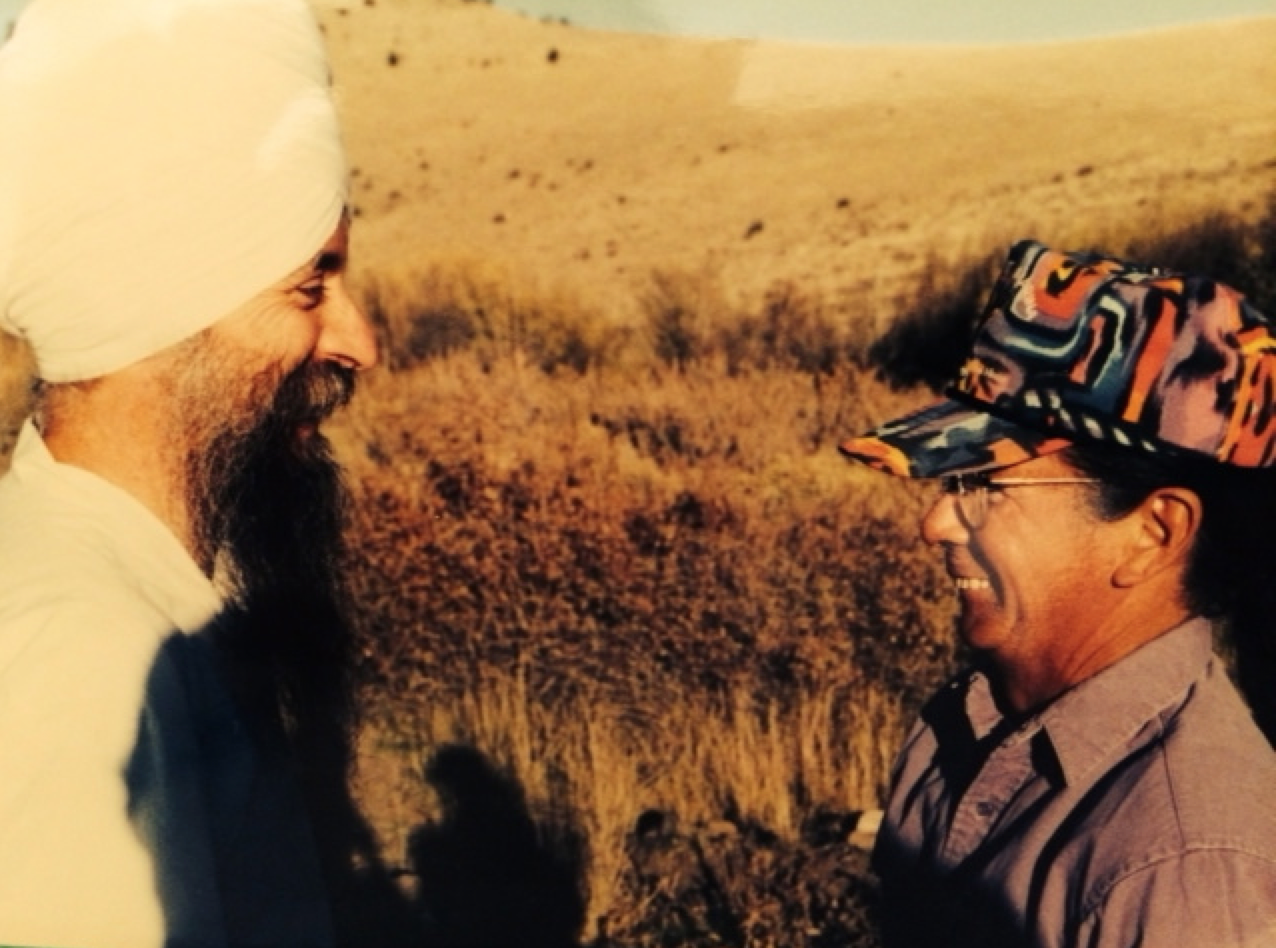 Guru visiting New Mexico, with my Native American Medicine Man, circa 1995
For decades, people of all faiths have flocked to this minister of Sikh Dharma because, as you'll see, his unique and profound take on the world is spellbinding. His ability to help people catapult from struggling to thriving, unparalleled.
If you've been reeling lately concerning the state of our country, planet, or natural world; if you've been walking into walls from the shock/disappointment of believing that things we'd overcome as a society are roaring back with a vengeance… then, listen up! (Hint: He says we're in the "death throes of the patriarchy," and reminds us it's always darkest before the dawn.)
If you've been struggling with your faith or trust in anything—maybe overwhelmed with fear that your creative dreams can't or aren't happening, tap into Guru's epic-ness and hit a mighty reset! Then share with your friends and spread the hope/love.
I can't say enough about Guru's memoir, BURIED TREASURES: The Journey From Where You Are To Who You Are. I had the blessing of reading this book in its infancy 20 years ago and I am cheering on its evolution. It's a most mystical of hero's journeys.
A bit more about this episode! In it you're about to hear crazy-cool strategies for bringing through your BEST writing. Cutting-edge wisdom on what the heck is going on with our planet (and between the sexes!). And the enormous benefits of sitting in the lap of your creator and whispering in its ear. (Huh? I know. Stand by.)
Other gems:
1. Why the world needs you: a conscious, passionate writer, to come OUT of the woodwork now!
2. How to go from living logically to mythologically.
3. Why you found school, even church, boring… and what that means for your capacity to be a leader and spiritual devotee.
4. How to allow yourself to be yourself.
5. What Tesla, Einstein, Edison, and other legendary creators knew about lucid dreaming.
6. A technique for giving your dreamtime self writing assignments.
7. Writing as a vision quest or meditation (if you just can't meditate, this will make you smile).
8. Fame and the media, and how to accelerate through the hard parts.
9. How to open up your "inspiration channel."
10. The reason writing is so immensely fulfilling… even when you're living in near poverty to do it.
11. The power of experiential prayer: It's not a fantasy, but it does deal with the fantastic.
12. How to feed your spirit (and fast on the negative).
13. Tips for being an activist with an OPEN heart.
Oh, and Guru just might have a little something to say around reframing the whole "original sin" idea us lovers of Christian churches may have some discomfort with (and I giving myself away here?).
Okay. Enough for now. As you might have guessed, this is a lengthy one, folks. Our longest episode yet, clocking in at 90 minutes. And, I'm guessing, you may just wish he'd have gone on even longer:).
Guru requested we tape today's show without a co-host, to make the chat a little more intimate. What an honor! Get your pen and papers ready, if you're not driving. Because your mind is about to be blown.
P.S. I'd love to hear what resonates most about our chat. To leave us a comment, join us over on Facebook for the discussion! xx