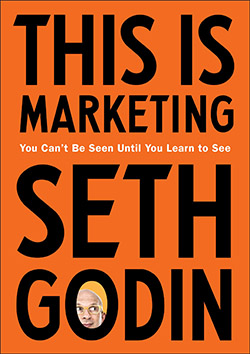 After 18 international bestsellers, Seth Godin has released perhaps his most important book. His new title: This Is Marketing: You Can't Be Seen Until You Learn To See (Portfolio) just hit #1on The Wall Street Journal list and was an immediate New York Times bestseller. But Seth could care less. What this master teacher knows (and wants us to know) is the joy of serving the smallest viable audience. The satisfaction that comes from making things better by making better things. "The best-selling book in America this year will not be purchased by 99% of the population," Seth tells me and my guest co-host Samantha Bennett. But that's good news for us writers because "smallest is easy for us." It's this mindset, as you'll hear, that keeps the infinite resource of creativity from shrinking away.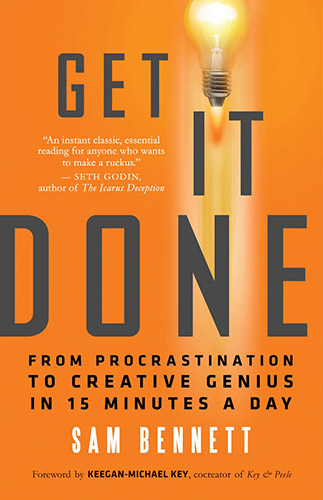 Seth and Sam (bestselling author of Get It Done and Start Right Where You Are) are big admirers of each other's work, and nothing thrills me more than being a literary matchmaker by putting people together on this show. Like when Glennon Doyle came on to guest co-host with her idol, Anne Lamott (who she'd never met). Or, how Terry McMillan and Dani Shapiro, both great novelists and teachers, swapped outrageous stories and laughs. Or the time Robert McKee guest co-hosted with one of his literary favorites, Dean Koontz. To hear Sam and Seth talk shop left me mostly speechless. (Not my norm, as you may know. I think I said fewer words in this entire episode than in my usual intros!)
I feel so blessed to be here. Seth has taught and inspired millions of entrepreneurs, marketers, leaders, readers (and me!) via his daily blog (one of the most popular in the world), and through his online courses, lectures, and bestselling books. He's the inventor of countless ideas that have made their way into mainstream business lingo (from the book blurb! and Permission Marketing to Purple Cow, Tribes, and The Dip). But marketing—telling our stories to people who need them—is in crisis. For thirty years Seth has seen this revolution coming, describing it to us, and mapping it out for us. And it's being taken away by bottom fishers and scammers. Thankfully we have Seth to guide us through meaningfully connecting with people who want what we've got.
You're also about to hear why he stopped napping (this is pure gold!); his thoughts on debt (which could help you keep more of your gold); what it takes to reach the masses (and how to avoid making average stuff for average people); getting into the practice of picking yourself; Godin's First Law of Book Signings, and, brace yourself, the future of bookstores.
And, for those of you who don't yet know Sam, you're in for a major treat. Warning, though: She's addictive, and you'll have one more person to follow after this episode. Sam's the owner of the Organized Artist Company and one of the most brilliant and delightful people I've ever known (which is why I'm the luckiest that she's my copilot over in The Beautiful Writers Group).
Okay! There's so much to cover. I'm so happy you're here. And, we'd love to hear what resonated most with you over on Facebook.
Linda
xx