Author, Visionary, & Oprah SuperSoul100 leader, Danielle LaPorte, isn't risk averse. No. She's "risk erotic." But that doesn't mean she didn't get a not-so-little unwelcome surprise after choosing to walk from a Big 5 publisher and go rogue to self-publish her latest book, WHITE HOT TRUTH: Clarity for Keeping It Real on Your Spiritual Path from One Seeker to Another.  Bestselling author Dani Shapiro (9 books; currently on tour for HOURGLASS: Time, Memory, Marriage) and I chat with D about what taking big risks really looks like when the realities of funding your mission, your art in the world, test your "limits." This is what Danielle calls the teeth of entrepreneurship.
Three writers. Two on book tour. All mothers with sons. On today's Beautiful Writers Podcast, we get real and really vulnerable about:
Tradeoffs and damn hard parenting lessons learned (stuff you can't take back and don't ever want to regret); the fear of not looking pretty enough on stage; why confidence is not necessarily a writer's friend; the courage it takes to step into a bigger arena (where the stakes keep getting higher), and how writing is like a lover who waits for you (who sometimes argues!).
We talk, too, about not having a Plan B; the GIFTS that come from saying no because of your values, health, or family priorities; what goes on Instagram and what doesn't; how to find the spine of your book—the rhythm of things, and being in total effing denial about time.
On this, Danielle's BIRTHDAY, I think about the gifts she's brought to my life. Besides the idea of "reverse aging" (say what?!), there was partnering to help birth book babies all over the world with our "Your Big Beautiful Book Plan," that continues to produce beautiful offspring. Then the uber supportive, incredible community of writers she co-founded with me that's going strong over at the Beautiful Writers Group. And of course, the formation and hosting of this podcast in its first year. Heavens. I don't know where my life or career would be without this modern-day angel who worships at the altar of word economy. Thankfully, I don't have to.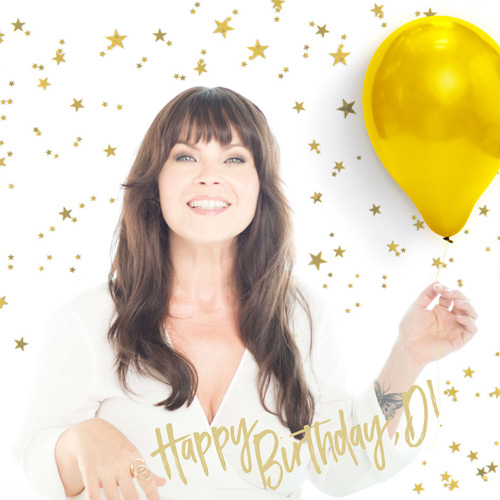 So. Here we go. As you listen to Danielle say: "I'm so done with not having fun in getting where I want to go," think about how that can be your new mantra. About how, via her example, you can walk and write lighter and brighter.
And, my most sincere thank you to Dani Shapiro, who once again sits in the guest host chair. (You may have heard Dani and me interview bestselling novelist Terry McMillan last year.) Lucky much? It feels like MY birthday! Maybe I should double check my birth certificate.
Hugs, everyone! Write on.
Linda
P.S. Come over and share the birthday love with Mama D over in today's comments on FB. The audio link's there, too. xo
P.S.S. Loved hearing Dani read portions of her book here in Los Angeles earlier this month. She had us all spellbound.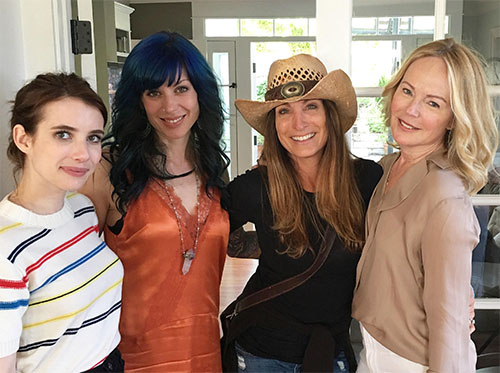 Emma Roberts, Jillian Lauren, (me), Dani Shapiro