"Get a f#cking job!" my husband yelled. Job? We'd only met eight weeks prior. Wouldn't our time be better spent getting to know each other? Duh. As a primarily stay-at-home actor, he had all the time in the world while commercial residuals paid our bills. Also, who would hire me? I'd just bailed on my USC education the semester before graduation. I'd always secretly yearned to write, but having quit school, I clearly wasn't book-smart.
Desperate not to return to retail (which mostly made my wardrobe expand more than my bank account), the Bodhi Tree Bookstore on Melrose was the only building I could stomach visiting daily. I walked in to fill out an application, only to get shut down.
"We already have a staff of a hundred people," the gal behind the counter said. "I'm sorry." Her gaze felt kind. I could tell that even if she repeated this bad news daily, which she corroborated ("You're the tenth person to ask today!"), she knew how lucky she was.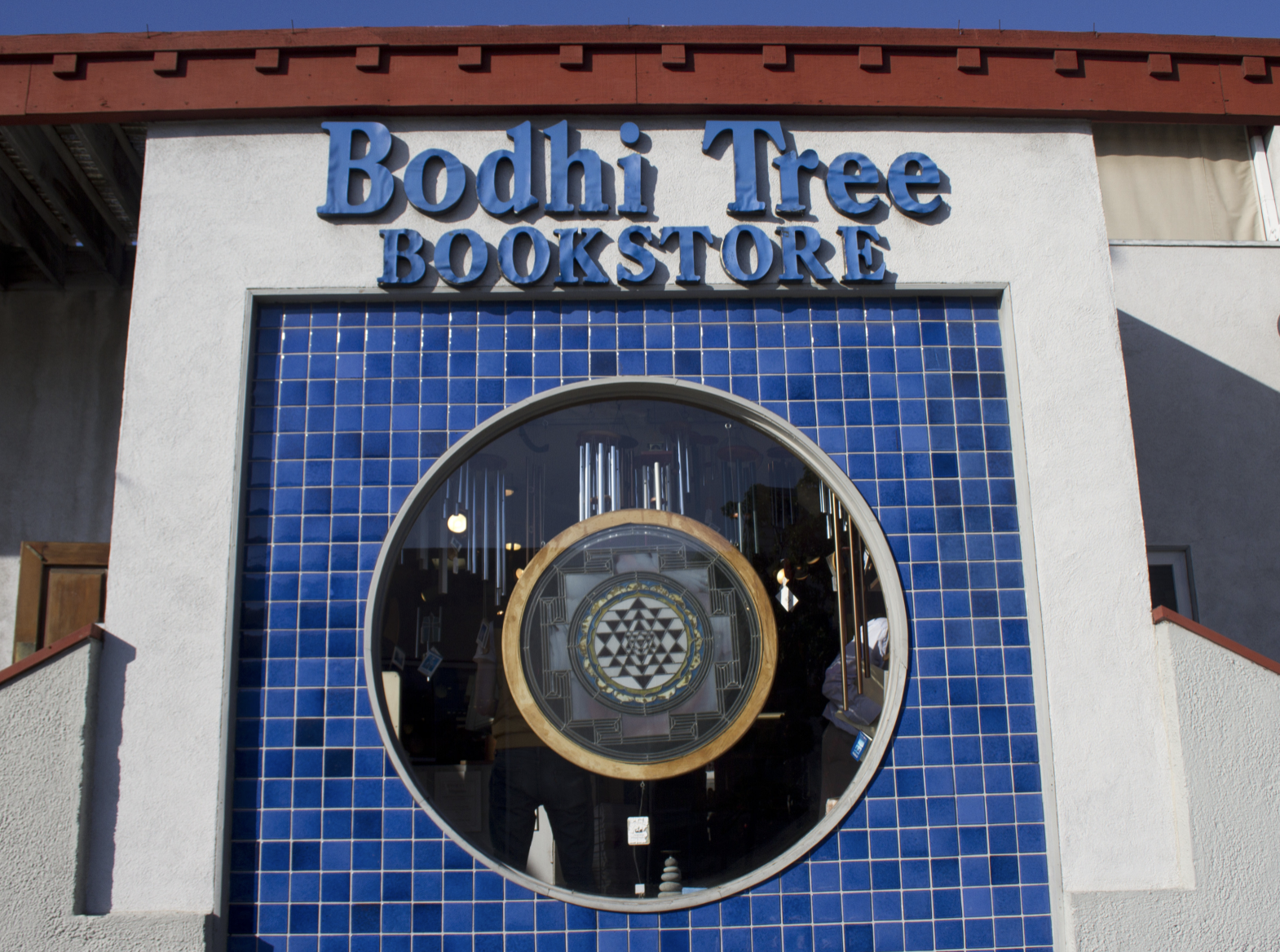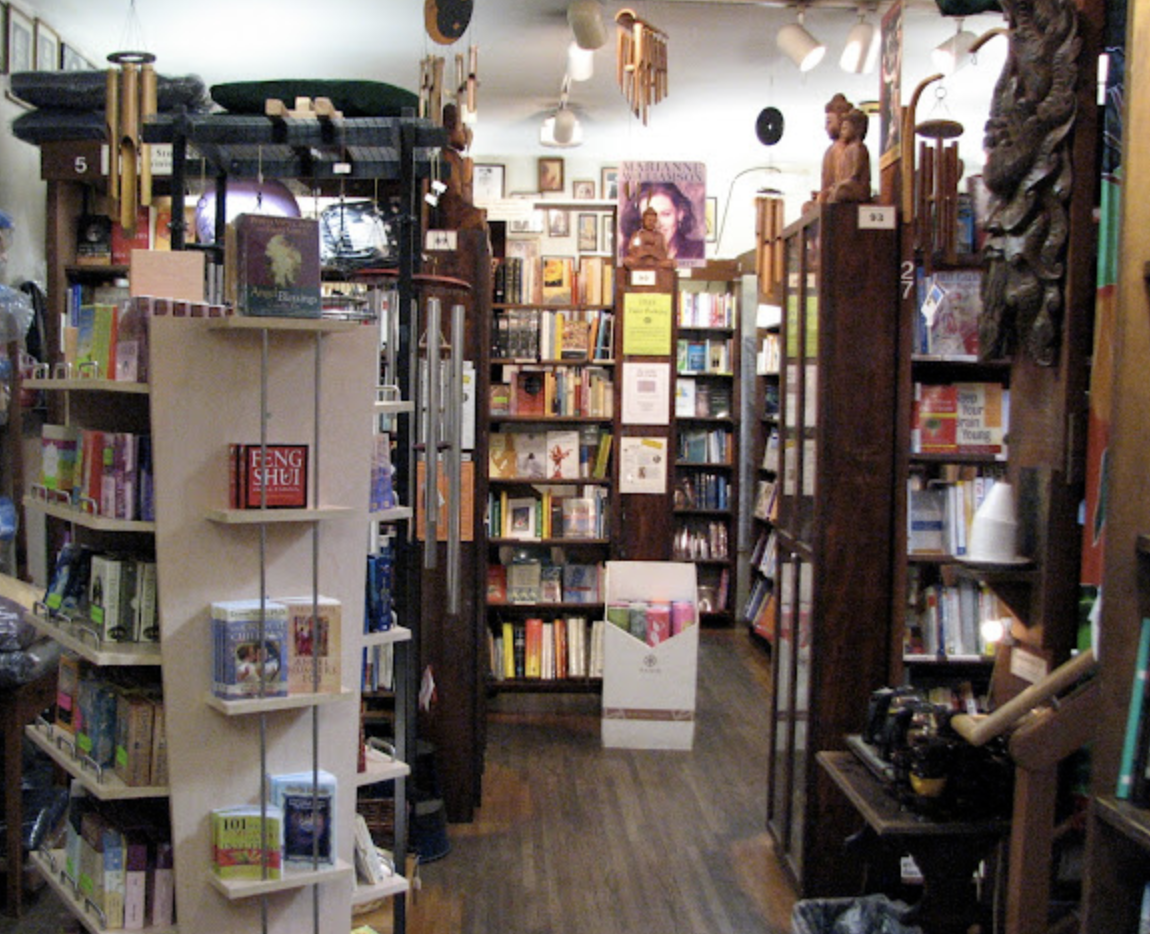 I was ashamed of not contributing financially to the togetherness of my new marriage and surprised to access deeply buried feelings I harbored that men were supposed to take care of their women. Where'd that come from? Certainly not my mother, a subscriber to Ms. magazine, who worked full-time for years and championed women's rights in the workforce. The air inside the store, a mixture of books, jasmine, and Nag champa, felt like home, destiny, abundance. I had to do something to change their minds!
The following day, after the owners, Stan Madson and Phil Thompson, received my ode to the fifty self-help and woo-woo titles I'd read and promised I'd peddle from their shelves, I got the call. I was IN, a proud part-time employee of the most fabulous place in town. (God, I wish I'd kept a copy of that letter. It was at least five handwritten pages long!)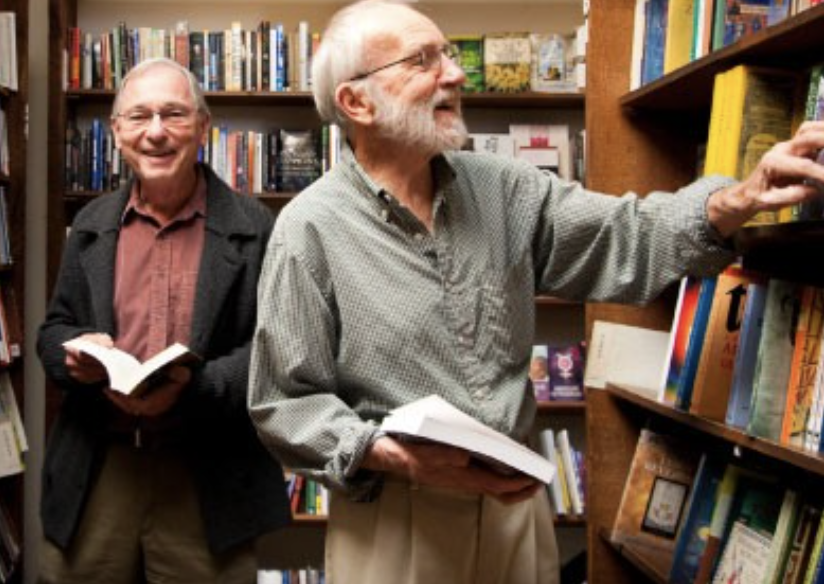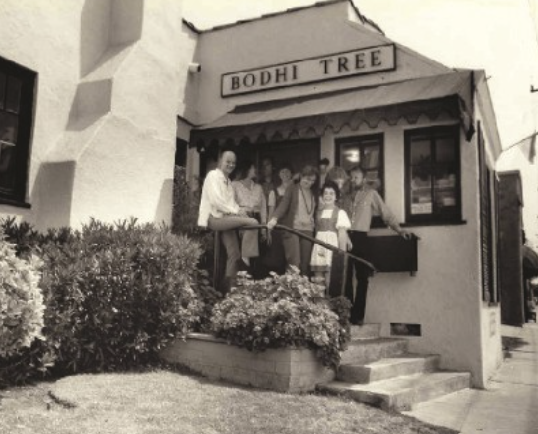 Photo of Phil Thompson & Stan Madson by Jennie Warren, LA Weekly, 2010.
I purchased enough books, crystals, and incense during my shifts to open my own store. I ultimately left after starting Pet Companion, my dog walking business that led to meeting the people I'd first write about—in a book that came to me in a dream (the story of which is in Beautiful Writers).
But just because you're gifted "instructions" or downloads in the middle of the night doesn't mean you don't have to overcome internal barriers to confidence. That's where my time shelving books at the Bodhi Tree was MAGIC. One day, after hours on my feet sorting through boxes of books and thinking about what it took to write such things, it hit me viscerally, all at once. Hey, wait a minute! The only thing stopping me from being a published author (my secret lifelong dream) is me! 
"After shelving thousands of books for you, Stan," I said to the co-owner (pictured above on the right), "and meeting many celeb writers here, I've realized something."
"What's that?" he asked.
"I didn't think I was smart enough to write a book. But now I see that there's no way every one of these thirty thousand titles on your shelves is written by someone smarter, funnier, or more deserving than me. Statistically, that's not even possible!"
Stan laughed. "You're 100 percent right about that," he said. To this day (and in this email from 2014), Stan says that my signing for Lives Charmed: Intimate Conversations with Extraordinary People was "one of the biggest selling events" of the Bodhi Tree's forty-five year history.

Remember that the next time you feel unqualified! Also, No sometimes means Maybe and morphs into Yes.
Paul Williams, Robert Townsend, and me at my Lives Charmed launch party, Bodhi Tree, 1988.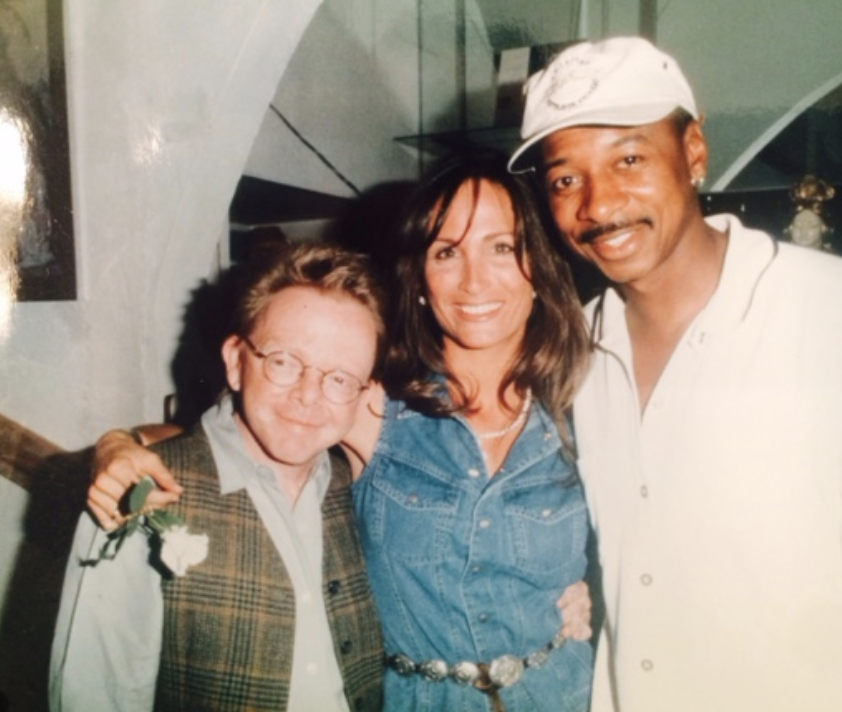 We're all spoiled these days, buying books online with the click of a mouse. But when did you last spend an afternoon inside a beloved indie bookstore? Take it from me; these places, filled with beloved titles, readers, and staff with books in their blood, change you. Like a library, only noisier, you can dream a bigger dream and imagine yourself anew.
The Bodhi Tree is gone now. Losing it was a blow to the City of Angels. The world's most beloved spiritual teachers who taught there (Mar­ianne Williamson, Ram Dass, Shakti Gawain, Louise Hay, don Miguel Ruiz, and Shirley McClain, who made the place famous in her book Out on a Limb) had to go elsewhere. Still, the spirit of the store lives inside all of us whose lives it transformed.
Thank you Stan & Phil. LOVE you always.
Write on, Linda xo
PS. – Do me a favor, friend. If you buy my book today on Independent Bookstore Day, or any book on any day, do it at your local indie. And share your love. My pup, Bodhi, and I want to hear about the bookstores you love over on my threads on Instagram or Facebook.