I wasn't sure I'd ever talk about this. But if my experience helps you navigate your own writing + pub goals, I think it's worth revealing.
Late last year, I met with several publishers about having my own imprint. Essentially being a publisher within a publisher.
When the potential opportunity came up with the first house, my initial thought was: "I don't have time to be a publisher!" I could see my fiancé saying, "Seriously? You've only recently learned how to get to bed early and now a whole new career?" He would have been right, of course. I already had more on my plate than hours in the day. But part of this development had been a longtime coming, so there was a sense of destiny and excitement that at the very least I wanted to investigate.
So much so that I called a few other publishers, told them what was happening, and asked if we could talk about a similar opportunity. Might as well go for it—I figured—and make things really interesting.
This all started when I was a little kid, actually. Back when I learned that the Egyptians had invented "paper" (Papyrus) over 6,000 years ago by battering reeds and fibrous plants together into flat sheets. That's when the sky opened up for me. How could people cut down trees like the ones I climbed in… to make phone books, textbooks, and TOILET paper??? Those Redwood and Maple giants in our yard were my best friends! Every time I saw sap running down a trunk, I imagined the tree crying for its fallen brethren. (Yeah, empathy's a bitch.)
Needless to say, I've dreamt of saving trees ever since. Hence my interest in becoming a "green" publisher.
As irony would have it, this tree hugger would become a book mama. (Dang, if God doesn't have a sense of humor.)
Naturally, my idealism was at its zenith the second I got published for the first time. Imagine this. New author walks into her publisher (HCI) with world-saving vision. Pitches a plan to eco-up the joint. Save a few trillion trees. You know; revamp a $23 billion dollar industry.
I had charts. Stats. A very convincing—if I do say so myself—press release. (I'm still proud of that.)
I've never been high on weed a day in my life, but I became obsessed with Hemp. Growing it for paper. Opening an alternative paper plant in the U.S. (which had never been done). Trouble was, although hemp grows easily practically everywhere and is resistant to most pests (and therefore doesn't need pesticides), plus yields 3-8 dry tons of fiber per acre (which amounts to something like four times what an average forest yields), it's not legal.
It used to be legal, and we grew it commercially in the U.S. until the 1950s. In fact, the crop was used to make rope and canvas for ships, as well as cloth for fabric and pulp for paper dating back to the colonization of our country. But according to all sorts of people who know their history, including these guys, it was doomed by the Marijuana Tax Act of 1937, "which placed an extremely high tax on marijuana and made it effectively impossible to grow industrial hemp."
HCI was my publishing family. They were home to the Guinness World Record-breaking Chicken Soup for the Soul series. Chicken co-founder, Jack Canfield, shared with me that the amount of trees killed for his hits kept him up at night. (They once had 7 titles on The New York Times list at the SAME time!) Our publisher, Peter Vegso, was a huge contributor to the Arbor Day Foundation and they'd planted millions of trees together. This was perfect. As I saw it, since my book, Lives Charmed, profiled several celebs on the front lines of environmental activism, we were of like minds.
ALL they had to do was let me co-author a book I envisioned entitled, Chicken Soup for the Soul of Mother Earth. Print it on recycled paper. Release it on Earth Day. And hold a big press conference announcing they'd be changing over the massive Chicken line to recycled and/or alternative paper fiber. Arielle Ford, a friend and a top book publicist, LOVED the idea. She was ready to mix it up and do the press conferencing when we were ready…
Just think of it. There wasn't—in all the world—a bigger book brand to make the shift. How could they say no? The impact could rock the entire industry. And little girls everywhere could stop crying over spilt sap.
Then, once we'd made the switch from tree paper to recycled paper, we'd go one step further and declare that we were breaking ground on that alternative paper plant. (Yes, this was all in my press release… I warned you I was idealistic.) Talk about radically lessening the use of virgin pulp and old-growth forest cuts! Shit howdy! FYI: The world consumes something like 300 million tons of paper each year and as of 2008, the University of Michigan reported that 90% of the virgin forests that once covered much of the lower 48 states have been cleared away.
As an aside, tree farms are far from an ideal answer. This is a blog and not a thesis on an entire industry. But the gist is that when a fast-growing tree crop is planted (a monoculture), all natural flora and fauna are removed, creating an environment that can't sustain other lifeforms, including the animals who used to live there. Large amounts of pesticides are sprayed, polluting waterways, among other dangers. And, the paper making process itself is highly toxic. According to reports from the EPA and the Worldwatch Institute, pulp and paper mills are among the worst polluters, emitting highly toxic chemicals (like toluene, methanol, chlorine dioxide, hydrochloric acid, and formaldehyde) in mills around the world. To see how this has played out with tragic effects in Crossett, Arkansas, see CompanyTown, a movie written, produced, and directed by the brilliant Natalie Kottke-Masocco, who I was blessed to have run my office, and retreats, from 2008-1010).
Back to my plan with HCI: One goal was a partnership with FSC (Forest Stewardship Council), an international non-profit that promotes responsible management of the world's forests, certifying paper you can find at places like Target and Office Depot. (Hint, hint: purchase these papers for your home office.)
Of course we'd get hemp legalized for paper production, too. Duh. I mean, we might as well. We'd also use Kenaf (another fast-growing plant). And lastly, for good measure, we'd mix in agri waste. (Farmers often burn their hay, leaves, stems, etc.—all a "waste" product. But we'd turn it into paper like they do in China.)
While all of this dreaming/planning was happening, I built a website for a foundation I planned to start called GASPP—Global Alliance for Sustainable Publishing Practices—complete with photos of forest fires and contaminated streams. Purdy stuff. I ached to educate writers and publishers outside of HCI about what it took to birth their book babies.
There's a lot more to this story. But the bottom line is that I slowed my momentum for several reasons: A group called Green Press Initiative sprang up and began getting commitments from publishers to up their recycled and FSC paper percentages. I wanted to be jealous for about two minutes, but the truth was this was a blessing! The calvary had arrived! I didn't have to do this all by my lonesome! The Better Paper Project and Environmental Paper Network followed, which was equally welcomed because my publisher wasn't at all sure how to move forward on my mission and it was becoming obvious I didn't have it in me to lead this charge. You see, the biggest time suck of my life—a dramatic marriage—kept sapping my energy. (If you've ever lived with two good days followed by three bad ones as your norm, you know how all-compassing that emotional rollercoaster can be.)
My mother got sick and I cared for her until she died. Ditto with my father a few years later. In short, the years got messy. When drama calls, fighting to save the life you love supersedes the fight for anything else. Even the trees. At least that's how it went down for me.
Throughout the mess, I wrote environmental articles in magazines. Did green radio shows. Put eco info into every book I ghostwrote. And dream of dreams, in 2008 I published Generation Green on 100% post-consumer waste with soy ink with Simon & Schuster.
My green goals hadn't died. They'd just slowed their roll.
And then. Last year. This potential green imprint opportunity. A chance to make a difference as a bonafide eco publisher!
I certainly had more to bring to a publishing house in 2016 than I ever did in 1999. With access to a large pool of talented writers from my writing retreats, membership group, and via listeners of the Beautiful Writers Podcast, combined with my history of writing, developing, and editing bestsellers—I had value. Plus, my relationships with literary agents would be a priceless pipeline to talent.
So I took a few meetings, with more scheduled. Had some phenomenal conversations with beloved publishers. I started to get really, REALLY excited. Like jump all over the house and bounce on my trampoline singing to the rafters excited. I hadn't felt this alive or purposeful in years. I was finally coming back to my roots, so to speak.
But the feeling didn't last long. Here's why.
In the car on the way home from one of those promising meet ups, it hit me. My mind went from possibility thinking to reality thinking. For the first time in my writing career, I had to REALLY put my mind into the head of a publisher. And I didn't love living there.
"What book or books would I launch with?"
"Which authors would I champion?"
"How would I help promote them to ensure their success?"
I've always had enormous respect for editors and how hard their jobs are, but this took it up a few billion levels. My thoughts whipped from name to name, face to face. Clients and friends who deserved a break. Books I believed in that weren't yet ready or hadn't yet sold. I could get them ready, I thought. Sign them. Publish them.
But could I really?… Let's say I was responsible in that first year for securing and publishing 4-6 titles… what would that actually look like?
My stomach tightened. My breathing shallowed. I nearly drove to the next off ramp in a ravenous search for DONUTS.
What if I couldn't give the authors of those books enough money? What if they didn't want to take a chance on me? What if I did sign them and their books flopped? What if I got fired because we didn't hit the lists?
Suddenly, all I could see were NUMBERS.
And PLATFORM.
NUMBERS. PLATFORM. NUMBERS. PLATFORM. NUMBERS. PLATFORM.
My new, hard-won position—in my head—would entirely depend upon me doing well. Selling books. Which in turn would help me acquire great titles the next season. But, what if all my time was spent on acquisitions—with little left for editing and strategy and PR follow up—and my little imprint wasn't hot fast enough? Would I last very long?
You see this kind of thing all the time in sports. A head coach is signed as the new darling. Hopes are high and ticket sales soar. He has a few wins, but then starts losing. Fans get nasty, as does the press. Recruitment suffers. Losses pile up. Ultimately… our leader is fired. You can blame the system—or management—if you want. But everyone needs to eat, after all.
I am a big thinker, and naturally enthusiastic. But I couldn't not see the negative details of this dilemma play out.
Like this one: I'm sitting at my desk. Before me are two book proposals. One from a writer I love with an engaged, darling community of thousands of opt-in newsletter "followers"; more thousands of "likes" on her public Facebook page, and a growing, fun-loving Twitter and Instagram community. When she talks to them, they talk back, share, cheer her on, buy whatever she's offering, and can't wait to drive to her future book signings. The proposal from the other writer—whom I also adore—isn't as exciting, strictly because she has no Facebook page, no newsletter list, and is only starting to think of making her private Instagram page public.
I know, I know. I won't judge you if you're cringing.
But all things being equal—not that that's ever truly possible—you know who I'd sign. Unless my dead mother came to me with a heavenly directive (could happen!), I'd go with the former gal every time. She's already sharing her art with the world and creating relationships with thousands who will spread her/our messages far and wide. Publishing's always a gamble, but it's likely she'll be a more powerful partner in our mutual success.
I just couldn't imagine doing this day after day. Not now. Mama's got books to finish.
I have had clients publish with small platforms—YES!—but this whole reality check was exhausting. Besides, there are INCREDIBLE, conscious editors doing this juggling and message-spreading work beautifully at publishing houses NOW. I don't have to become them. I will, however, continue to bow down to their skill and work on being worthy of their association as we discuss the most forward-thinking approaches to putting our wares out into the marketplace. The editorial role in publishing, when done with reverence, is a sacred one to me—whether on tree paper or not. Because in the bigger scheme of things, I believe intelligent, high-vibration messages in books heals us, and our planet.
That doesn't mean I won't be advocating on behalf of trees for the rest of my life.
Glennon Doyle Melton tells us that when we're trying to decide how and where to help, we need to go where our hearts break. My heart breaks at all sorts of stuff—shivering, shoeless refugees; animals left to die without love, and emaciated children. Good Lord—the faces! But, for some reason, it's the trees that tug the hardest. They speak to me. In the California drought of the past six years, their plight has been cacophonous. Which is why in my offline life, you can find me lugging 60-gallon refillable jugs of water from our home to the crumpling, cracked and gasping oaks dying near our horses.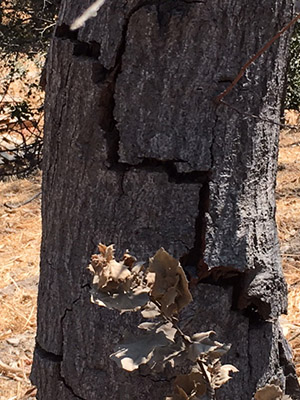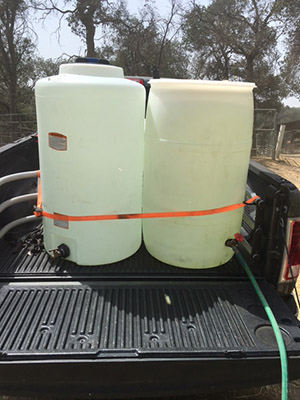 We'll see what the future holds. Right now, I'm more than content to keep doing what I'm doing—help writers find their voice and get connected with agents and editors who can carry them to their next right place.
You can bet, too, that it's Butt in Chair, Fingers on Keyboard for me (on several books right now). I'm so grateful to be in Carmel this week, where I'm taking part in my own retreat, test-driving a new one on the group.
In my SPARE time, I'll be doing what Danielle LaPorte so often advised members to do in the group we co-founded: The Beautiful Writers Group. She told us over and over to "GTFL." (Grow the fucking List!) Ha. We continue to talk about strategies for doing that all the time with each other in the group, and through expert interviews. And, Danielle's cutting-edge advice to writers lives on in the archives of our monthly Q&A calls here.
The way I see it, if I concentrate on writing the very best books I possibly can, and GTFL-ing throughout, when I'm READY to release my next titles, editors will continue to say yes to my dreams—as they've thankfully done in the past—by publishing them with as little footprint as possible. That's what makes this sappy heart smile.
To you and your dreams, for a blessed 2017.
Yours,
Linda
P.S. Care to share how this lands for you? As always, I'd love to hear your thoughts on this conversation on my Facebook page. xx