It's finally here! Pub Day for 

Beautiful Writers: A Journey of Big Dreams & Messy Manuscripts—with Tricks of the Trade from Bestselling Authors. To celebrate this happy occasion, I invited a few of my fave writers to join me for a writer's roundup for good vibes as we talk about the things we did that WORKED. The details we want to remember to do next time. There's always resistance, sure. But so much magic, too, and that's what I wanted to focus on today.
You'll hear on the show why I chose this group of brilliant humans and what they've each meant to me on my writing path. For the quickie bios, we've got Martha Beck, NYT bestselling author of a bunch of books, the most recently, The Way of Integrity, a 2022 Oprah Book Club pick.
There's the legendary Steven Pressfield, author of a bible in our field, The War of Art, and other massive hits, including his new riveting read: Put Your Ass Where Your Heart Wants to Be, and a few movies, too.
The incredible novelist, writing teacher, and ex-Hollywood marketing mind Aditi Khorana is here (and promises to blow your mind with her cutting-edge thoughts on time and the creative process).
And we're so blessed to have New York Times bestselling memoirist Elizabeth Lesser who co-founded the famed Omega Institute, where she's been supporting creatives and leaders like Oprah hands on in a big way for decades.
We had such a blast together. (I might have to schedule roundups more often!) I think you will find that whatever stage you're in with your writing, they will bring you ah-has and RELIEF. As often as I've had them on the show or read their work, they continue to surprise me.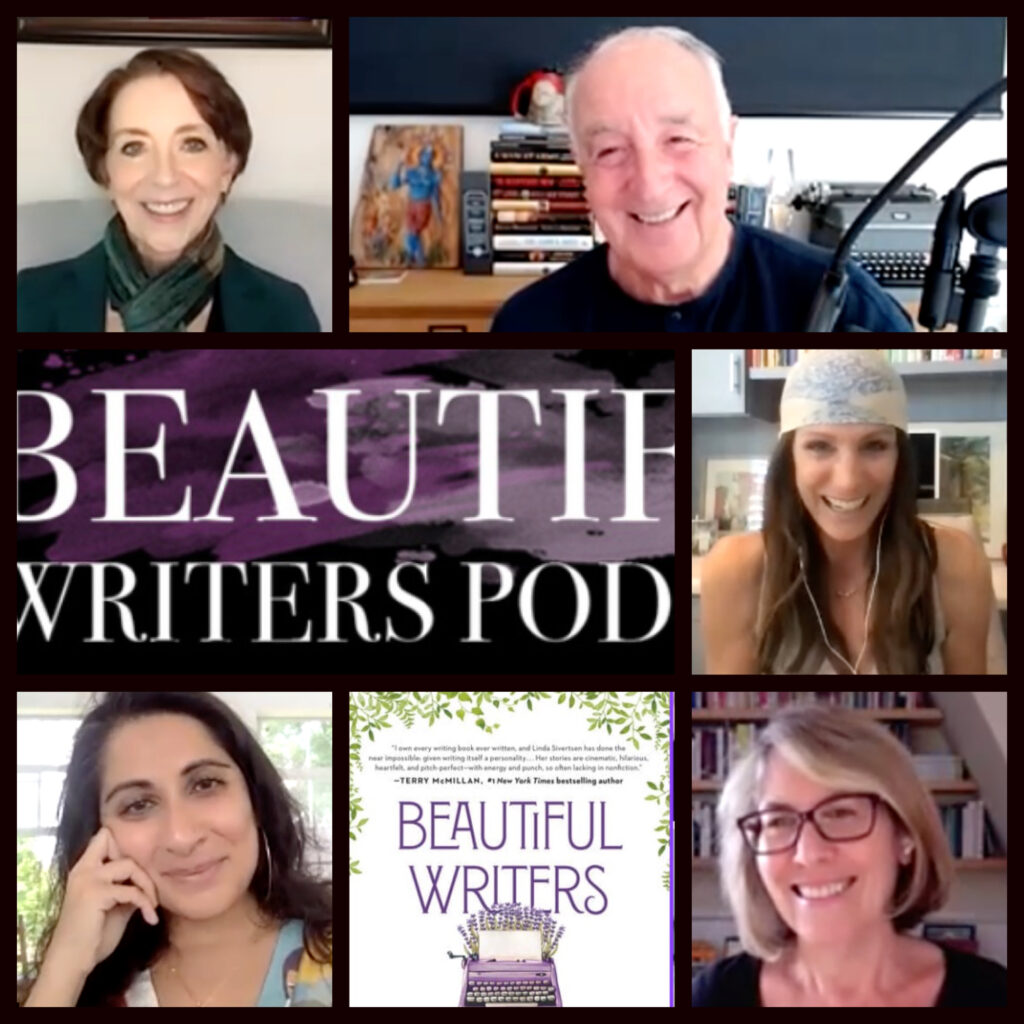 THANK YOU for celebrating with me, with us. Thank you for being part of my beloved writing community. I have felt your love and cheerleading at every stage.
Thank you for buying my sweet book baby (and hopefully recommending it to your people with five stars or shares, etc). In so doing, you'll be supporting sustainable paper choices, my greatest writerly dream. How cool is that? I hope that the information in the book will likewise make it easier to realize whatever dreams you are holding close. That would make my heart so happy.
Go to www.BeautifulWritersPodcast.com for all the links to this episode. And, of course, you'll find all sorts of book buying links over on BookMama.com.
LOVE you, beyond. Write on!
Lindagrateful
x
PS. If you enjoy the show, please take a minute to leave a comment on Apple Podcasts or here, on my Facebook feed or Instagram feed. I love hearing from you, and it helps other writers find us!