They did it! Proof positive that publishing happens. Eight writing retreat alums saw their ideas through to completion, spinning them into gold for the world to READ. How creativity-affirming is that? (By the pics you'll see I include my latest because I wrote much of Beautiful Writers during my retreats over the past decade. Whenever possible, I'd workshop her stories with the groups at lunch or dinner in Carmel without being overtly obnoxious! 🤪)
Each time I pack to return to the La Playa Hotel, one of my treasured traditions is seeing how many recent alum books I can fit in my suitcase for fun-in-the-sun seashore photo ops. In this instance, the airport scale revealed I was seven pounds over the limit and needed to fork over an additional $100 to fly to Monterey from Phoenix. No, thank you very much, I replied. I zipped open my luggage, removed the titles, and cradled them on the ramp like a baby.
Join me in carrying your fellow writers. Follow them on social, and consider purchasing one or more of these beauties—whichever ones speak to you. Then, share the love. We're a community of dreamers, after all. One day soon, it might be us sharing news of the birth of YOUR beautiful book baby!
For book bios and links to websites for the following beautiful writers:
Dreaming in Spanish, An Unexpected Love Story in Puerto Vallarta by Sara Alvarado. At age twenty-four, Sara Alvarado bought a one-way ticket from the midwest to Mexico, determined to heal from years of hard partying and sexual trauma. In this raw and inspiring memoir, Sara struggles with being newly sober, unexpectedly in love—and then suddenly, terrifyingly pregnant. Guided from afar by her wise and loving mother and her emerging spiritual connection, Sara faces the complexity of a multicultural marriage and motherhood in a foreign country. In vivid, storytelling prose, Sara shares the messy dance between cultures, classes, languages, traditions, white privilege, and a desire to belong.
Joy Is My Justice, Reclaim What is Yours, by Tanmeet Sethi, MD. Integrative physician and activist Tanmeet Sethi shares her methods for shifting your nervous system and biochemistry into Joy at the cellular level. You can reclaim Joy—as you reclaim your personal power, strength, and purpose—despite the burden of living in an unjust world, past traumas, and any platitudes that a whitewashed wellness world says about your capacity. Your pain is not fair or just. You are not broken because you feel it deeply. Yet every footstep you take toward Joy, even while still living with fear or rage, is a radical act of Justice that defies the oppressive weight of your pain and creates a powerful change in your biochemistry. Joy is here for you. Joy is your birthright.
The Chateau, a Novel, by Jaclyn Goldis. A dream girls' trip to a luxurious French chateau devolves into a deadly nightmare of secrets and murder in this stylish, twisty thriller for fans of Lucy Foley, Ruth Ware, and Lisa Jewell. Welcome to picturesque Provence, where the Lady of the Chateau, Séraphine Demargelasse, has opened its elegant doors to her granddaughter Darcy and three friends. Amid winery tours, market visits, and fancy dinners overlooking olive groves and lavender fields, the friends begin to suspect each other of murder. Because the chateau houses many secrets . . . several worth killing for. [Named one of the most anticipated thrillers of 2023 by Goodreads.]
Feeling Seen: Reconnecting in a Disconnected World, by Jody Carrington, PhD. Staying connected in this human race is the most direct route to happiness. But never have we been more disconnected. Connection is what we're wired for, and it can be easy:
Waving at your neighbor.
Going on that second date.
Buying coffee for the person behind you.
The hard part comes when we're called on to reconnect, repair or re-engage, especially after we've been wronged, alienated, or hurt. We all desperately want to get it right, but this requires another step, which is the magic each of us so often misses: the act of seeing. As simple as it is complex, it all comes down to this truth: When we're feeling seen, we will rise. [Jody's the gal they bring into schools AFTER the school shooting. The soothing voice of sanity who helps people and communities heal when no one else can.]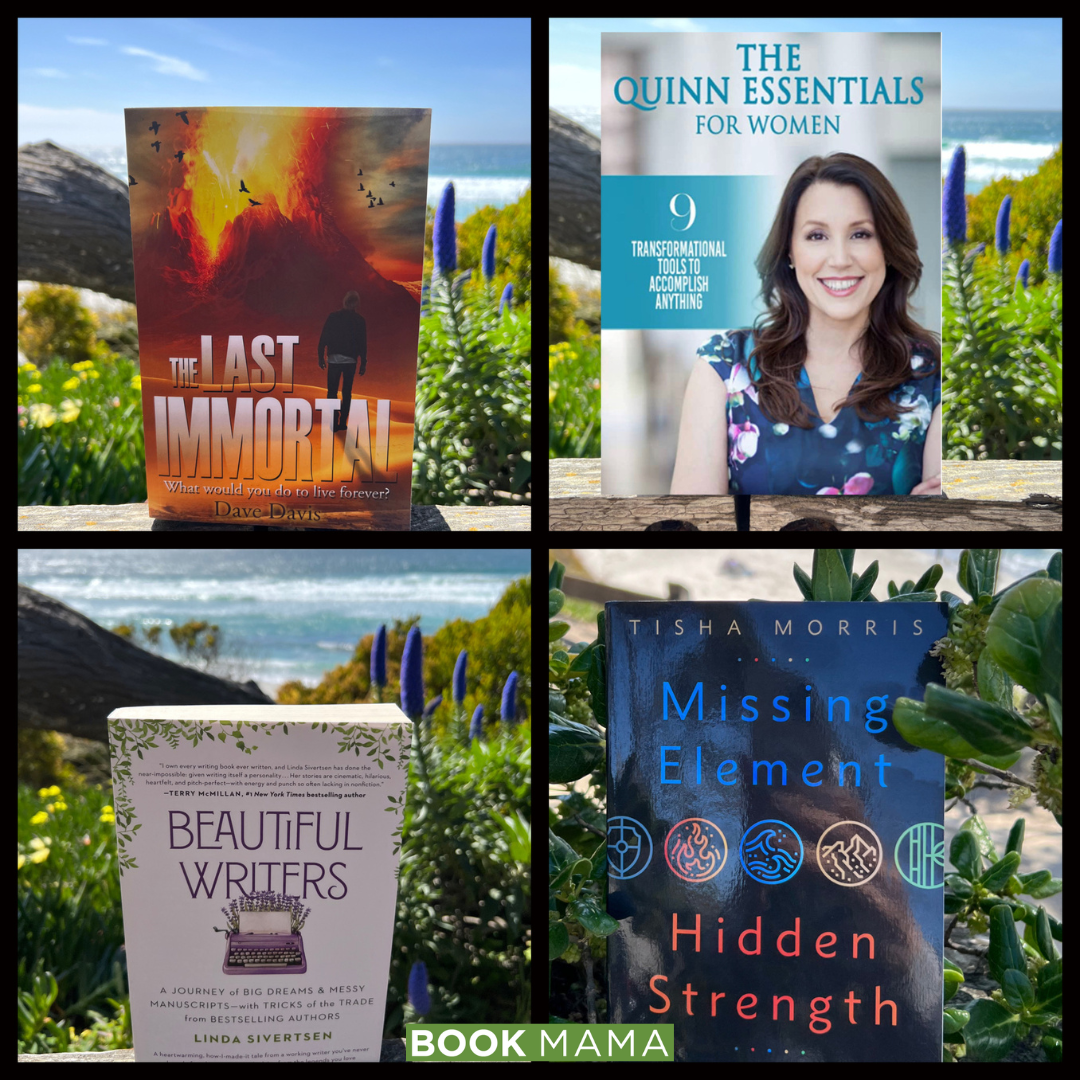 The Last Immortal, by Dr. Dave Davis [Yes, a dude! Dave's wife surprised him with the retreat for his retirement present and their anniversary.] One by one, graduates of a highly selective medical school class at Georgetown are kidnapped. Meanwhile, around the globe, archeologists discover secrets to an ancient mystery, possibly older than history itself. Like the strands of DNA, the two storylines are linked, uniting in an explosive chase and attempted rescue – and a discovery central to the future of human evolution. Follow Noah Scott, the only Georgetown physician to escape kidnapping, Annie Van Stuyvesant, an eccentric archeologist, and Sebastian Kane, one of the world's wealthiest men, as they pursue the interlinked secrets and stand to answer the most important question this ancient mystery raises: What would you do to live forever?
The Quinn Essentials for Women: 9 Transformational Tools to Accomplish Anything, by Andrea Quinn. When women are balanced, they're unstoppable! These 9 tools will ignite, balance, create or recreate your ideal life. The first four tools are the inner life essentials you must align with to begin receiving your dreams. The second are the 4 vital outer life essentials to create empowerment powerfully. The last tool ties them all together; a BALANCED woman. Join the thousands of women worldwide already using the 9 transformational tools featured in this life-enriching book. [PS. The audiobook is, for reals, one of my all-time favorite books EVER. I play it on a loop and feel my dreams manifesting more with each listen.]
Beautiful Writers: A Journey of Big Dreams & Messy Manuscripts—with Tricks of the Trade from Bestselling Authors, by yours truly 😉. Imagine you're at a dinner party with some of the most celebrated, successful authors of our time. (Let's talk in the 3rd person now, shall we?) "Book Mama" Linda Sivertsen is the host. As she's sharing her story of the many scrappy, hilarious, outrageous, and practical things she did to build a bestselling writing career, your favorite writers chime in with their "Oh my God, listen-to-what-I-did!" details. The manna in these pages will bring nourishment long after the delicious meal is over for anyone with a dream or on a hero's journey. Plus, it's just damn fun, if I may say so.
Missing Element, Hidden Strength: Apply the Natural Strength of All Five Elements to Unlock Your Full Creative Potential, by Tisha Morris. While all five Chinese elements are contained within our energy system, we each embody a primary element, which defines our natural strengths, and a weak or missing element, which reflects our untapped potential. When you embrace your missing element—water, wood, fire, earth, or metal—you can pull yourself out of a rut and bring more harmony and success into your life and work. Tisha Morris teaches you how to apply the ancient wisdom of Taoist principles so that you can identify and improve your most challenging element. It's time to turn your missing element into your hidden strength.
Bravo! Writers! I obviously recommend buying, following, watching, listening to, and imitating these authors. Allow their journeys to inform your own. We have so much to learn from their publishing paths.
And. Please let me know if I missed your book in the line-up. It's hard to keep track these days. Fortunately, I'll be back in Carmel the week of May 15th, ready to take more pics. (We may still have a retreat spot open. If you're feelin' it, fill out the retreat form asap on bookmama.com, and we'll hop on a Zoom chat. And, for those of you who'd like to work at a slower pace with more brainstorming time, incredible gals are coming to the June 5th virtual retreat. I'm just sayin'.) 💜💚
Happy dreaming & reading, my friend. See you soon. 
Write on!
PS. Keep an eye out for next week's blog about our most recent alum book deal news. I've got goosebumps just thinking about it. #BestJobAnywhere #CarmelWritingRetreat
PPS. Looking at the above list, I realize you may feel intimidated by their accomplishments. (I am! Ha.) But here's something to take in. All but one of the above authors were new at this, unpublished when they came to a retreat. In every case, the journey took time. But look what happens when you keep showing up for your art. We all start somewhere. xo