About that message burning inside of you—yeah… the one you wake up in the morning thinking about. The one playing out at night as you close your eyes. The idea that whispers: Hey! It's me! Remember? Please don't forget me!
Trouble is, sharing our innovative messages on stage, on air, in a book—it can all be so overwhelming, intimidating. Where to start?
I'm thrilled to announce that I'll be taking the stage at the WomanSpeak Festival as a keynote speaker this May 17-19 in Sedona, Arizona, to talk about what publishers really want (and how to perfect your book proposal). I'll also be leading a small group workshop at the festival to go deeper in developing your deal-worthy proposal.
And right now, you can enter a raffle to win FREE tickets + a two-night stay at the festival. (Free tickets? Um…yes!) Women from around the world will cheer each other on in the art of boldly, authentically sharing our truth and our ideas publicly.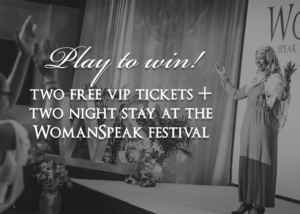 The festival will highlight extraordinary guest speakers, a surprise woman-directed documentary, and a rockin' concert. There will be hiking, dancing, vendors—and top-notch training on clarifying and spreading your message, growing your brand, funding your efforts, writing book proposals (hmmm… wonder who's talkin' bout that?). Plus so much more.
I'm excited and can't wait for this event! I hope you'll join us. Get all the details about the festival and accommodations here and enter the raffle to win free tickets here.
A few of my favorite reasons for you to join us at this festival:
1. World-class training on clarifying your message and effectively spreading it.
2. Using your message to grow your brand and create influence in your company or industry.
3. Training by the talented KC Baker, founder of WomanSpeak, and other experts on branding, speaking, growing your reach through charismatic online storytelling, and the how-tos of public relations.
4. Paradigm-shifting ideas designed to reshape industries and communities—focused on topics like sustainable architecture, end-of-life care, animal rights, children's education, and more heart-centered good stuff!
5. Opportunities to share your OWN innovative ideas on stage and in front of women at the festival.
6. Insightful workshops on body wisdom and movement practices designed to connect you with your authentic voice.
7. Extraordinary friendships and future business relationships with other women from around the globe.
8. A whole heap of fun. In beauty. A break from the norm. You need that, right? Me too!
If you ever feel any fear, doubt, or resistance to sharing your voice (in any domain), WomanSpeak's practices are legendary for transforming that crap into gold.
Because you're a woman of power and brilliance and your voice matters!
Yay! See you there.
P.S. If you're coming, let me know over here on FB and I'll come bear hug ya!
Yours,
Linda
xo