I hope you're having a lovely day wherever you are, and finding time to read something glorious. Or, even better, WRITE something glorious! You are writing, right?
I'm back in the writing saddle myself these days with a July book deadline. It's been heavenly sitting down every day like the old days. (I finally got the contract edits from my new publisher last week—more on that soon. It's taken a LONG time to iron out all the deal points, including my insistence on publishing with Forest Stewardship Council paper. But my deal is so good that it's been worth every nail-biting delay.)
Honestly, I don't know that I'd ever have gotten to this point if it hadn't been for the COVID slowdown. If the travel bans hadn't stopped my retreats, likely, I would never have found the time it took to finish my proposal and sample chapters. I'd been deluding myself, thinking I could get it done within the context of my hectic life and client schedule. You'd think I would have known better. That's the downside of being an optimist. You naturally move through the world as if you can be all and do all, trusting that everything you want wants you—and will work out.
But then years go by, and you find yourself coloring books with your granddaughter instead of publishing them. The struggle is real.
What's this have to do with the G Spot? I'm coming. Wait. I meant that's coming.
Jenny Carroll and Linda Northrup know the struggle. Both high-powered lawyers with families (one lives on the East Coast, one on the West—one is ready to take a break from fighting for others to fight for herself), they'd each come to two different retreats with me in Carmel. They said they loved investing in themselves and their art, knowing that once they got back to their crazy schedules, their writing would once again take a back seat. And, what's not to LOVE about Carmel? They could get a vacation, a write-off, and a loving kick in the pants. I half expected to see them there each a third time. And then COVID hit. And life got in the way, as it does.
I was elated when Jenny and Linda joined me for the Virtual Retreat experience this year, saying the same thing—that the combo of brainstorming support, friendship, fun, and accountability gave them renewed enthusiasm, clarity, and focus for their projects. It's been so exciting for me to see them dive back into such phenomenal work. Imagine this from my vantage point. Retreaters come to Carmel with an abundance of passion and promise. They leave with solid work, a community invested in their success, resources, a PLAN, and loads of focused intention. I hate saying goodbye and cherish the chance to keep in touch on social media, in our follow-up sessions, and during agent pitching. Seeing their vision unfold, cheering them on, and celebrating with them when they realize their goals is my greatest honor.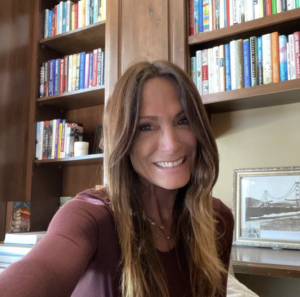 And yet, I know that some of them—many of them—get stuck like I did, with a project that feels too big for the time they've got. That's why I flip when they're able to come back virtually for these longer sessions (and new retreaters, too!), without the time constraints of a week, and the added price of travel or hotel fees. It's remarkable how much of the feel of the in-person retreats translates. Love and brilliance travel well. Who knew ZoomCity could be so magical?
I'll be going back to the La Playa Hotel in Carmel in July and Sept (one spot left). For now, though, I've got one more virtual retreat set up for August. Wanna join us? You can see the whole schedule here. I've been lettering the positions, and the G spot is still open. No one's been able to find it (perhaps you can!).
For those of you who thought it necessary to open this email in secrecy, I apologize for misleading you. It got you here, though. So … #sorrynotsorry.
Take a peek. See if it feels right.
Either way, Write On!
Linda
xo