Are you endlessly editing in the trenches? Or are you stuck at the starting line of your manuscript? Maybe all you need are a few reminders from the pros—those marvels who magically appear to crank out copy year after year, book after book. Making it look easy when we all know it's not come naturally to them. Fortunately, they're generous in sharing their priceless "secrets."
I love posting these memorable quotes of some of my favorite authorly wisdom. Maybe you've seen my homemade graphics (below) on my feeds over on Instagram, Facebook, or Twitter, where I take the quotes from my podcast (the ones I've excerpted for my book, Beautiful Writers) and then play with abandon over on Canva before I post away. Such fun. And helpful on the regular, as in weekly. You'll find a few recent copy-and-paste examples below if you're not following me (hello???) or sweet reminders if you are. Like this ditty from last week (hashtags & celeb handles omitted):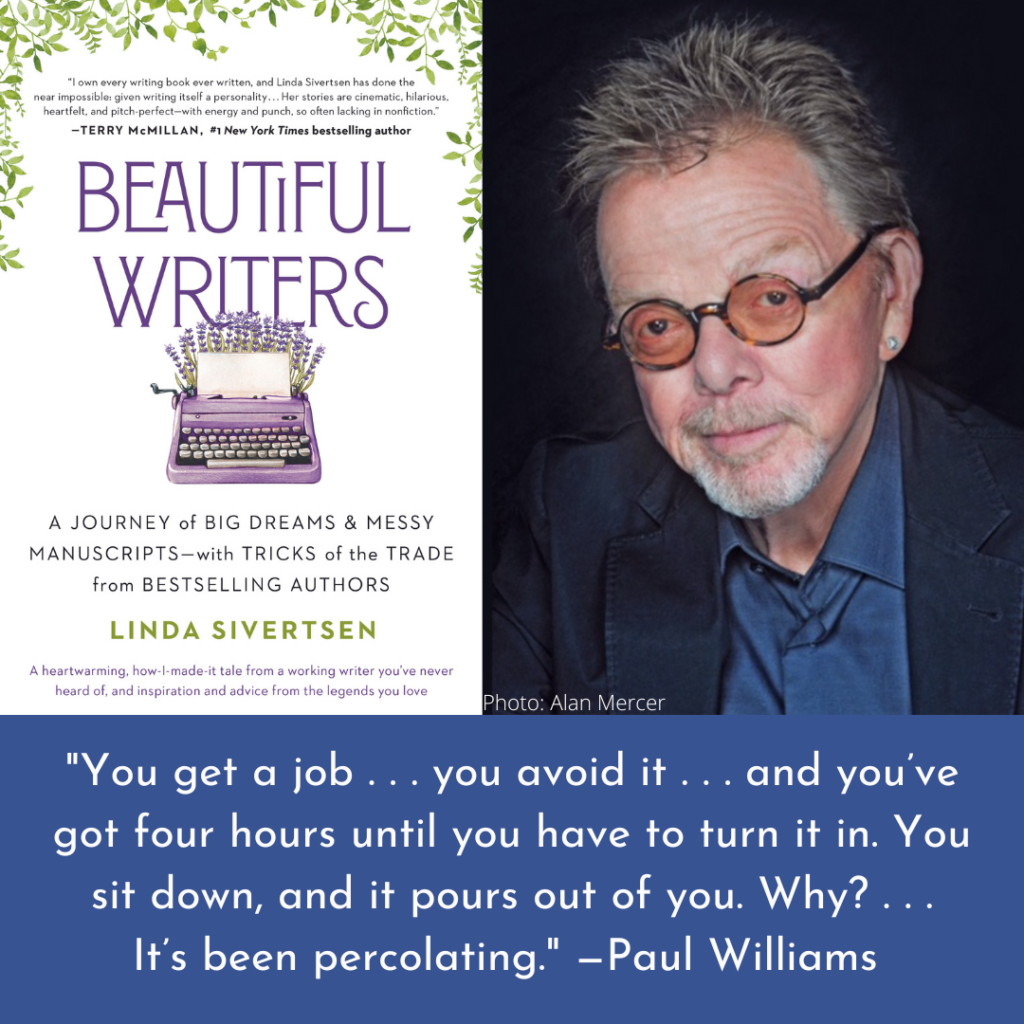 You're not procrastinating. It's been percolating! 💜 I flipped for this magical story Paul Williams told me about how inspiration struck on a movie deadline with Disney. I'm all ears when this Oscar-, Grammy- and Golden Globe–winning Hall of Fame songwriter and New York Times bestselling author talks about how he writes hit after hit. 🪄
Eyes, too. I learned much of what I know about creativity and flow from watching Paul up close when my then-husband and I lived in his hillside home in Hollywood. 🏠 Those sections of Beautiful Writers are some of the dearest to me. LOVE you, Pauli! xo
For a zillion other must-know writing gems, order Beautiful Writers and feel like you're sitting down over coffee with 62 of your favorite bestselling authors . . . (OMG, their wisdom & stories!). Get your copy here.  💚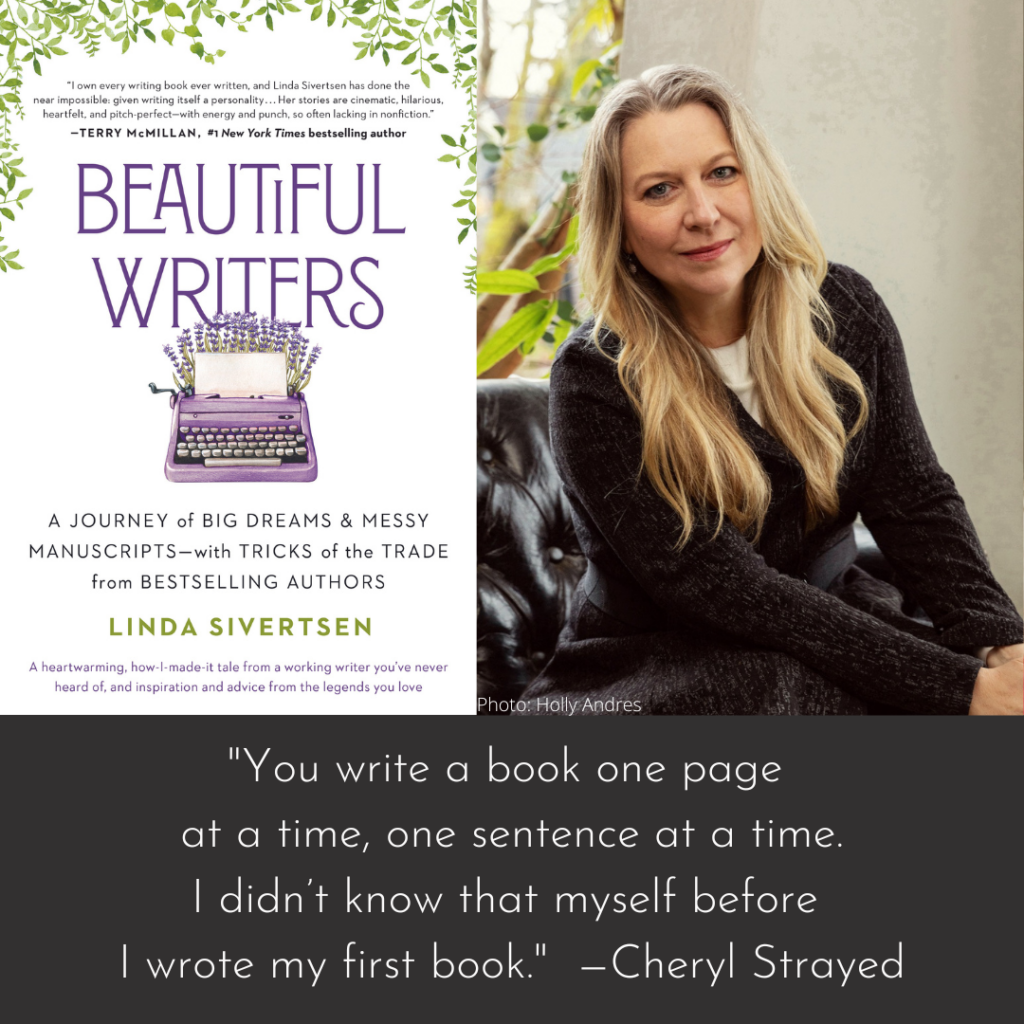 Putting her sweats on one leg at a time like the rest of us. Love you, Cheryl 💜 . Your writing + life advice is some of the best anywhere.
An excerpt of Cheryl's from chapter one: "There are all paths to the mountaintop, as they say. College is important to different people for different reasons. I grew up working class in rural America. I didn't know anyone who had written books, and I didn't know of many people who even read books. So, college was an incredibly important portal for me to pass through…
"You write a book one page at a time, one sentence at a time. I didn't know that myself before I wrote my first book. You have to do the work and teach yourself what the work is. There's the education. I learned a lot. But to learn how to be in a new part of society? Everything about that was magic."
Isn't it comforting that our favorite authors started as newbies like us? I cherish hearing their hard-earned intel, seeing them as my mentors on the page, and shortening my learning curve. Ahhh. Some thrived in school, others not so much. But all found their way.
To hear more from Cheryl Strayed and some of her best writing buds, order your copy of Beautiful Writers here. 💚
What about this book excerpt?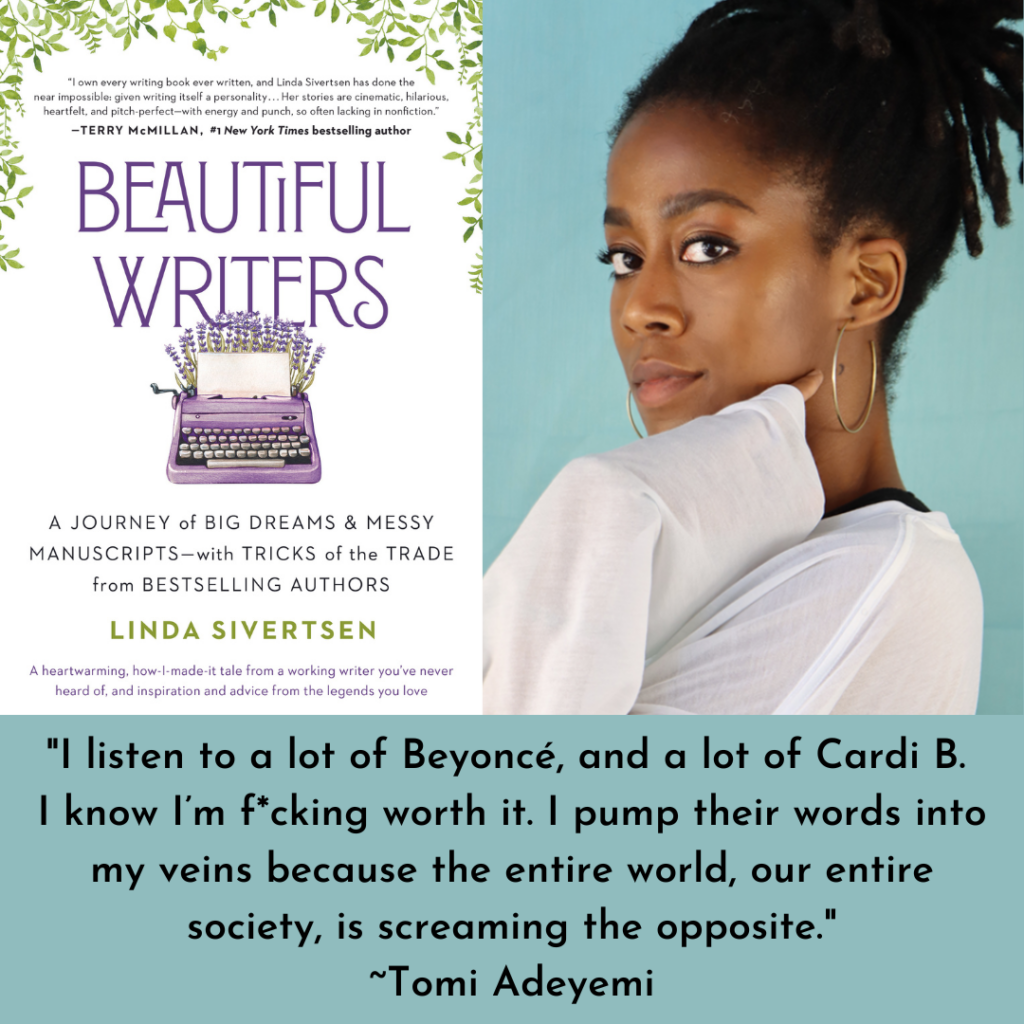 "… as creatives, we come from a beggar's mentality. As a woman, a marginalized woman, it's easy to feel lucky just to be able to breathe this air. But no. I had to adopt the mentality that, 'No. I don't think I'm lucky to make you a lot of money!'
"You have to get aggressive, even if only internally. Because otherwise, things don't go well. You can't create something like Beyoncé if you're not willing to ROAR when you need to roar. You can't create if you're not going to say, 'And where is my equity?' You have to be ferocious. You have to believe that all of it is yours. That you're worthy of it." 💜 💚
I LOVE this woman, Tomi Adeyemi, Nigerian-American novelist, and author of the #1 New York Times bestsellers Children of Blood and Bone and Children of Virtue and Vengeance and named one of TIME magazine's 100 Most Influential People of 2020.
Her Beautiful Writers Podcast episode with National Book Award winner Sabaa Tahir remains one of my all-time favorite interviews, and their excerpts for Beautiful Writers are the ultimate permission slip.
Of course, there's Tom: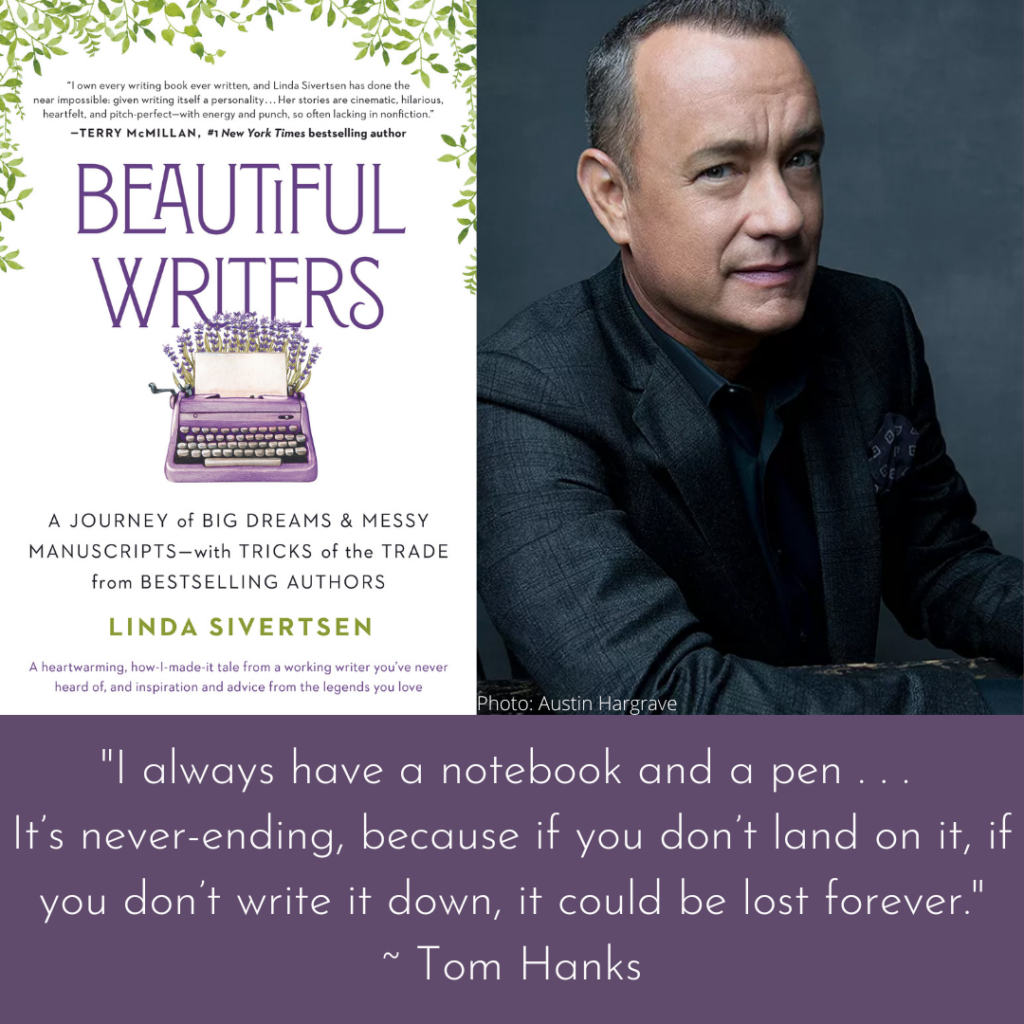 Anyone else obsessed w/ learning from prolific people? Knowing what they know? This typewriter-obsessed Renaissance man (Oscar-winner, screenwriter, director, producer, and musician) has published essays in the New York Times, Vanity Fair, and the New Yorker. When I had him on the Beautiful Writers Podcast, he was on tour for his book of fiction, Uncommon Type: Some Stories.
Whoa. Did Tom ever have great stories, specifically on the creative process! Infuse your writing with his wisdom and that of over 62 other bestselling authors from the pod, excerpted in this love letter to reading and writing. I promise you've never read a writing book like this. 💜  xo
Fun stuff, right? Their joyful commitment to their craft can't help but rub off. Join me on social to keep the inspiration flowing. You don't even have to leave your bed office 😀.
LOVE and write on.
PS. You may also need (or plain want!) a group of talented love bugs to hear you, see you, and brainstorm your book baby into existence with you. It's heaven. But don't just take my word for it. I've got all kinds of updated testimonials sprinkled throughout the Beautiful Writers Virtual Retreat page on this site. We have an AMAZING GROUP starting on March 8th. The year's already flying—soar with us!
Linda
xo